How to Start a Marina
Starting your own marina can be a fun, profitable venture. Boating is one of the largest outdoor recreational activities in the United States, and nearly 100 million Americans go boating each year. Boat sales and ownership are also at an all-time high, rising 12% from 2019 to 2020 with continued growth expected. With such a sustainable level of interest, areas with any major body of water, like an ocean shoreline, lake or large river, will need a good marina with attentive service and spacious boat slips.
This guide will help you learn more about how to start a marina, tips for managing one successfully and what equipment you should invest in before your first launch.
Read the full article or jump to a specific section: 
12 Steps to Opening a Marina
Specific steps for opening a marina vary depending on the area you live in, specific environmental or local requirements for building and water use and what assets and resources you already possess before beginning. For example, building a marina from the ground up on undeveloped acreage has different requirements than purchasing a turn-key marina from previous ownership.
The following steps are common when starting a new business — consider your entry point and goals as you assess each one.
1. Find a Location
Buying your waterfront property, rather than leasing it, is a better idea for a marina because of all the permanent fixtures you'll need to install both above and below the water. Make sure it's possible to hook up all necessary utilities there, including electricity, gas and internet.
Your waterfront property should also be:
Spacious: Your marina should have enough space in the water for several mooring options, including docks, moorings, slips and long-term residential options. Everything should be spaced adequately for safe maneuvering while boats launch and moor. On land, the property must accommodate several buildings and an outdoor recreational area, like a grassy picnic spot or pet walk. If space is limited, consider becoming a private or members-only marina to manage traffic.
Accessible: For best results, choose a location close to popular attractions, like boating communities or campgrounds. Consider how much boat traffic your chosen stretch of shore receives to see what need your marina could fulfill there. Look for a spot with a nice, unobstructed view of the water — especially if you plan to offer waterfront dining or amenities — and avoid places with excessive rocks or dangerous drop-offs.
Safe: The water level at your marina should be accessible at all times. Invest in floating docks and ports so boaters can still board and exit their vessels regardless of the tide or lake level. If hurricanes are a concern, look for property that might be sheltered from extreme weather and storm surges. Consider the wind — if the area gets too windy, choppy waves will make it harder for boaters to board and moor.
Specific needs will depend on water type and condition. For example, you should avoid buying and building in an area with endangered marine ecosystems or rough, dangerous water conditions, while places with deep, calm water are ideal. Saltwater and freshwater will require different building materials and upkeep routines.
2. Make a Formal Business Plan
Once you have named your business and chosen a piece of property, it's time to analyze your funding needs to seek investors, grants or bank loans. This requires a formal business plan detailing your organization, its goals and projections. Most formal business plans should include:
Executive summary: This portion summarizes what your business is, its purpose, your mission statement, your location and basic information and a brief introduction to management and relevant leadership or investors.
Company description: This is where you offer a more detailed look at your business, including who your target clients are, how you plan to solve their problem and what unique advantages you hold over the competition.
Market analysis: Conduct formal market analysis, including industry and competitor research, and summarize your company's outlook based on your findings and the need for a marina in your chosen location.
Organization description: Describe your organization, including your legal entity identification, leadership roles, management strategies and organization method. Explain who founded the business and why you chose the leaders you chose. What expertise do they offer? What qualifications do they hold?
Marketing strategy: Your marketing strategy should break down your plan for attracting your target clients, meeting their needs and keeping them happy so they will return and tell their friends. This includes in-person marketing, online advertisements, word of mouth and special events.
Funding requests and projections: If you're creating your business plan to seek a loan or investors, outline your funds request detailing what you need, why you need it and specific allocations of those funds, like equipment, services, utilities or building materials. Offer five- and 10-year projections for your business based on those numbers and your anticipated profits.
Depending on the context, your formal business plan may also include supplemental information, like a map of the marina property, a formal water analysis or environmental regulation checklist.
3. Gather Necessary Funds
How much a marina costs depends on how much construction you have to do, the size of your space, the amenities you're installing and local guidelines and tax costs. Detail all current and anticipated expenses, including land needs, renovations, utilities, surrounding infrastructure changes, maintenance costs and all income you plan to make from your marina and its amenities. Then, seek supplemental funding through things like:
Investors
Bank loans
Crowdfunding
Government grants
Partnership funding
Credit and advanced payments
Some areas may also have incentives available for doing business there — check with your local business bureau to learn more.
4. Form a Legal Entity and Get a Business License
Before you can get your business license and start taking on boaters, you must form a legal entity. The following are common legal entities:
Sole proprietorship: Sole proprietorships mean that you are a singular owner and are not separated from your business. Though there is less complex paperwork involved and taxes are typically more straightforward, this entity puts your personal assets at risk and offers no liability for protection. It may also be more challenging to build business credit or obtain funding in some situations.
Partnership: Partnerships are similar to sole proprietorships but involve two or more owners, some of which may be silent. Partnerships generally give you more access to resources and industry insight but can be legally complex.
Limited liability company: Limited liability companies, commonly called LLCs, protect your personal assets from business-related lawsuits and debts but require separate taxes, paperwork and annual state filings.
Corporation: Corporation owners have limited personal liability involved and are taxed separately. There are different types of corporations, like S corps and C corps, and some offer stock options.
5. Register for Taxes
Register your business for federal, state and local taxes and receive a tax identification number, also known as an employer identification number (EIN). Some governments require both federal and state EINs. Once you're registered for taxes, you can start hiring employees and making large purchases for your property. Keep track of all transactions and receipts for tax purposes.
6. Open Business Accounts
Opening separate business banking and credit accounts for your marina will help you keep your personal finances and assets separate and organized while building business credit. When possible, look for digital options, like mobile apps, automatic payments and paperless account options, to cut down on spending and waste and simplify your recordkeeping processes. Protect all your important software and electronics with antivirus protection.
7. Get Licenses and Permits
Your marina will need several licenses and permits, depending on where you operate and what amenities you offer, such as:
Zoning permits
Building and construction permits
Environmental regulation requirements
Health department permits, where applicable
Fire department approval and occupancy limits
Other federal, state and local requirements
8. Invest in Your Property
Invest in your property to entice boaters and set your marina apart from other marinas in the area. Some popular marina amenities are:
A playground.
Wi-Fi access points.
A dog walk or a pet park.
Environmentally safe wastewater disposal.
Seasonal and temporary boat storage options.
A waterfront restaurant with outdoor dining options.
Constant security for all moored and docked vessels.
International travel coordination services, if near a border.
Clean restrooms with showers and baby changing stations.
A shaded picnic area or pavilion with picnic tables and grills.
Professional boat services, like engineers or maintenance staff.
Rentable event rooms for weddings, business meetings or parties.
On-site or on-the-water gas stations for boats and personal watercraft (PWC).
Water sport equipment rentals, like floating tubes, PWC vessels or snorkeling gear.
A shop stocked with boating supplies, necessity items, fishing gear and local souvenirs.
An information or resource center with directions, brochures, guidebooks and helpful associates.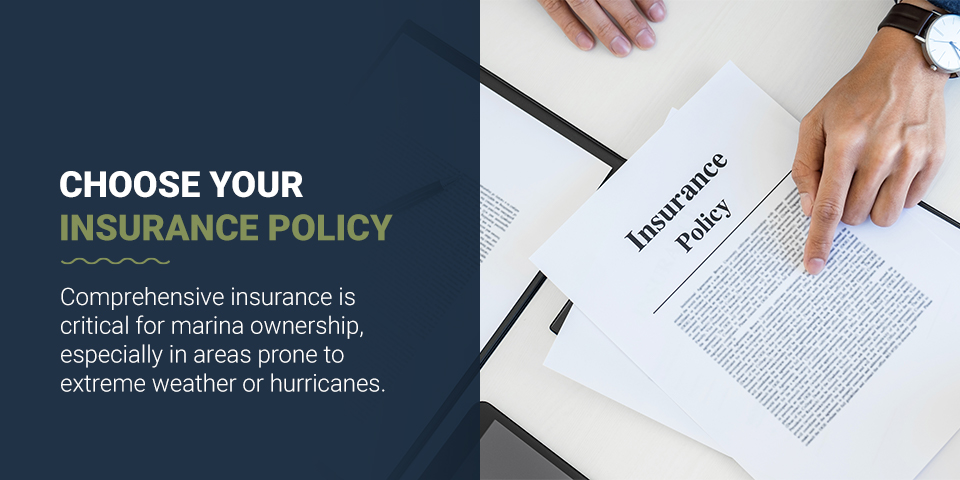 9. Choose Your Insurance Policy
Comprehensive insurance is critical for marina ownership, especially in areas prone to extreme weather or hurricanes. In 2012, Hurricane Sandy left $50 billion worth of damage in its wake, including more than 400 marinas destroyed across three states. You should also have general liability insurance, workers' compensation and other policies that cover your property and amenities' specific needs.
10. Hire Employees and Start Training
Hire employees based on their skill and familiarity with boating or your on-site amenities. The more passionate people are about your business, the more equipped they are to handle customer inquiries and represent your marina well. Conduct new-hire training that reviews all safety procedures, including all emergency protocols, and continue supplementing training as your business grows and changes.
Find your ideal employee by posting your job in local outdoor areas, like campgrounds, parks or club meeting places. Online, post your advertisement in local outdoor or boating groups.
11. Create a Website
Many of your clients will find your marina through your website. The more information you provide online, the quicker you can connect with potential customers and answer any questions they might have before choosing you for storage or mooring. It will also minimize phone calls, freeing up employees to take care of in-person customers.
In addition to your marina's name, logo and branding, your website should include:
Your address: Include your marina's address, preferably with a map and a clickable link to GPS navigation. Don't forget directions from nearby campgrounds and other points of interest.
Contact information: Your contact page should have your phone number, hours of contact, email address and online contact form to ask specific questions.
Hours of operation: Include operational hours for the marina and on-site amenities, like your restaurant, shop or maintenance professionals.
Property photos: Take clear photos of the marina, waterfront and all amenities to show boaters what your facility has to offer.
Services and prices: Include a list of popular services and approximate pricing information so boaters can be better prepared for arrival.
Testimonials and reviews: Collect testimonials from satisfied customers and encourage all boaters to leave an honest review you can display on your website to entice potential visitors and build your business reputation.
Helpful pages: Some additional helpful pages you might include are a FAQ page, a blog with boating tips and tricks and a news page so customers can stay up-to-date about facility changes, events and upgrades.
12. Start Marketing and Promotion
Promote your marina through one or more of the following:
Social media: A strong social media presence will help you stay connected to your boaters and answer questions or get feedback in real-time. It also allows boaters to post pictures to their account and tag the marina for others to see.
Event booths: Set up a stand at outdoor events and boating conferences advertising your marina and its services. Consider handing out coupons or promotional merchandise.
Community involvement: Staying involved in your local community through volunteer efforts and social events is a great way to earn recognition for your marina and leave others with a positive impression of your business. It also helps get the word out about who you are and what you offer — plus, it feels good to support those who support your business.
Paid advertisements: Paid advertisements, including newspaper ads, digital ads and similar, might be a good fit for you if you're working with a larger marketing budget. Keep track of advertisement efficacy to reevaluate ads as needed.
How to Successfully Manage a Marina
Owning and managing a marina is similar to owning other types of businesses — the importance of reliable service and a strong understanding of your customers and products can not be understated. It's also critical that you implement a strong emergency plan and take steps to ensure your business doesn't lose money during the off-season:
1. Make Regular Repairs and Replacements
Schedule regular inspections of critical areas around your marina, including docks, slips, facilities and supplies, to ensure top safety and performance. Upkeep should also include annual or semi-annual cleaning before each summer season for a professional appearance. Replace parts and equipment as needed and make improvements whenever possible.
2. Know Your Business
Many boaters seek marinas because they offer a one-stop shop for boating resources and knowledge. Part of successfully managing your property is knowing your business inside and out, like the different types of boats, average water conditions for the season and forecast, directions to nearby relevant amenities, troubleshooting and servicing and more.
The more you or your staff know, the more valuable you are to your clientele. Attend seminars, conferences and local community meetings to stay informed about industry changes, such as laws, safety standards or new technologies, as well as any concerns or upcoming changes in the local community.
3. Don't Neglect Emergency Planning
More than 16 weather disasters occurred on average each year between 2015 and 2020, with 2020 alone racking up $22 billion in disaster costs — and the weather isn't the only disaster your marina should prepare for. Fires, oil leaks, fuel spills, capsized boats and medical emergencies are common in public places. Implement strong emergency plans with several contingencies and practice drills with staff.
4. Have a Plan for the Off-Season
Even if you don't live in a region with snowy winters, you will likely experience ebbs and flows in your business. Warmer weather tends to bring out boaters, while wind chill or hurricane season may keep them at bay. Have a plan for your slow season, like offering on-site venue rentals, keeping your restaurant open all year long or partnering with a local attraction to boost tourism.
Products You'll Need to Start a Marina
In addition to a large parking lot, wet slips in various sizes, clean facilities and storage buildings, your marina may need:
Boat docks and gangways: Floating boat dock sections and floating gangways to connect them to shore are critical components of a successful marina because they are low-maintenance, cost-efficient and let boaters access the water, regardless of its level or condition.
Boat lifts and ports: Boat lift systems use air assist pumps to lift boats from the water, while boat ports let boaters easily drive their vessel on and off for easier docking.
PWC ports, kayak & canoe launches: Attract boaters of all interests by installing a PWC port and kayak and canoe launches to make your marina more versatile.
Floating walkways: Floating walkways are stable walking platforms you install on your water for boaters to get out and stretch their legs or to attract non-boating visitors to enjoy the natural beauty of your waterfront property.
Freshwater rinse stations: If your marina is on saltwater, install a freshwater rinsing station for boaters to hose off their vessel and avoid salt-related damage.
Swimming platforms: Floating swim platforms installed away from your marina's boat traffic area ideal for beachside marinas or multi-purpose recreational facilities.
Residential items: If you plan to permit residential boaters, don't forget residential necessities, like shower houses and laundry facilities. Consider hosting community events for residential boaters to create a fun, social atmosphere.
Additional Considerations When Opening a Marina
These are a few tips for how to run a marina successfully:
Monitor the competition: Monitor nearby marinas to track what they can offer that you cannot and determine what you can provide that they cannot. For example, if your main competitor can only offer traditional, fixed docks that put boaters at risk for splinters or inaccessible vessels, market how convenient your polyethylene floating docks are in comparison. If they lack outdoor space for a picnic area, fill that need for the community by enhancing or expanding your own.
Give yourself an edge: Give your marina a competitive edge by finding a unique niche. Some marinas focus all amenities and advertising efforts on being family-friendly, hosting competitive angling events or offering premium boating or tourism services. Some may specialize in small vessels, like kayaks and canoes, or be sailboat-only facilities. Other ways to stand out are regular upgrades to better equipment and additional mooring space.
Participate in eco-friendly initiatives: Protect the water and marine life by hosting recycling incentives, litter cleanup events and boater education classes to promote clean water and safer boating practices.
Let EZ Dock Make Marina Ownership Easier
Starting and operating a marina takes hard work, dedication and the very best in boating and docking equipment. Let EZ Dock help with our durable floating dock configurations. Compared to traditional docks, our polyethylene dock sections do not require complicated maintenance or cleaning. They offer a splinter-free, slip-resistant and heat-resistant surface for boaters and their families to enjoy and are minimally invasive to the surrounding environment. Pair your EZ Dock with ports, launches, lifts and other accessories to offer quality amenities to your guests that will keep them returning for more.
Find an EZ Dock distributor near you to get started, or request a quote online today.