Floating Dock FAQ
If you're interested in installing a new dock on your property, you have two choices — permanent or removable. Permanent docks attach to the bed of your lake or pond, which usually involves an extensive and costly installation process. Removable docks are easier to remove and relocate, though some variations require equally complex installation. Floating docks are one type of removable dock that does not require difficult installation and is easy to configure and move when necessary.
Modular floating docks are the ideal balance of stability and flexibility and are a great way to increase the value of your waterfront property. You'll find them in numerous residential, commercial, industrial and governmental applications.
Read the full article or jump to a specific question: 
Frequently Asked Questions About Floating Docks
As the industry leader for modular floating docks since 1991, EZ Dock has a wide selection of docking systems to fit your private or public property. All of our floating docks integrate with your existing one, or you can custom-build your own layout to suit your space, budget and needs. We also offer boat ports, kayak and personal watercraft (PWC) launches and dock accessories to create the perfect waterfront destination.
Below, we've outlined some of the top questions we hear from customers along with answers to help get you the information you need. If you have any other questions, don't hesitate to contact us.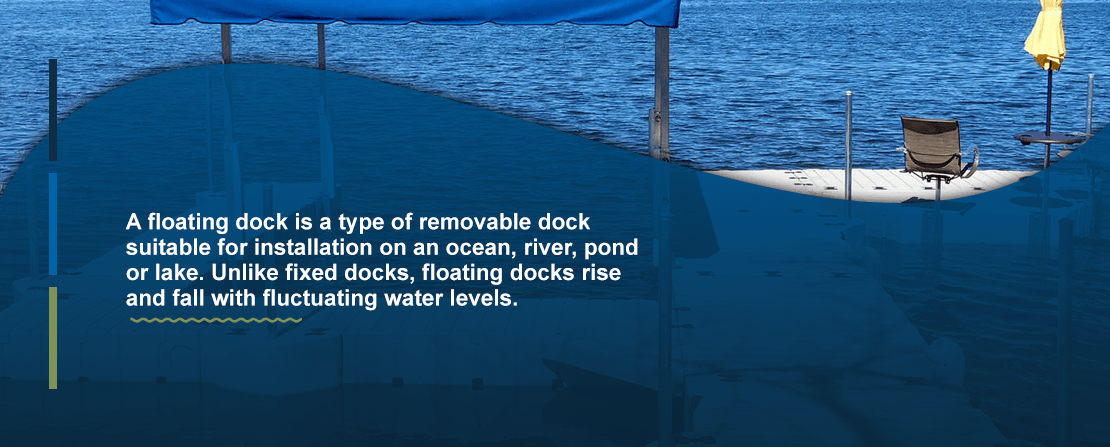 What Is a Floating Dock?
A floating dock is a type of removable dock suitable for installation on an ocean, river, pond or lake. Unlike fixed docks, floating docks rise and fall with fluctuating water levels. Floating docks can be made of wood, metal or some types of plastics, like polyethylene.
One of the most popular types of floating docks is the modular dock, which allows you to use pre-designed platforms and dock pieces to assemble your ideal docking system. EZ Dock modular floating docks contain secure, air-filled compartments that allow the pieces to float. Other types of floating docks require air-filled barrels or floatation devices that attach to the dock's underside, enabling it to float.
How Do I Install a Floating Dock?
Installation depends on the type of floating dock you choose. Most EZ Dock floating docks are simple to install with the help of an assistant, or our installation professionals are happy to take care of it for you. This process usually takes about a day.
Some types of floating docks require more extensive installation, especially if you are responsible for attaching your flotation devices yourself. To install an EZ Dock floating dock, however, all you need to do is:
Select and prepare your dock location according to all local laws, codes and regulations.
Install the couplers using the in-water coupler installation tool.
Anchor your dock, if applicable, to keep your floating dock in place during turbulent weather or water conditions.
Attach your dock to a gangway, if desired.
Add your chosen accessories, including storage boxes, seats, bumpers, ladders, handrails and edging, to your floating dock.
Enjoy your new dock!
Consult your EZ Dock owners manual for specific site considerations and installation instructions for your modular floating dock.
Do Floating Docks Require Permits?
Some floating docks may require permits, depending on where your property is located. Many municipalities or homeowners associations have strict restrictions in place regarding your dock's environmental impact or similar effects. In some cases, you might need to have your docking plan approved before installation.
Contact a local EZ Dock representative for more information.
Can I Leave a Floating Dock in the Water During Winter?
It depends on where you live. If you experience frigid, icy winters, it's a good idea to remove your floating dock for the season to keep it safe and increase longevity. If your winters are mild or warm, it may not be necessary.
Fortunately, EZ Dock modular floating docks are easy to remove and replace. Should you choose to leave your dock up for the winter, it will rise and fall with the water level, protecting it and keeping it readily accessible.
What Size Floating Dock Do I Need?
At EZ Dock, we have several section sizes and configurations available to fit your needs. To determine what size you need for your docking system, consider the following:
Property type: If you're a residential dock owner, you have the freedom to choose as small or as large of a docking system as you want to fit all your boats and accessories. Commercial, industrial and governmental property owners have different guidelines and restrictions to work with, depending on the type of property.
Type of water: You can install a floating dock on a pond, river, lake or ocean, but you must factor in the depth of the water before selecting your dock. For instance, when installing a floating dock on a pond, you may need a gangway to connect the dock to the shore where water is more shallow. 
Lifestyle and budget: Consider who will use the dock and why. Will you be integrating boat and EZ Launch® Residentials? Does it need to have enough space for entertaining or waterside recreation? What is your total budget? The answers to these questions will help you choose the best layout for you.
It's easy to expand or reconfigure your EZ Dock docking system! As your circumstances change, our representatives are happy to help you find the perfect platforms, configurations, ports and launches to enhance your experience. 
How Do I Stabilize My Floating Dock?
Floating docks move with the water, but they are relatively stable. EZ Dock floating docks suction to the water and, when paired with our coupler system, create a sturdy, walkable platform. Additionally, our docks are slip-resistant, even when wet. You can also install an anchoring system and handrails for extra stability on turbulent water.
How Do I Anchor a Floating Dock?
Though not always required, anchoring is the best way to ensure your dock remains stable and strong, even during severe weather. Popular EZ Dock anchoring systems include:
Stiff-arm brackets: Stiff-arm brackets connect your dock to the shore with "stiff arms," or rigid poles, minimizing dock movement.
Standard pipe and pipe stand-off brackets: Piling protects your dock from horizontal movement. This is ideal for private and light-duty commercial applications. Adjustable piling brackets are just as the name suggests — simple to adjust as circumstances and conditions change.
Deadweight winch inserts and brackets: Deadweight anchoring is a method of weighing your floating dock down so that it is harder for it to come loose or move during wind and waves. It's a popular method for deep waters or water with challenging bottoms.
To learn more about how to anchor a floating dock, consult the guide that came with your dock or anchoring system, or contact an EZ Dock representative.
How Do I Attach a Floating Dock to a Ramp or Shore?
Gangways are the best way to attach your floating dock to the shore or a connecting ramp. A gangway is a long platform, often with handrails, that spans the distance between land and your dock. Several situations call for a gangway, such as:
The water near the shore is too shallow to safely install a floating dock, so you need to place your dock farther into the water.
You want to access your dock from a specific point on your property that may not be level with the water.
You want a smooth transition from land to dock, so your guests or patrons have an enjoyable and comfortable experience.
You want to create a more accessible docking system, suitable for various users.
EZ Dock has two types of gangways for floating docks — aluminum and polyethylene. Aluminum gangways are corrosion-resistant, low-maintenance and lightweight. Polyethylene gangways are constructed out of the same durable, low-maintenance material we use for our docks, creating a uniform design.
Do I Need to Replace the Floats Under My Dock?
Though EZ Dock floating docks do not rely on floats or barrels, other types of floating docks do. For these docks, it's important to monitor and replace damaged floats. Floats can get waterlogged, punctured or hit after impact with a vessel or structure. They may also come unattached. Speak with your dock manufacturer or a repair professional to learn more.
Thanks to the compartmentalized air chambers in EZ Dock docks, you never have to worry about replacing floats. Every rotomolded chamber is marine-grade, with thick walls for maximum strength and structural soundness. Should anything happen to your EZ Dock, you can easily detach the damaged section from its coupler and have it repaired or replaced.
How Do I Connect Multiple Floating Docks?
To connect multiple pieces of a floating dock, you need a coupler system. EZ Dock couplers are constructed out of flexible recycled rubber that holds your sections together, while also providing an easy way to disconnect them whenever you're ready for a change. Our coupler set also includes a composite bolt and nut to eliminate the chance for rust or corrosion.
You can also connect your floating dock to an EZ Dock BoatPort, EZ Launch or PWC port, so you can easily access all of your vessels in the same place.
How Much Does a Floating Dock Cost?
The total cost for a floating dock depends on the size and type of the dock, how many pieces are in your chosen configuration, the manufacturer who creates your dock and the addition of any accessories, launches or ports. Many property owners find that their floating dock is a valuable investment that quickly pays for itself, especially when listing their home for sale.
As your budget and lifestyle change, you can also easily add to your existing EZ Dock. 
What Accessories Are Available for Floating Docks?
For the best user experience, enhance your floating dock with accessories that improve the safety of your dock or create a more enjoyable experience. Popular EZ Dock accessories include:
Tie-up cleats.
Storage boxes.
Dock bumpers and edging.
Dock slides.
Dock wheels.
A fish cleaning station.
Handrails.
Polyethylene benches.
Swim ladders.
Security curbing.
Utility channels.
You can also include your own accessories to personalize your dock, like signs, lights and other attachable decor.
Are Floating Docks Safe for the Environment?
EZ Dock is committed to creating environmentally-friendly docking systems and accessories. Our polyethylene sections are free of harmful foam — a common addition in other floating docks. They are also free of contaminants, even when damaged. Unlike treated wood, polyethylene requires no chemicals to retain strength or resist rot. We even create all of our couplers out of 90% pre- and post-consumer recycled waste.
In addition to the strict standards we uphold, we are continuously working alongside environmental experts and habitat conservationists to continue producing a safe, minimally invasive product. For this reason, EZ Dock is the preferred docking provider for many wildlife and research initiatives across various wetlands.
Are Floating Docks Universally Accessible?
We believe every dock should be safe and accessible for all water-lovers, boaters and outdoor enthusiasts — that's why we're committed to creating docks with universally accessible features and railings compliant with the Americans with Disabilities Act (ADA). All of our products meet the United States Access Board's regulatory guidelines for universal accessibility, and we're happy to work with consumers outside the U.S. to meet regulatory guidelines and standards.
EZ Dock is also home to the EZ Launch Accessible Transfer System for universal accessibility, the first of its kind on the market. Our EZ Launch System enables individuals with disabilities to board and exit kayaks and canoes with the help of a transfer bench and integrated slide boards. 
Benefits of Choosing EZ Dock Floating Dock Systems
The team behind EZ Dock is full of boaters, kayakers, swimmers, anglers and overall water enthusiasts. We designed our innovative EZ Dock floating dock systems for people like us who want a convenient, reliable and flexible dock to suit any lifestyle.
Advantages of choosing EZ Dock include:
Longevity: Our polyethylene docks are strong and stable and will last you years to come — all without complicated upkeep or complex treatments. Our low-maintenance dock is easy to clean, highly resistant to damage and easy to replace or reconfigure whenever you want.
Resilience: If you live on turbulent waters or in a hurricane zone, you understand the value of a docking system that can withstand heavy rain, wind and storm surges. EZ Dock docks have been proven to withstand many tropical storms and even some low to mid-range hurricanes.
Innovation: At EZ Dock, we are always striving to create innovative products that enhance your outdoor experience and create a more accessible, easy-to-use docking system. We want to be more than the first to create a product — we want to be the best. We use customer and distributor feedback to work with engineers to expand upon improvements and develop additions to our inventory.
Comfort: All polyethylene EZ Dock products are splinter-free and barefoot friendly! Even on hot summer days and in direct sunlight, you never have to worry about harming your family's feet or your pets' paws on your dock surface.
Style: There's a reason so many commercial, governmental and residential property owners turn to EZ Dock for their docking solutions. In addition to our accessible, durable and innovative design, our docks are available in a stylish, sleek appearance to create a classic look at your waterfront. Many of our accessories are also available in the same polyethylene construction, so you can create a uniform design to complement your space.
Request a Quote for Your EZ Dock Today
Fishing, swimming, boating, relaxing — no matter what brings you to the water, EZ Dock will meet you there. Contact us online to learn more about our docking systems, products and accessories, or request a quote for your EZ Dock today!