Ways to Increase the Value of Your Waterfront Property
Waterfront property has a built-in advantage you don't get with other pieces of land — the views and opportunities that come with living alongside a lake, river, ocean or pond. Though you will likely have many sellers interested in the location alone, there are several things you can do to further increase the value of your waterfront property and get the most out of your investment.
Benefits of Adding a Floating Dock to Your Waterfront Property
One of the biggest reasons people seek waterfront property is their interest in boating and owning land that can accommodate that passion. By highlighting the recreational opportunities of your property, you can attract more buyers. One of the best ways to do this is to add a floating dock. Offering a private dock on your waterfront property is an excellent way to garner more attention because docks are a convenient and secure place for boat owners to store their vessels. They are a natural place to gather and entertain while adding a lot of visual interest to the outside of your home. A well-maintained dock also helps your potential buyer see that you have taken care of the property.
Floating docks are a type of dock that does not involve extensive underwater installation. Instead, they float on top of the water, moving as the level rises and falls. While all docks can add value to waterfront property, a floating dock has significant advantages compared to a stationary dock. Some advantages of floating docks include:
Cost: The cost to build a floating dock is typically lower than a stationary dock, making it the most affordable option. Floating docks are easier to install and require fewer supplies than stationary docks, and in most cases, you can do so without professional assistance. They are also easier to maintain and repair, if necessary. This makes them a long-term, cost-effective docking solution.
Versatility: Many floating docks, including EZ Docks floating docks, are also modular. With a modular dock, you can easily move, expand and re-configure your dock however you see fit. This is an attractive option for buyers who might want to add more features or redesign the dock layout to suit their number of vessels. Modular docks are also easy to store away for winter, if applicable.
Convenience: With a stationary dock, your ability to enter and exit your boat depends on the water level. In many cases, this can render your boat inaccessible. Floating docks, however, adjust with the water. This self-adjusting quality makes them easy to use, especially when paired with a good anchoring system.
Once you have a dock installed on your waterfront property, make sure it is easily accessible by designating a clear, well-maintained path to and from the home to the dock or gangway.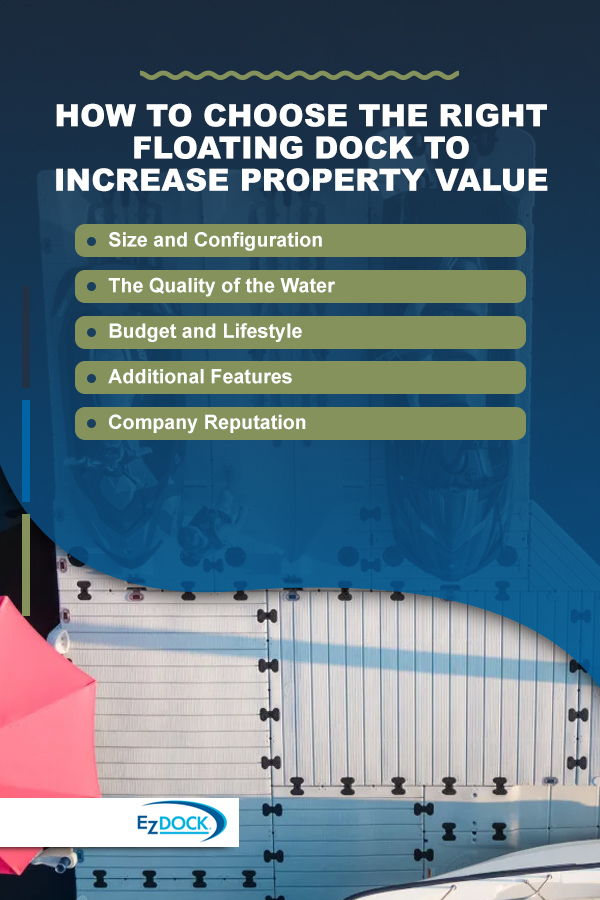 How to Choose the Right Floating Dock to Increase Property Value
You have several options once you've decided to enhance your waterfront property with a floating dock. There are different types of floating docks on the market, and some are better suited to your specific needs than others. To choose the best floating dock, consider these factors:
The size and configuration you need
The quality of the water
Your budget and lifestyle
Additional features you want to include
The company you choose
Size and Configuration
Consider the width, length and layout of your floating dock. You should base this decision on the following:
How many boats, PWCs, kayaks or canoes you have
The size of your vessels
Whether you want the dock to be used for additional activities, like swimming or fishing
The layout of your shoreline
The distance of your dock from the shore and whether you need a gangway to connect them
Any special considerations, such as accessibility features
EZ Dock has many different configurations and sizes available for your floating dock, including F-shaped, L-shaped, I-shaped, U-shaped, T-shaped and rectangular sections. Our dock sections vary in both length and width.
The Quality of the Water
The characteristics of your water are important when determining the type of floating dock you choose, including the materials it contains. A better understanding of your water can also help you choose the best place to install your dock.
Freshwater vs. saltwater: Saltwater is corrosive, so if your waterfront property is along a beach or ocean inlet, make sure you choose a floating dock made out of materials that will not rust or break down, such as polyethylene. Avoid wooden or aluminum docks, unless you are prepared to treat it with an anti-corrosion solution regularly. For freshwater, most docking materials are okay, though different materials have different maintenance requirements. Polyethylene does not fade, splinter or warp over time, making it the ideal choice for all water types.
Calm vs. busy waters: If your water is calm and doesn't get too many waves from other boat traffic, you can place your dock wherever it is most convenient for you. If you share your waterfront with others — or need to consider tides and currents — try to install your floating dock in a place that receives the least amount of movement.
Depth: Avoid placing your floating dock over any part of your waterfront that gets dangerously low, such as lakes that get drained regularly, to keep your dock safe.
Budget and Lifestyle
Although you have no way of knowing your potential property buyers' lifestyle, any homeowner will appreciate a dock that requires little to no ongoing maintenance that does not damage easily. By choosing a modular floating dock made of a durable material like recycled rubber, you can add immense value to your waterfront property without spending too much time or money on the dock and installation.
Additional Features
You can add even more value to your floating dock and your waterfront property by installing additional features or accessories that can enhance the user's experience, such as:
Safety railings for added stability
A PWC port for your JetSki, SeaDoo or similar
Additional storage boxes for supplies and towels
A boat port for easy launching
A swim platform with ladders or slides
A fish cleaning station
To keep your dock safe and stable during strong storms, you should also consider investing in a dock anchoring system to install with your floating dock.
Company Reputation
As you choose your floating dock, consider the distributor or manufacturer you are working with. Do they have a warranty or after-sale support in place? Read testimonials to help you make an informed decision, paying special attention to those that reference the company's customer service and the quality of their docking materials. Browse pictures of their previous work to make sure the dock will be a good fit for your property.
Other Ways to Increase the Value of Your Waterfront Property
While a floating dock adds home value, it's not the only thing you can do to boost your waterfront property's curb appeal.
Do Some Landscaping
Attractive landscaping can drastically increase the perceived value of your property, especially compared to properties without any landscaping. Landscaped homes are also eye-catching and a great way to let others know that you have taken good care of the property. Some tips for creating a well-landscaping home include:
Remember the view: While designing your landscape, consider how each angle of the property will look from both inside the house and from the water. Many people choose to buy waterfront property because of the beautiful views — place all plants and hardscapes strategically, so you do not block those views.
Focus on the water: Let the water be the focal point. Choose plants, trees and structures that enhance the natural beauty of the property, rather than compete with it.
Embrace the practical: Incorporate practical elements into your design, like erosion control structures and retaining walls if necessary. Use these as hardscapes rather than try to cover them. Other practical hardscapes include sidewalks and fences.
Hire a professional: Consider working with a professional landscape architect for the best results. They have a greater understanding of which plants and elements pair well together, as well as how to best care for them.
Have a plan: A thorough landscaping plan allows you to arrange each component of your landscape with intention. The result will be a cohesive design that potential buyers will enjoy.
When choosing plants for your landscaping, try to implement ones that are natural to the area. If a specific flower or shrub is native to your region, it will be easier to care for and complement the surrounding property. The best landscaping plants for your property depends on where you live, but a few popular examples include palm trees, willow trees and ornamental grasses.
Consider Professional Staging
Staging your home is one of the quickest and most effective ways to help potential buyers visualize themselves living there. A professionally staged home may increase the value of your property and garner more interest in photos. Some ways to stage a waterfront home are:
Focusing on entertaining: Waterfront homeowners will likely want to entertain others at their home, so adding patio or porch furniture is a great way to emphasize that aspect of the property.
Sticking to a theme: There are several staging themes one might consider on a waterfront home, such as a cozy, rustic lakeside cabin or an open and tropically colored beachfront home.
Emphasize the view: In rooms that face the water, it's a good idea to focus attention on staging elements that will draw attention to the view and natural light. It's especially important that all windows are clean and that you pull back any curtains or blinds during home tours to let the waterfront speak for itself.
While you want the space to look warm and inviting, try to balance that with neutral furnishings and decor. During staging, consider taking some of your belongings — like storage totes, pet supplies and family photos — to storage to create more of a blank canvas for potential buyers.
Add Other Outdoor Structures
Docks aren't the only outdoor structure that can add value to your property. You might also include elements such as:
A pergola, gazebo or arbor
A stone fireplace
An outdoor kitchen, bar or grilling area
A patio, porch or other lounging space
Walkways and small bridges
Elements like these can help the property feel more inviting, and they also serve a purpose, like providing a place to cook outdoors in the summer or gather with family. Consider adding fragrant flowers, ambient lighting or outdoor ceiling fans — anything to help the space feel as comfortable as possible. If you live on a waterfront property that attracts mosquitoes, you might incorporate outdoor netting, plants or lights that can help repel insects. When adding or changing any structures on your property, remember to consult all local building codes and your homeowner's association, if applicable.
Get Inspired
Waterfront property is a haven for boaters, kayakers, anglers and swimmers, so let that inspire you! Turn your property into a memorable vacation-inspired destination. Emphasize the joys and entertainment of waterfront property by adding things like:
A recreational area with a volleyball net or lawn games
A convenient place to store PWCs, kayaks and other vessels when not in use
A beach cart or golf cart to make the commute to and from the water easier
A fire pit for cooking and late-night gatherings by the water
Adding Value to Your Waterfront Property: Frequently Asked Questions
If you still have questions about what will add value to your property, consider these frequently asked questions.

How Much Does It Cost to Build a Boat Dock?
The cost to build a boat dock depends on several factors, including:
The type of dock: Stationary docks— including piling docks, crib docks, suspension docks and pipe docks — are typically more expensive to construct than a floating dock.
The materials used: The cost of wood varies depending on the type and whether it's been pressure-treated. Aluminum, though more expensive than wood, is more durable and requires minimal treatment. Plastic docks are the ideal balance between these two materials because they are usually more affordable than aluminum, but just as — if not more — durable. Plastic is also very low maintenance.
The dock's dimensions: The longer and wider your dock, including any gangways, the more expensive it will be to build. If you're working with a tight budget, start with a small, modular dock that you or the future property owners can easily add on to in the future.
The installation method: Most stationary docks require professional installation, and that installation can sometimes take several days or require specialized tools to complete. Depending on your project's scope, the cost of installation alone could eat away at your budget. By opting for a modular floating dock, you and a friend can install the dock yourselves. If you don't have the time to install your floating dock, an EZ Dock distributor will happily deliver and help set it up.
To keep building costs at a minimum, choose a dock that consists of durable materials that do not require specialized treatments and is easy to install without professional assistance. If your property already has a dock on-site, it might be more cost-effective to focus your time and budget into restoring it instead of replacing it with a new one. Keep in mind that the money you put into making improvements and adjustments around your waterfront property is an investment and might help you get more out of your property during a sale.

What Factors Could Lower the Value of My Waterfront Property?
If you're preparing your waterfront property for resale, you can implement many large-scale and small-scale changes to make it more appealing for potential buyers. However, there are also a few mistakes you can make that will have the opposite effect:
Dirt and clutter: Dirt, clutter and faded siding can have a negative impact on the perceived value of your house and other structures, like a garage or toolshed. Take the time to pressure wash or repaint the sides of all structures and clean every room of your home thoroughly to remove any clutter before taking pictures for the listing or holding home tours. The clearer a room is, the easier it will be for the viewer to imagine their own family and furnishings in the space.
Damage: Replace or repair damaged appliances or structures around your property, including the air conditioning and heating system, leaking ceilings or poorly insulated areas of the home.
Outdated design: While outdated fixtures, flooring and paint colors are not necessarily a dealbreaker, it never hurts to freshen up the interior of your home with a more modern or stylistic design.
The more clean, functional and professional your waterfront property is, the more eye-catching and easier to sell it will be.
What Are Some Tips for Selling Waterfront Property?
Use these tips to get the most out of your property listing:
Consider the shoreline: Make sure the shoreline is welcoming and inviting by clearing away any debris, weeds, brush or clutter. Consider adding soft outdoor lighting to emphasize the shoreline after dark.
Work with experienced professionals: Work with professionals who have experience selling waterfront properties. They can help you choose which features to highlight, how to attract buyers and help you navigate each facet of the process.
Work with a professional photographer: When listing your waterfront property for sale, have professional photos taken. You could also consider a video tour of the home to bring the listing to life. By allowing a photographer to handle your listing images and recordings, you get a higher quality and more effective listing. Professional photographers understand how the right lighting and angles can make or break a photo and strive to showcase each room in the best way.
Talk about the advantages of waterfront living: While the view is certainly a big reason many homeowners choose a waterfront property, it's also because living near the water offers a certain type of lifestyle. Be open about the benefits of living in a particular location. For instance, maybe you live on a river that is praised for its fun kayaking potential, or you own a stretch of beach that is only a short walk from the best seafood restaurant on the coast.

Learn More About EZ Dock Floating Docks
Do you want to improve the value and functionality of your waterfront property? All EZ Dock floating dock sections are made out of long-lasting, weather- and UV-resistant polyethylene and you can mix and match these modular sections to create a dock layout that makes sense for your property.
Visit us online to learn more about EZ Dock floating dock sections and configurations or to request a quote today!