How Does a Floating Dock Work?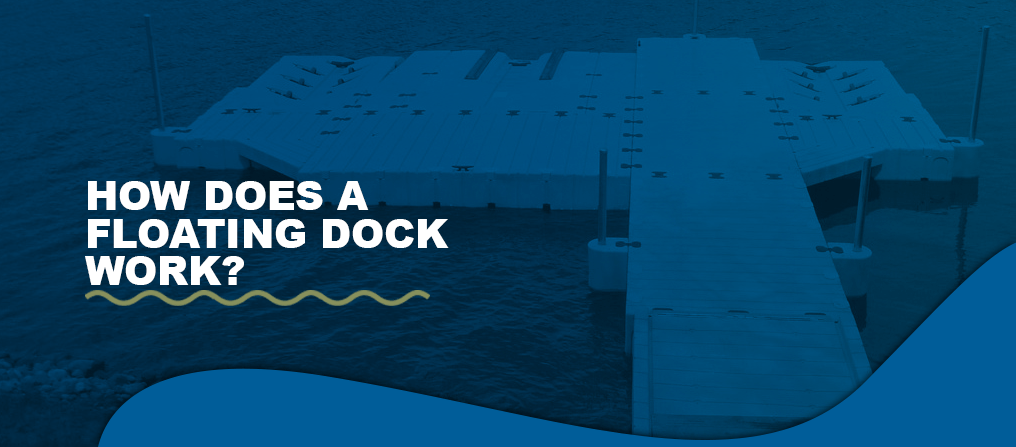 If you're a boat owner or oversee a marina or public boating space, you know that the right dock can transform your property, boost your resale value and create a welcoming space for people to board and exit their vessels. Docks also provide a natural gathering space for entertaining and lounging. Fortunately, you have several docking options available to you. Floating docks are the ideal solution because they are adaptable, durable and easy to maintain compared to other docking types. With modern innovation, they are also sleeker and more attractive than ever before, making them a great addition to any private or public property.
Let's review what exactly a floating dock is, how it works and how it compares to other common docks. Then, learn more about how to choose the right floating dock for your property.
Read the full article or jump to a specific section: 
What Is a Floating Dock?
A floating dock floats on top of the water instead of being bolted or otherwise attached to the surface beneath it. As the water moves and levels fluctuate, so does the dock. Modular floating docks are available in both individual sections and complete configurations. Floating dock sections vary in size and shape, and you can use them to create your own unique layout. Pre-made floating dock configurations are designed to accommodate certain features or accessories, like kayak and canoe launches, slides and swimming platforms, and personal watercraft (PWC) ports. Depending on the company you work with, you can also choose from additional add-ons to enhance your floating dock further, like storage space, safety railings, tie-up cleats, bumpers, and edging.
Floating docks are highly adaptable and suitable for a range of applications, including:
How Do Floating Docks Work?
Floating docks float because they are not as dense as the water due to the amount of air inside them. EZ Dock floating docks are made of linear low-density polyethylene (LLDPE) with thick, heavy walls and no frame. Inside the LLDPE sections is an air-filled chamber, which is how the docks stay level and steady when in use. This construction enables the floating dock to move with the water, rather than the water crashing against it, causing wear and tear.
Although they are not fixed like stationary docks, floating docks can be — and usually are — permanent docking solutions. The most significant difference is that you can relocate, alter, and extend floating docks, unlike fixed, permanent docks. You must connect the dock to the shore somehow, either through piling and brackets or via a gangway. Many floating dock owners also choose to anchor their docks for a more stable and functional structure.
Some ways to anchor a floating dock include:
Galvanized poles.
Full-size pilings.
Dead weights.
Stiff arms attached to the shore.
A combination of one or more of the above.
Each section of a floating dock is held together by a coupler system, which connects the segments and helps sustain various weight and stress levels. EZ Dock coupler systems are unique because we craft them out of environmentally-friendly recycled rubber, which withstands strong waves and absorbs shock. This also eliminates the need for screws, bolts, nuts, and nails, which render a dock immobile and corrode over time.
How To Choose a Floating Dock
Now that you know more about how floating dock structures work and what applications they are suitable for, how do you choose the right one for your needs? While you will want to consider minor details, such as the docking system's color and aesthetic appeal, you also need to consider the following:
1. The Type of Property You Plan To Place the Dock
As you have already seen, floating docks are a staple at many different settings — residential, commercial, industrial, and governmental. You must consider the type of property where you plan to install your floating dock to help you choose the best one. For example, governmental bodies or commercial spaces may have stricter guidelines for spacing and sizes. Homeowners who are a part of a homeowner's association might have local regulations and fees associated with a docking structure. Where you live and place your dock may also determine specific building codes.
The place you install your floating dock will also inform the types of features and accessories you should include. For instance, additional safety railings are a good idea for docks on exceptionally rough or deep waters, as well as docks that children visit. Storage boxes, benches, and ladders are useful in recreational settings, like summer camps and waterside resorts.
When considering your property, you must also take into account the type of water you will place the dock on. Each body of water — ocean, river, pond, and lake — pose different challenges and considerations:
Oceans: Swimming, surfing, boating — a dock on your oceanfront property is the gateway to all of it. The saltiness of the ocean water and wind can corrode many materials, so you need a dock that can withstand these conditions, as well as the strong tides, currents, and waves. It is also essential that you do not choose a dock that requires treatment with a hazardous chemical, as the runoff is toxic for sea life.
Rivers: If you have a dock on a piece of riverside property, you understand the challenge posed by swift-moving currents and fluctuating water levels. Choose a dock that will float with the moving waters, rather than break them, so boarding and exiting your vessel is a breeze.
Ponds and lakes: Lakes and ponds often have calmer waters than rivers and the ocean, but boat traffic and the threat of ecosystem disruption are significant considerations for these property types, especially in governmentally protected lands, like national and state parks. The best docking solution is one that is as minimally invasive as possible.
2. What Materials the Dock Is Made Of
Docks consist of several materials, and often a combination of more than one. Three of the most common are wood, aluminum, and plastic.
Wood: For a long time, wood was considered the traditional choice for docks. It looks great and is made of trees, which is a renewable resource. However, it requires hardware, like nails and screws, to assemble a wooden dock. Once standing, even treated wood is prone to rot, warp, splinters, and insect damage. These docks require permanent ongoing maintenance and upkeep, which can get costly and time-consuming. Wooden docks eventually need replacing, usually much sooner than their plastic counterparts.
Aluminum: Aluminum may be used for entire docks, but its ideal application is as a frame combined with another docking material. Aluminum framing has watertight, interlocking edges, and the makeup is scratch and weather-resistant, so you don't have to worry about dents, rotting, or rust — though it can corrode over time without proper care. Aluminum is also very lightweight yet durable enough to withstand most impacts. Aluminum framing will last decades if maintained.
Plastic: There are many different types of plastic used for docks. EZ Dock uses a high-quality polyethylene, a kind of robust, adaptable, and lightweight polymer. Polyethylene docks will not warp, rust or dent, and can withstand severe weather conditions with the right anchoring hardware. They are also highly versatile. Should a section become damaged, you can easily replace it without disassembling the entire dock system. There are no nails or treatments necessary to maintain this strength — only an occasional wipe-down to remove any residue or dirt. Though polyethylene is not a renewable resource, EZ Dock is passionate about taking environmental precautions to lessen the impact of dock installation. These strict standards include using recycled materials when possible and choosing materials that do not contain contaminants or harmful chemicals. Our docks are free of environmentally harmful foam, and our connection couplers are made from 90% pre- and post-consumer waste.
3. Its Shape and Dimensions
Every property and budget is different. When you choose your floating dock, you must account for the specific needs of the waterfront land where you're installing it, as well as what you're going to use the dock for once it's finished. For instance, if you plan to dock several PWCs or multiple canoes, you need a configuration that can accommodate them. For homes with several boats or public access spaces, you need a design that safely leaves enough room for easy entry and exit.
EZ Dock floating dock configurations are available in the following shapes:
F-shape
I-shape
L-shape
T-shape
U-shape
Rectangular
You can also choose configurations with ports and features already built into them, or opt for individual sections to make different size and shapes to fit the requirements of the space you're working with. Section options include corner gussets, half hex pieces, low profile docks and rectangular pieces.
4. Stability, Safety and Accessibility Features
The most important part of a floating dock structure is that it is safe and stable for those walking on and using it. Look for a dock that allows users ample space to move and navigate, including additional safety features like boat bumpers and railings. The polyethylene construction enables EZ Dock floating docks to stay cool and burn-free, even in the hot summer sun, making them a safe choice for children, pets and barefoot swimmers. They are slip-resistant with a textured surface that makes it easy to maintain a grip, even when the dock is wet.
The best floating dock designs make boating, swimming, fishing and relaxing an easy experience for everyone. You can configure EZ Dock products to meet the U.S. Access Board's guidelines for universal accessibility. Additionally, EZ Dock is the home of the innovative EZ Launch Accessible Transfer System for kayakers and canoers. This system exceeds minimum requirements from the Americans with Disabilities Act (ADA) and uses a transfer bench with slide boards to accommodate wheelchairs and watercraft of various dimensions.
5. The Installation and Maintenance Process
EZ Dock floating docks are easy to install yourself or with a helper, but our distributors are happy to take care of the process for you. Should you decide to install one of our systems yourself, you will need:
An in-water coupler installation tool.
A coupler nut tool.
A hammer.
A ratchet.
A 15/16-inch wrench or socket.
A Phillips head screwdriver.
Once the dock is installed, you won't be responsible for much upkeep. The polyethylene construction materials are resistant to UV-fading, and our modular designs typically come clean on their own after heavy rain. If you want to retain the brand new appearance, use soap and water or a pressure washer, and your dock will gleam like that day you installed it.
Benefits of Floating Boat Docks vs. Other Docks
Docks are either fixed or removable. Floating docks are one type of removable structure, though they are often intended for long-term use. Other types of removable docks include piling docks and pipe docks. Piling docks contain wooden beams — pilings — that attach to the ground beneath the water and the dock using special hardware. Hoops or rollers enable the dock to move with the water while keeping it stationary. Though they move with the water, they can't adjust to rising or lowering levels, making them susceptible to damage and less adaptable to different environments. Pipe docks are similar, except they use aluminum framing and removable docking pieces. They are ideal for shallow water, but they can freeze and break in the winter. They are also vulnerable to currents and tides and prone to submersion.
The two primary types of permanent docks are crib and suspension. Crib docks are made out of rock-filled wooden cribs that are installed underneath the docking surface. They are very stable, but often cause environmental damage and are restricted in many areas. They are also very costly to erect. On the other hand, suspension docks use cables to hang over the top of the water, which renders them fairly harmless to the environment — but they are often just as expensive and challenging to install. The dock itself can be made of either metal or wood, and due to the nature of the suspension system, you cannot take it down during severe weather.
How Floating Docks Are Different
Though piling, pipe, crib and suspension docks serve their purpose, floating docks offer a far superior approach. They are the ideal balance of strength, functionality, affordability and adaptability. Compared to other types of docks, modular floating dock structures offer the following benefits:
Easier installation: Compared to other types of docks — which often take days or weeks to install and require specialized equipment and professional assistance — floating dock installation is simple and quick, leaving you more time and energy to spend enjoying the water. This easy installation also saves you the money and time required to find and hire the right team of builders or contractors.
Reliable accessibility: Whatever the level or condition of the water, you don't have to worry about your floating dock becoming inaccessible in floods or high tides. Instead, it rises and falls with the water, so your boat trip or fishing excursion doesn't have to wait.
Adaptability: Modular floating docks are easy to move, remove and extend, should you want or need to. Many dock owners prefer to put their docks away during winter, either due to regulations in their community or because it helps preserve the integrity of the dock longer. This means you can also take your dock with you when you move or redesign your public space — a money-saving luxury you cannot get with a permanent dock. When you add wheels to your modular segments, transporting your dock gets even easier.
Affordability: With a modular docking system, you get to choose how big or small you want your dock. This can be several yards long or only a few feet from the shoreline — it's up to your needs, wants and budget. As you wish to expand, you can add more features and accessories, making this a lifelong investment that you can adapt to your changing lifestyle.
Long-lasting durability: Polyethylene docks from EZ Dock last far longer than other docking materials, and they require minimal ongoing care. Even as weather conditions worsen and waves crash, you can expect the toughness and reliability of your EZ Dock system to stay stable and in-place.
Minimally invasive installation: Installing an EZ Dock requires little to no impact on the surrounding environment, making it a much less disruptive docking choice. By choosing a system that does not disrupt any natural ecosystems or habitats, you're doing your part to preserve the plant and animal life around you.
Smooth entry and exit: With non-floating docks, rising and falling water levels can make it difficult to get in and out of your boat, PWC or other vessels. When using a dock that rises and falls with the water, you can enter and exit at the same level as the water, with no strain or physical stress needed.
Why Choose EZ Dock Floating Docks?
Since 1991, EZ Dock has remained committed to bringing innovative, top-quality floating docks, launches and accessories to the market. When you choose a floating dock from EZ Dock, you know you're getting:
Versatility: If you want to expand upon your existing dock, you can easily attach our floating dock sections. From there, you can customize your configuration with ports and accessories for optimal usability.
Quality: The perfect dock starts with the right materials, which is why we use foam-free rotomolded polyethylene chambers to create a strong, stable and structurally sound dock.
Durability: Your dock should offer peace of mind when severe weather hits. Our products are resilient and have successfully withstood tropical storms, as well as low and mid-category hurricanes.
Simplicity: Enjoy the simplicity of a self-maintaining docking system that requires no intense scrubbing, treatments, frequent repairs or worn material replacement. When you change your mind — or your address — it's equally easy to rearrange and relocate your docking system whenever you need to.
Service: Your floating dock is a long-term investment, and at EZ Dock, we are just as invested in your satisfaction. Our representatives are always a quick phone call away whenever you have questions, need installation assistance or want to learn more about our products.
Learn More About Floating Docks From EZ Dock
As water enthusiasts ourselves, we understand the right dock can bring out the best in your waterfront property — and offer endless hours of relaxation, entertainment and convenience. Learn more about the EZ Dock advantage, and request your quote today!