The Best Strength Training Tips for Rowing
Competitive rowers require strength training for muscle groups that contribute to rowing performance. However, you should also work the muscle groups that are less involved in the rowing movement. As a rower, you want to increase your force output, put more power into each stroke and stabilize your core, while simultaneously ensuring you pay attention to the opposing muscle groups. Maintaining the balance between muscle groups allows for better overall performance and significantly reduces the risk of injury. 
Rowers do strength training all year long, building muscle mass, strength and power in the off-season. In the competitive season, the focus shifts to rowing performance, but ideally, rowers want to simultaneously maintain as much strength and power as possible. Strength exercises for rowers help maximize efficiency and increase overall muscle mass.
10 Strength Training Exercises for Rowing
1. Dumbbell Snatches
2. Front Squats
3. Deadlifts
4. Back Squats
5. Romanian Deadlifts
6. Bulgarian Split Squats
7. Hex Bar/Trap Bar Deadlifts
8. Batwing Rows
9. Overhead Presses
10. Y-W-T Raises
Find the Right Rowing Dock With EZ Dock
Top Strength Training Tips for Rowing
Like athletes in any other competitive sport, strength training for rowers goes beyond weightlifting. Increasing your strength means less effort per stroke and more endurance. When training, you want to be fitter for rowing, not just increase your muscle mass with no real plan. This sport-specific training model yields the best results when performed as part of a cycle with your endurance and performance training on the water. 
Time your sessions: Put some space between strength training and rowing sessions. Ideally, you would do them on different days, but at the very least, separate them at opposite ends of the day. 
Stick to two or three weekly sessions: Don't overdo the strength training. As an athlete, you need to give yourself ample recovery time, or you'll notice an adverse effect on your overall endurance.
Keep it simple: Don't go to extremes with complex movements. Focus on the muscle groups you went to the gym to train. Stick to one leg, one pull, one hip hinge, two core exercises and a couple of stretches per session. You don't need to do more than that. 
With rowing in mind, it's best to periodize your training — in other words, prioritize specific areas depending on the time of year. With the periodizing technique, you home in on one thing at a time and bring it all together during the competition season. For rowing, you can generally break your training into five blocks.
General preparation: Twelve to 16 weeks before the start of the fall season, focus on muscular balance and body composition. Coming off a competitive season often leaves you exhausted and nursing minor injuries. Think about building a foundation for the new season, and try to pay attention to aerobic training to build your endurance. 
Specific preparation: Think about strength as your primary focus eight to 16 weeks before the fall racing season and winter training. Target your pushing and pulling muscle groups at between 70 and 85% intensity. 
Pre-competitive: Six to eight weeks before the competitive season begins, focus on using strength training to maximize your speed and power output. Keep your intensity the same, but drop your reps and increase the explosive bursts of power behind each one. It's your last chance to build your strength before moving into the on-season maintenance cycle. 
Competitive: When competing on the water, keep the strength training at a maintenance level, but don't make the mistake of stopping it altogether. Instead, drop to twice a week with high-intensity training sessions to maintain maximum strength. 
Immediate off-season: While you can train if you like, focus on active recovery and rest in this period, so you're ready for next season. 
As a rower, your primary strength training should focus on five areas to build strength throughout the year.
Legs: Simple squats will do the job here, as you want to strengthen your quads, glutes and core. Variations of the basic squat will suffice, such as front rack, back and pause squats. 
Hips: Your hip hinge is one of the primary methods of producing force while rowing. Romanian deadlifts allow you to target your hamstrings, lower back and glutes all in one lift.
Back: Legs and hips provide your pushing strength, but your back, lats and deltoids give you that all-around pull. Think dumbbell rows, bent-over rows, Y-W-T raises and their variations as a starting point and build from there. 
Core: The key to core strength is change. Keep the core solid throughout the year with go-to core strength exercises such as push-ups and planks, but also consider your obliques with Russian twists and glute bridges. Be consistent for the best overall core strength you can get. 
Injury prevention: Don't neglect the non-rowing muscle groups, either. Think about your rear deltoids and upper back here, with banded pull-aparts and shoulder shrugs, among others. 
10 Strength Training Lifts for Rowing
Remember, you're a rower. Build your strength training routines around that and you have a much better chance of seeing results. Below are some of the best strength training lifts for rowing, how-tos and other choice information on each lift. As a rower, you can only look to improve your strength in these areas for maximum power and explosiveness throughout your row. 
1. Dumbbell Snatches
Single-arm dumbbell snatches are safer than barbell snatches and will quickly help you identify weaknesses and imbalances in your strength and movement. This exercise will build up your shoulder, back and grip strength. Balancing yourself throughout the lift will also strengthen your core. 
How to Do It
Place a dumbbell on the floor and stand with your feet on either side, hip-width apart and toes pointed slightly outward. 
Start with your right arm. Let it hang between your legs, bend your hips and knees and squat down. Grab the dumbbell with your palm inward toward your body.
Inhale and activate your core, glutes and hips.
Time to get explosive. Extend your knees, ankles and hips and keep your arm straight. 
Shrug your dumbbell shoulder, drop into a quarter-squat and bring the weight over your head. Keep it in that position, and find your balance to control the movement. Stand up straight. 
Return the dumbbell to the starting position and repeat with your left hand. 
Tips to Avoid Injury
Control the movement: Don't throw the dumbbell up into the air and put yourself off-balance, or you'll risk shoulder injury. Be explosive but controlled. 
Engage your core: Brace yourself like someone is about to kick you in the stomach to keep things balanced and level. 
2. Front Squats
Due to the explosive movement and focus on lower body strength, the front squat is one of the best weapons in the rower's lifting arsenal. You'll target your quads, hamstrings and glutes to help you push when you're out on the water. You'll need a barbell set slightly lower than your shoulders. 
How to Do It
Stand facing the bar with your feet shoulder-width apart. Hold the bar in the clean or cross grip and keep your elbows high to prevent it from slipping down your arms. The bar should rest on your upper chest and the front of your shoulders. 
Sit straight down, bending at the hips, knees and ankles until your thighs are parallel to the floor. Keep your spine neutral and your chest out. 
Push your legs explosively into the ground to activate the upward movement. Engage your glutes, straighten your knees and allow your hip to come forward until you're standing in the start position. 
Tips to Avoid Injury
Keep a neutral spine: Try not to lift with your lower back. Instead, focus on pushing with your legs, spine and chest out. 
Focus on form: When lifting heavy, prioritize form over the weight you bear. Keep your thighs parallel to the ground to avoid overextending your knees. Look straight ahead and distribute the weight evenly over your chest and shoulders. 
3. Deadlifts
Deadlifts mimic the motion of the slide, so they're incredibly beneficial as part of a strength training regimen. This lift gives you a one-step way to train rower muscle groups, targeting the quads, hamstrings, hip flexors, glutes, core and back. If you perform this lift correctly, it's excellent for rowing. You'll need a barbell for this exercise. 
How to Do It
With the barbell in front of your hips, stand with your feet shoulder-width apart. Grip the bar with your hands just outside your legs. 
Keeping your chest proud and your back straight, push into the ground and pull the bar up to mid-thigh. Push your hips forward until you're standing up straight. 
Tips to Avoid Injury
Keep a micro-bend in your knees: Overextending your knees can cause injuries. Focus on the correct muscle groups and use your knees as a hinge, nothing more. 
Ensure your back is flat: Rounded shoulders are a deadlift disaster waiting to happen — you'll strain your lower back if you try. Look straight ahead and engage your core instead. 
4. Back Squats
This lift also focuses on increasing your leg strength, targeting the lower back, hamstrings, glutes, quads and core. If you want to make your drive more powerful, back squats should make it onto your training schedule. You'll need a barbell. 
How to Do It
The barbell should be behind your head, with weight evenly distributed on your shoulders and traps. Stand with your feet hip-width apart and toes turned slightly outward. 
Engage your core and keep your chest proud. 
Squat down, bending at the hips, knees and ankles until your thighs are parallel to the ground, pause and get ready to explode.
Push into the ground, making the movement as robust as possible and return to the start position.
Tips to Avoid Injury
Keep your chest proud: Allowing your chest to fall forward puts extra pressure on your lower back and core.
Lead with your hips: Bend at the hips before the knees and sit into your hip to prevent your knee from falling over your toes. 
5. Romanian Deadlifts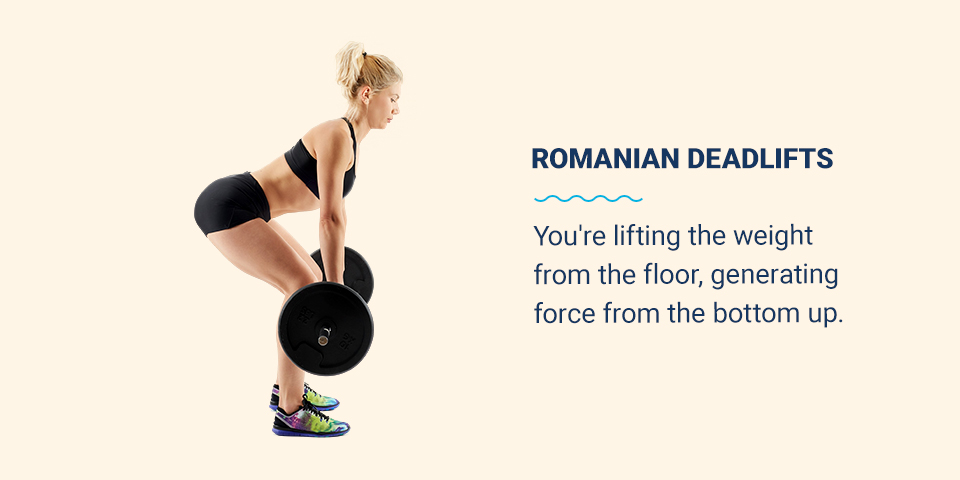 Romanian deadlifts are similar to straight deadlifts without the added pressure of the start position. This lift allows you to focus on the hip-hinge movement and gives you all the other benefits of a deadlift, such as using your core and glutes for balance and control. You're lifting the weight from the floor, generating force from the bottom up. 
How to Do It
With a barbell on the floor in front of you, stand with your feet hip-width apart. Keep your knees soft, not locked out.
Hinge forward at the hips, keeping a proud chest and neutral spine. Grab the barbell with your hands shoulder-width apart. 
Tighten your glutes, core and hamstrings and push into the ground in an explosive movement. Stand up straight with the barbell around mid-thigh. Lock your hips and squeeze your glutes at the top of the movement. 
With a flat back, lower the barbell until your hamstrings are at maximum flexibility. Keep your core engaged and your knees bent, then repeat. 
Tips to Avoid Injury
Keep a flat back: Your back must be flat for the whole length of your torso. Any rounding of your shoulders or lower back will result in injury. 
Have the barbell close to your body: If you're struggling to flatten your lower back, keep the barbell closer to your body. Doing so will also help you target your lats. 
6. Bulgarian Split Squats
Also known as rear foot elevated split squats, this lift allows you to target one leg at a time and address any strength imbalance. You get a nice stretch on the elevated leg while focusing on the strength and control in the front, so it's also dynamic. Bulgarian split squats target your quads, glutes, hamstrings, core and hip flexors. You can use your body weight or dumbbells for this lift, and you'll need a bench or sturdy chair. 
How to Do It
Stand with your back to the bench about two feet in front of it. Keep your feet hip-width apart, chest proud and shoulders back. Look straight ahead. 
Put your right foot on the bench. You can have the top of your foot flat or flex your ankle and rest the ball there.
Engage your core, focus on your front leg and bend your left knee, allowing your back leg to bend naturally. Make sure you don't bear any weight on your back leg. 
Bend your knee until your thigh is parallel to the ground. Then, push your foot down into the floor to return to the start position. Repeat with your left foot on the bench.
Tips to Avoid Injury
Take time to align your feet: Focus on keeping your feet hip-width apart even when you put your back foot on the bench. Ensure you're balanced so you don't throw your upper body forward to compensate, as you could fall. 
Engage your core: To help with balance and prevent muscle strain, engage your core and always focus on your front leg. 
7. Hex Bar/Trap Bar Deadlifts
For those who have mastered the movement of the Romanian deadlift, you can train the same muscle groups a little bit harder with a hex bar. The positioning of the hex bar allows you to keep a more upright torso, have a better grip and put less strain on your spine. Though the lift may be more strenuous, you're less likely to suffer back injuries. If you're new to this lift, practice with only the bar and focus on form before you add weight. 
How to Do It
Step into the middle of the hexagon and keep your feet shoulder-width apart. 
With your back flat and your chest proud, hinge forward from the hip and bend your knees a little to get a grip on the bar. 
Grab the outside of the hexagon or high handles with a shoulder-width grip. Keep your palms facing your body in a neutral grip. 
Push into the ground, keeping your shins perpendicular to the ground and your knees still. 
When your upper body is almost straight, push through your knees and straighten your legs. Hold the weight in front of your thighs. 
Lower the weight by hinging at your hips and then knees.
Tips to Avoid Injury
Keep your back flat: It's crucial not to round your back when doing this lift, as you risk a slipped disc if you put too much pressure on your lumbar spine. 
Extend your hips late: Extending your hips too early means you take on more weight before standing up straight, which can strain several muscles. 
8. Batwing Rows
Batwing rows target the arm, mid-back and shoulders for an extra squeeze as you release your stroke. You'll need a bench and dumbbells for this lift. 
How to Do It
Lie face-down on the bench with your toes on the floor behind you and your knees bent. Have a dumbbell in each hand at a 45-degree angle. 
Tuck your shoulder blades down and back and look ahead. 
Pull your elbows to your sides and focus on pulling the dumbbells into your body. 
Maintaining control, lower your arms back to the start position.
Tips to Avoid Injury
Keep it light: No need to go heavy here. Focus on form and control and squeeze at the top — you should feel more than enough burn. 
Hug the bench: Keep your body tight to the bench and don't overcompensate by arching your lower back. If you're struggling with this, go lighter. 
9. Overhead Presses
Though you can use two arms for overhead presses, the one-armed version allows for better balance, core stability and more controlled movement. Shoulder and arm strength are vital for the foundation of your stroke. Focusing on one arm at a time allows you to correct any imbalances. You can progress through many variations of this lift as you need more of a challenge. You'll need dumbbells or kettlebells. 
How to Do It
Stand with your feet shoulder-width apart and knees slightly bent. Hold the dumbbell in front of your shoulder with your arms bent and your palm facing your chest. 
Engage your core throughout the lift.
Press the dumbbell over your head until your arm is straight and your bicep is alongside your ear. 
Lower the dumbbell back into the start position, focusing on control. 
Tips to Avoid Injury
Push that shoulder down: When pushing upward, your shoulder often comes up toward your ear, which puts unnecessary strain on your neck and pulls you off-balance. 
Bend your knees: In doing this lift, be careful not to focus so much on pushing upward that you hyperextend your knees. 
10. Y-W-T Raises
Another fantastic lift that targets the upper back and shoulders, the Y-W-T raise, is an excellent way to find and isolate the different parts of the large trapezius muscle in the upper back. The letters Y, W and T don't stand for anything — they only refer to where your arms should be relative to your body. Though the upper trapezius is generally stronger and easier to train, the middle and lower sections of the muscle require more focus. Rowers who use their shoulders and upper back to put more power behind the stroke can benefit significantly from incorporating this lift, as it targets the muscle groups often underdeveloped by rowing. 
How to Do It
Stand with your feet hip-width apart and knees slightly bent. Hinge forward from the hip until your torso is at a 45-degree angle and keep your back flat. You can also do this exercise lying down to take the strain off your lower back. 
With or without hand weights, hold your hands with your palms facing in and your thumbs up. 
For the Y part of the exercise, lift your arms until your biceps align with your ears. You should look like the capital letter Y with your head in the middle. 
Bend your arms until they are 90 degrees at the elbow and pull them in front of your chest. Squeeze your lower and middle trapezius to open your arms, making a W shape at your sides.
Straighten your arms and keep your thumbs up, then squeeze behind to open into a T shape. 
Tips to Avoid Injury
Focus on form: Feeling your muscles and learning to do this exercise correctly is far more critical than lifting heavy. Start without weights or your lightest pair of dumbbells and work from there.
Keep your core engaged: Avoid putting strain on your lower back by engaging your core muscles. 
Find the Right Rowing Dock With EZ Dock
If you want to upgrade the rowing dock at your club or lakeside home, you can take another step toward success with the low-profile rowing dock from EZ Dock. Our rowing docks are easy to use and convenient, so you and your team can focus on your training and competition. 
Whatever you need for rowing training, EZ Dock can provide you with the supplies so you can get out on the water and be in your element. Feel free to browse our full selection of products at your leisure. Alternatively, you're welcome to contact us so we can help you find the perfect rowing dock to suit your needs.