Kayaking in North Dakota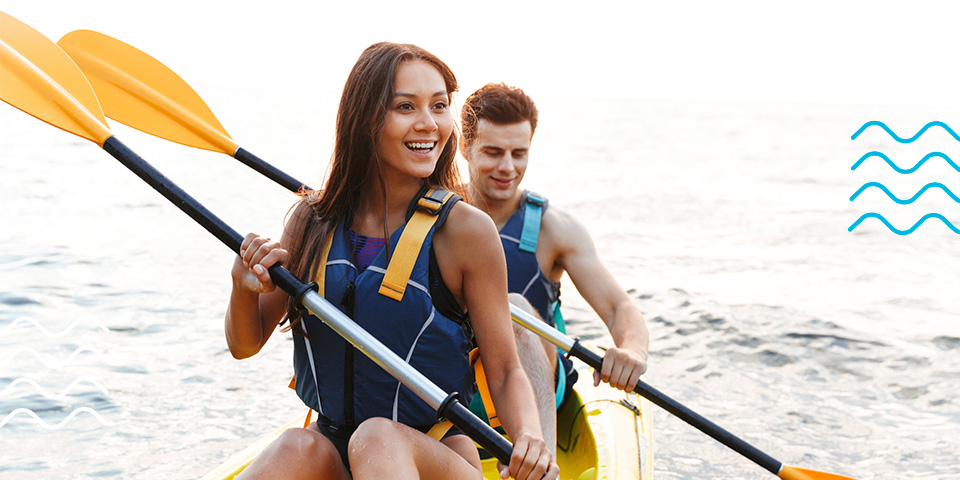 Nestled between the beautiful mountain ranges and scenic trails of North Dakota flows a variety of rivers and lakes, perfect for kayaking. Whether you're a professional or would like to dip into the water for the first time, knowing the best time to go kayaking in North Dakota will help you plan a memorable experience.
From choosing the best time of year to go kayaking to the top North Dakota kayaking destinations, use our helpful guide to prepare for your next trip down the river.
Top North Dakota Kayaking Destinations
If you aren't sure where to head first, then you're in luck. Here's a list of some of the top destinations where you can go kayaking in North Dakota:
1. Missouri River
First on our list is the longest river in North Dakota and the United States. The Missouri River is as scenic as it is rough, with winds sometimes creating strong currents that will offer experienced kayakers a thrilling challenge. In North Dakota, you'll travel through the Bismarck-Mandan leg of the river.
There are kayak rental services and tours available that offer single and tandem kayaks for you and your group. Remember to book in advance, especially during the busy summer months. This will allow you to enjoy the scenery and fun activities such as bird watching.
2. Pembina River Trail
The Pembina River Trail is a great place to start if you're ready to kayak through fast waters while enjoying beautiful views. The area surrounding the river is secluded and is the only white-water river in North Dakota. It offers class 1 rapids that are enjoyable for both experienced and beginner kayakers.
To fully enjoy the scenery, try kayaking on the Pembina River Trail during spring and summer. There are kayak rentals and shuttles available along the river, providing access to avid kayakers.
3. Lake Metigoshe
Explore the great outdoors at Lake Metigoshe. The Canoe Trail stretches through Lake Metigoshe, allowing you to take in the beautiful scenery from the comfort of your kayak. You can visit Lake Metigoshe all year, as it offers fun activities throughout the summer and winter months.
As you make your way down Canoe Trail, you'll have to portage through certain sections. This means picking up your boat and walking down the river banks to the next point. This gives you a chance to stretch your legs and even picnic on the beautiful shoreline.
4. Harmon Lake
Harmon Lake might be small at around 145 acres, but it's a great spot to kayak through calm waters. Impounded from the Missouri River in 2009, this lake is human-made and offers many water activities, including canoeing, paddleboarding and kayaking.
The Best Time of Year to Go Kayaking in North Dakota
There is no official kayaking season in North Dakota. However, the summer months are the best time to enter the water and enjoy the warm weather — be sure to wear a hat and sunscreen to protect you from direct sunlight. For slightly cooler temperatures, you can opt to kayak during late August and early September. You can kayak during winter, although you should enter freezing water with caution. Remember to dress warm and plan accordingly.
The weather can vary on your trip. So, it's best to be prepared and wear suitable clothes when camping and kayaking. Check the weather forecast before you leave in case you need to make any changes.
How to Prepare for Kayaking in North Dakota
Being prepared for your kayaking trip increases the chances of having a great experience and provides you with the basic knowledge to navigate your way in the waters.
Gather the Supplies You Need
You can get your kayak and paddles from kayak rental facilities by the rivers and lakes you plan to kayak. You also need basic additional must-haves on your trip. To be fully prepared, create a kayaking checklist to ensure you have all the essentials packed:
Water: Stay hydrated by packing enough water for your trip. As low-impact as kayaking seems, you need to drink enough water while doing any kind of physical activity.
Dry bag or waterproof storage case: Keep your belongings dry using a sealed storage case or dry bag.
Lifejacket: Even in calm water, it's best to wear a lifejacket in the event that your kayak capsizes. 
Sunscreen: Protect yourself from the sun by applying sunscreen that is SPF 30 or higher and water resistant. Reapply sunscreen every few hours, even on overcast days.
Hat and sunglasses: As with sunscreen, you should wear a hat and sunglasses to protect yourself from direct sunlight. Choose a hat that shields your entire face.
Physical map: There may be limited network coverage when you're out on the water. Keep a physical map in your dry bag, so you can consult it if you don't have cell service.
Headlamp: If you're out in the water in the early morning or evening, use a light and adjustable headlamp to help you find your way. Remember to pack extra batteries. 
Binoculars: North Dakota is a great place for bird watching and spotting other kinds of animals. Pack binoculars to help you get a better look at the scenery and wildlife.
Quick-drying clothes: If you capsize or decide to take a dip in the water, you should wear and pack extra quick-drying clothes.
Kayak spray skirt: In colder conditions, a spray skirt can increase comfort and prevent water from getting into the boat.
Signaling whistle: In case of an emergency or when you need to alert your group of something, pack a signaling whistle.
Prepare Before You Get Into the Water
Preparing for your kayaking trip includes preparing yourself. You should know the dos and don'ts to increase the chance of a safe and enjoyable kayaking experience.
Learn hand signals: Learn the hand signals you might need when out on the water. This helps if you're out of earshot and want to communicate with your group.
Correct your posture: Get comfortable by sitting straight with your back against the kayak and your toes pointed outward.
Discover your paddling style: Practice paddling in your home or before you get in the water to identify your paddling style. 
Take a kayaking course: To help you become better prepared, you can enroll in a beginner kayaking course.
Watch kayaking videos: Apart from taking a kayaking course, you can also learn safety tips and advice from kayakers online.
Stretch: You need to stretch before and after kayaking if you'll be in the water for a few hours. 
Kayak with a group: Kayaking with a group is safer and often more fun.
Make Kayaking a Breeze With EZ Dock Kayak Launches
Kayaking in North Dakota is a great experience that offers access to beautiful scenery and an enjoyable adventure. If you're interested in making kayaking at home easier, we're here to help with our EZ Launch® resident docks for kayaks. These docks will help you enter the water with ease and require minimal maintenance, allowing you to spend more of your time on the water.
Interested in learning more? Complete an online form to request a quote today.