Your Guide to Floating Dock Hurricane Preparation
Life on the coast is perfect for boaters, kayakers, and water-sports enthusiasts, but it also requires careful planning and preparation. Each year, hurricane season brings with it an average of six hurricanes, and half of those are often classified as major, meaning they are a Category 3 or higher. This is in addition to a dozen or more named severe or tropical storms.
Atlantic hurricane season runs from June through the end of November, while the Pacific season begins a few weeks earlier on May 15. Hurricanes cause billions of dollars worth of damage every year, and much of that damage occurs to boats and boat docks.
While some hurricane-related damage is unavoidable, you can take steps now to be better prepared for hurricane season. This guide teaches you about readying your floating dock and vessel for the upcoming storm season, including how to prepare your boat for a hurricane and tips for keeping your dock safe.
Read the full article or jump to a specific section: 
Risks of Hurricane Season
Hurricanes are responsible for numerous types of property and environmental damage. If you are a boater or marina operator, lack of preparation can mean the difference between protecting a vessel and dock or having to reconcile costly and potentially irreparable damage once the storm has passed.
If you are a boat or dock owner, hurricanes pose the following risks to your property:
Surges of high water — often 10 feet or higher during strong storms — can submerge fixed docks and lift unsecured vessels.
High winds threaten sails, loose items, and nearby trees or structures.
Wind and rain can loosen vessels from the dock, leaving them to drift out to sea or into other boats or structures.
Heavy waves will rock your boat back and forth, threatening unsecured items inside the cabin.
If you have a fixed dock, fluctuating water levels make it challenging to board or exit emergency rescue vessels.
Storm damage can cause boats to leak harmful fuel and oil into the water.
Heavy rains can flood vessels, make docks slippery, and move around harmful debris.
Damaged electrical cords and fallen power lines create a dangerous environment near the water.
Hurricanes can create tornados, which bring even stronger winds and more threatening conditions, including flying debris that can damage your dock and boat.
Storms stir up a lot of dirt and bacteria, which can make the water unsafe.
It's impossible to know exactly what to expect from a hurricane or tropical storm because they can worsen, change, or move without warning. The more severe a hurricane is, the more damage you can expect, which is why early preparation is essential. By preparing for the worst-case scenario, you can help protect your floating dock, boat, kayak, or personal watercraft (PWC) from as much storm-related damage as possible.
How to Prepare Your Floating Dock and Boat for Hurricane Season
Whether you store your vessel at a private dock on your property or at a public access marina, you should take several steps before the hurricane season arrives.
Dock
As a dock owner, you need to be aware of two primary types of hurricane advisories — hurricane watches and hurricane warnings. A hurricane watch is when hurricane conditions are possible. Officials typically announce these 48 hours before they anticipate winds to begin picking up. Hurricane warnings are more serious because it means a hurricane is likely, and officials declare them 36 hours before hurricane-level winds are likely to begin.
One benefit of owning a floating dock, rather than a fixed one, is that they are easier to remove and relocate when necessary. If possible, remove your floating dock and store it somewhere secure when you first receive word of a hurricane watch or warning.
If this is not an option, don't worry! You can help keep your dock safe in many ways:
Ensure proper installation: Proper installation is the most crucial part of owning any floating dock. Otherwise, there is a greater risk for the dock coming loose during strong winds. When selecting your dock, choose a company that offers easy-to-follow installation instructions or professional assistance.
Inspect and repair: Before you start securing your dock, either hire a professional or perform your own thorough inspection of all areas, including the gangway, couplers, railings, and other fixtures. Note and repair any damage or vulnerable areas. You can go as far as taking a picture with your cell phone.
Secure the dock: Aside from anchoring your dock — more on that later — the other option for securing your floating dock is to attach it to a nearby fixed structure to help keep it in place during rain, floods, and hurricane-force winds. When attaching your dock to a fixed structure, use a long, sturdy rope and tie it to a point that is higher than surges and tides can reach.
Add bumpers: During a hurricane, your dock isn't the only thing on the water at risk for coming loose — neighboring docks and vessels also pose a threat. Dock bumpers will help protect your dock if something crashes into it, while also protecting other people's properties, should your dock come unattached during the storm.
Remove potential debris: Remove all unattached debris, decor, and furniture items from your dock so they don't become flying projectiles. This includes everything from paddles, storage containers, and removable railings to lighting, decorations, signs, and other miscellaneous items.
Consult local regulations: Many homeowners associations or private docking facilities have specific hurricane regulations in place to minimize damage. Always consult these regulations for guidance before securing your dock.
Watch the weather: Aside from proper dock and bumper installation and staying up-to-date on dock maintenance, many dock preparation methods are only practical when a hurricane is on the way. During hurricane season, set up automatic weather alerts and stay vigilant about changing conditions. Should you plan to leave town, arrange for a trusted friend to handle your emergency dock preparations.
Options for Anchoring a Floating Dock
If you live or own a dock in a hurricane-prone area, pairing your floating dock with an anchoring system offers an extra level of security during turbulent wind, rain, and surges. At EZ Dock, we have the following anchoring options available:
Standard pipe and pipe stand-off brackets
Stiff-arm brackets
Deadweight brackets and winch inserts
Adjustable piling brackets
Mainframe piling hoops and brackets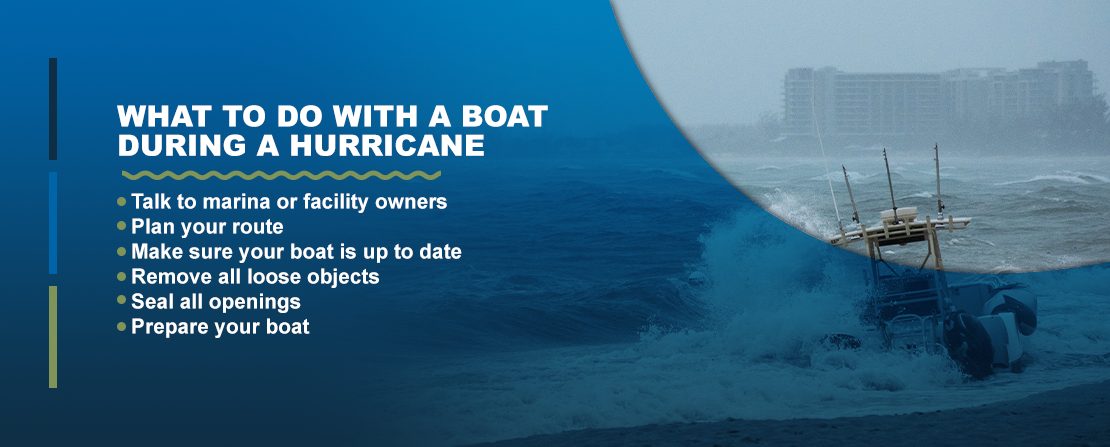 What to Do With a Boat During a Hurricane
Hurricanes cause hundreds of millions of dollars of boat-related damage each storm season. In most cases, the owner of the boat is responsible for the damage their vessel sustains — like crashing into your dock or nearby rocks and structures —but possibly the damage it causes to others' property. For example, your boat could come loose and crash into another vessel or a nearby dock, damaging itself and the other property in the process. Coming loose is far from the only threat to boats during a hurricane. Strong winds can tear sails and move any unsecured items onboard. Heavy rains threaten to flood your vessel, including the cabin. Fluctuating water levels can even cause your boat to scrape against the bed of the lake or ocean floor below.
While every boat and docking situation is different, every vessel owner can and should do several things before a hurricane arrives:
Talk to marina or facility owners: If you dock your boat at a marina or public access point, stay up-to-date on their hurricane protocol and regulations. Some facilities may require that boat owners remove their vessel before a hurricane, while others may allow wet storage if the vessel is anchored properly. Keep a list of all applicable phone numbers and make sure they're current because when the storm has passed, you may need to call them for further instructions and information before you access your boat.
Plan your route: If part of your emergency plan involves moving your boat over water before securing it elsewhere, practice the route before hurricane season. Note how long it takes, and whether there are any obstructions or drawbridges that might interfere with your journey once officials declare a hurricane warning.
Make sure your boat is up to date: Make sure your boat license and registrations are up to date, including insurance, and clearly display any required decals before securing your vessel. This is the best way for officials to locate you or your vessel, should it come loose during the storm.
Remove all loose objects: Remove all loose items from your boat, including furniture, decor, lighting, linens, recreational items, perishables, and anything breakable. Safely disconnect and store all power cords and electrical appliances off the boat. Store or dispose of any environmental threats, like oil and fuel. Secure and lock all items you can't remove, like pedestal seats and dash components.
Seal all openings: Rain and storm surges can flood your boat, so it's crucial that you seal all internal and external openings with tape, including door jambs, storage compartments, around windows, and near electrical components.
Prepare your boat: Prepare your boat by securing all drawers, cabinets, windows, and hatches so they don't fall open during turbulence. Cover engine vents with tape or plywood and plug exhausts. Remove any curtains, rugs, and carpeting, if possible. Close and plug sink drains in the bathrooms and wet bar. Turn off any circuit breakers. If pulling your boat from the water, remove your battery.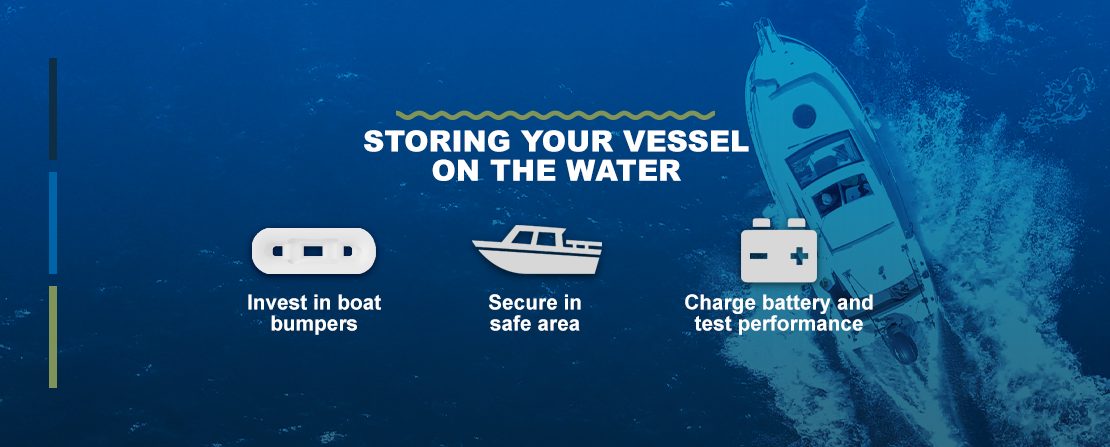 Storing Your Vessel on the Water
While removing canoes, kayaks, PWCs, and small boats is relatively simple, those with large boats may not have the time, resources, or ability to relocate their vessel before a hurricane. For many boat owners, wet storage — securing and storing your vessel on the water — is the best or only option.
Here are some tips for safely securing your boat on the water before a hurricane:
Invest in boat bumpers: Boat bumpers or fenders will help absorb the force of an impact if your vessel comes loose and crashes into a nearby structure. They can also help minimize damage if other floating debris comes into contact with your boat.
Secure in a safe area: If you're leaving your boat on the water before a hurricane, you have a few different options for storage. If you dock at a marina, leave your vessel secured in the designated area and rig it with double lines. Attach them high on pilings, if possible, to avoid tides and surges. If anchoring with storm chains away from the shore, find a hurricane hole — a deep, narrow inlet of water surrounded by trees, buildings, or other permanent fixtures — and attach lines to either side of the inlet to secure your boat. Whichever method you choose, be sure to cover ropes with something that won't wear or chafe, like rubber hoses or tape. Remember that nylon ropes often stretch. Never lash multiple boats together at docks, and never leave your boat in a lift.
Charge battery and test performance: Test and document your boat's performance before leaving it, including the battery, bilge pump, radio, lights, and navigation devices. Charge all batteries and consider adding a back-up so your automatic bilge pump remains functional while the boat is docked.
Storing Your Vessel on Land
In most cases, storing your boat in a safe, secure area on land — known as dry storage — is the best way to protect your vessel, dock, and others' property. Choose a place at a high enough elevation and away from bodies of water to avoid storm surges, preferably somewhere easy to access at a moment's notice.
Some additional tips for dry storage include:
Turn off electrical systems: Test all electrical systems and note any concerns, then turn them off until the storm has passed and you're ready to re-launch your vessel.
Secure on the trailer: When creating your hurricane preparedness plan, secure the trailer and hauling vehicle you plan to use for your vessel in an emergency. When trailering your boat, tie it down with lines from all angles and secure it on the trailer with heavy blocks. Practice securing your boat a few times before hurricane season so you can do it quickly if necessary.
Add weight if necessary: If you own a lightweight boat, consider adding some water to the bilge to help it stay grounded and stable on the trailer during heavy winds. Do not attempt to add weight to your boat via blocks or other large items that may cause damage if they become airborne.
Monitor weather conditions: The 48 or 36 hours before a hurricane's arrival is not the best time to remove your boat from the water, especially if you dock it in a public space. Many other boat owners might be scrambling to do the same thing, which can create chaos at boat ramps and on roadways. Instead, keep an eye on the weather and follow all suspected tropical storms and hurricanes. Remove your boat from the dock several days before a warning or watch to make the process as smooth and fast as possible.
Tips for Preparing a Floating Dock for Hurricanes
Securing and anchoring your floating dock is only one step of the process. These are some additional tips for preparing your floating dock for hurricane season.
Start Early
Experts designate hurricane season based on past trends and seasonal environmental conditions, but the dates are not exact. Hurricanes can happen days or even weeks before or after the season. The earlier you prepare for the possibility of a hurricane, the less likely you are to sustain preventable and expensive damage. Some types of preparation might also take you longer than expected, like making dock repairs.
As hurricane season approaches, collect and update all important information about your dock and vessel, including licenses, registration, and insurance policies, as well as the lease between you and your marina or storage facility and any warranty documentation. Call your insurance provider and see whether your dock and boat are covered and what that coverage entails regarding hurricanes.
Create your hurricane emergency plan before the season begins, and update it every year or as your circumstances change. National Hurricane Preparedness Week, which usually takes place in May, is when many property owners begin their preparations. Practice your plan to know how long it takes and identify any oversights or areas for improvement.
Take Inventory
Create a list of everything you own relating to your dock and boat, including items you cannot move, like railings and built-in furniture. Note their condition before the hurricane season. Take photographs of your dock and vessel. Once the storm has passed, and it is safe to do so, inspect and re-photograph everything. Report all damage or missing items to the authorities or your insurance company immediately following the event.
Inspect After the Storm
Once it is safe to enter the area affected by the hurricane, it's time to inspect your dock and vessel for any signs of damage. While there, make sure you:
Wear a life jacket.
Stay out of floodwater.
Wash and sanitize hands frequently.
Avoid power lines.
Wear insect repellant.
Do not enter the water, especially if you have open wounds.
Once everything is repaired, you can start returning your dock to its normal state. If you own an EZ Dock, it's easy to clean — simply wash with soap and water or a pressure washer for more extreme messes. Once you've cleaned your dock, you can start reattaching railings, lights and furniture. Don't forget to inspect your boat before using it again. Test that all lights and electric cabling are intact and that the engine turns on and off. Note any structural damage. Check for debris, snakes, crabs and other sea life that could have washed aboard.
Your Safety Is More Important
Always keep in mind that weather conditions can worsen or change quickly. Never risk your life or the lives of emergency rescue personnel to secure your vessel or dock. Shelter in place, follow all evacuation orders when given and stay where you are until public officials deem it safe to leave. Do not attempt to inspect your boat or dock during an active storm.
Benefits of Choosing EZ Dock Floating Dock Systems
Fixed, permanent docks can easily become submerged during severe weather and storm surges. Rain and wind can blow away railings and boards and even loosen or corrode nails and screws, which could lead your dock to collapse in the future. If you currently rely on a fixed dock, there is no better time to swap to a floating one, so you can face hurricane season with a high-quality, stable dock that can withstand heavy damage and move with the water.
Here are a few reasons to consider an EZ Dock floating dock:
They are flexible: Our modular floating docks are easy to configure to your wants and needs, and you can remove and relocate them if necessary. This versatility is an asset, especially when you live in a hurricane zone. You can integrate an EZ Dock into your current dock or create your own layout. Pair your EZ Dock with our EZ BoatPort, EZ Port or EZ Launch for ultimate convenience.
They are durable: We engineer every EZ Dock out of durable polyethylene, so you never have to worry about your dock rotting, splintering or fading. This polyethylene construction also makes for a low-maintenance dock that is easy to clean and won't absorb the heat, even on a hot summer day.
They are resilient: EZ Dock products have been proven to withstand most tropical storms, as well as low- and mid-category hurricanes. They rise and fall with the water, minimizing the chance for total submersion, and the recycled rubber coupler system provides stability and flexibility, allowing the dock to fluctuate on turbulent waves while remaining unified. All nuts and bolts are heavy-duty rust- and corrosion-resistant composite.
Learn More About Floating Docks at EZ Dock
For ultimate convenience and protection during hurricane season, learn more about the EZ Dock advantage and request your quote today!