How to Build an Amazing Boathouse
Your boat is an important part of your life — keep it safe and easily accessible by adding a boathouse to your waterfront property. A boathouse offers secure long-term storage for your boat, but it's also a great place to host events, enjoy the water or repurpose into a vacation retreat.
Read on to learn more about what a boathouse can do for you and your property and the steps you need to take before building one.
Read the full article or jump to a specific section: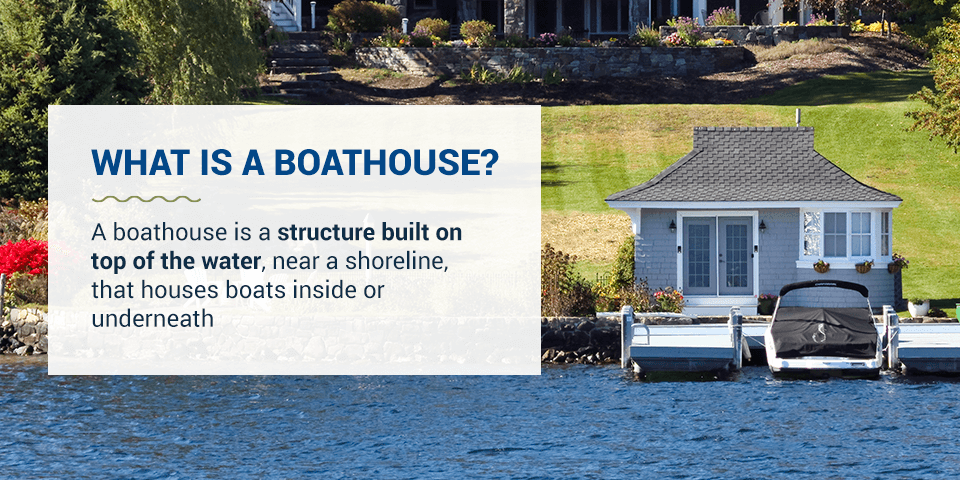 What Is a Boathouse?
A boathouse is a structure built on top of the water, near a shoreline, that houses boats inside or underneath.
Most boathouses are designed to accommodate incoming boat traffic from the water and use boat ports and launches to lift and store vessels when they are not being used. Boathouses always have a roof, but sides are optional. Some property owners choose to fully enclose their boathouse and create a residential-like property, while others prefer a simple pavilion design to keep costs low.
Historically, boathouses were home to wealthy residents who craved waterfront living, but they grew more popular as rowing teams and boating clubs began using them to house their boats and hold meetings. One of the most famous examples is Boathouse Row, a series of boathouses that still light up Schuylkill River in Philadelphia.
Boathouse Row began as wealthy housing, but the nearby dam created such calm waters that mosquitos and other pests drew homeowners away. By the mid-1800s, many of the boathouses went through extensive renovation. They are currently a part of the Schuylkill Navy, one of the oldest athletic bodies in America, and they use the properties to host numerous prestigious rowing races and events.
Though still favored by clubs and teams, boathouses are far more accessible today. Many waterfront property owners, boaters and marinas use boathouses for short-term and long-term storage on rivers, lakes and ocean shores. Part of the appeal is that you can design your boathouse to be as intricate and luxurious or as simple and budget-friendly as you want.
The Difference Between a Boathouse and a Houseboat
They may sound similar, but a boathouse and a houseboat are structurally different and serve separate purposes. While a boathouse is a permanent, standing structure built on the shoreline to shelter boats, a houseboat is a boat that has been partially or fully remodeled to accommodate full-time living.
Most houseboats still function as fully operational boats. Residents moor at different residentially-friendly marinas and travel to different coasts, living, sleeping, cooking and relaxing from the boat's cabin. A boathouse floats on the water, but it does not move. Many people would be unable to distinguish some boathouses from regular waterfront homes or marinas.
Reasons to Build a Boathouse
In many ways, a boathouse is an extension of your existing docking system. Instead of mooring your boat at the dock, you can store it in a covered shelter that also doubles as picturesque waterfront property, with recreational opportunities, storage or residential quarters.
Access to Water Recreation
A boathouse provides convenient access to the water and all the recreational opportunities that come with waterfront living. Optimize your boathouse to be the ultimate vacation escape or event venue for friends and family, or turn it into a fishing destination.
You can use your boathouse to store more than your motorboat or fishing vessel — add additional space for kayak, canoe and personal watercraft (PWC) launches.
Store and Protect Your Boat
Boathouses offer a customizable, permanent and long-term storage solution for your boat without the costly ongoing slip fees. Because you can tailor your design to suit your concerns and needs, you get better peace of mind, knowing your boat is under the best protection possible and never too far from home.
Boathouse storage also protects your vessel from:
Sun damage: Constant sun exposure will fade your boat's paint, graphics and upholstery, and may even melt items left onboard. Sheltered boathouses offer constant shade and cooler temperatures.
Environmental conditions: Strong wind, hail, rain, snow, ice and even pests and marine life threaten to damage, flood or carry your boat away from shore. By mooring it in a permanent, fixed structure, you know it's safe from the elements.
Debris and impact: Impact from floating debris and docks is a common cause of boat damage, especially if your boat becomes untethered. Enclosing your boathouse ensures nothing will get in or out.
Theft: Boathouses can also help you control access and protect your property from theft and unwanted entry — and with more than 4,200 boat thefts reported in 2019, the added peace of mind is worth it.
Use It as Residential Property
Imagine being just a few steps away from your boat and the waterfront, even when you're in the comfort of your home. Transform your boathouse's upper level into full- or part-time residential livingImagine being just a few steps away from your boat and the waterfront, even when you're in the comfort of your home.
Work with an architect or engineer to ensure you meet all building requirements for a primary dwelling.
You could also supplement the cost of constructing and maintaining your boathouse by renting it on vacation rental sites, like Airbnb, where legal and permitted. Airbnb hosts make an average of $924 a month, and you could easily entice visitors by adding extra water recreation and comfortable amenities.
Store Marine Supplies and Gear
Use your boathouse to store all your boating and marine supplies for safe and convenient access, including:
Tools and equipment
Oil and fuel
Replacement parts
Personal flotation devices (PFDs)
Fishing gear
Cleaning supplies
Anchor and rope
Mooring line
Removable furniture
Covers and tie-downs
Paddles
Coolers
Portable grills
Towables and skis
Add Value to Your Property
If you're interested in selling your property and are seeking ways to stand out from the crowd, a boathouse can be just what you need to attract potential buyers.
A boathouse can add value to your waterfront property and boost curb appeal, especially if you design it with colors and materials that complement other buildings on the property.
Buyers are drawn to the privacy and convenience that comes with a fully operational boathouse. As of 2018, the sale price premium of waterfront homes was 35%, and the total estimated value of waterfront homes was $134 billion. Property with unobstructed views can increase by as much as 80%, while partially obstructed views can still boost your sale price by as much as 30%.
Understanding the Cost of Building a Boathouse
The total cost of your boathouse project varies widely depending on a combination of factors. If you're renovating or "grandfathering" an existing boathouse to meet today's codes and compliance requirements, it will likely be more affordable than starting a construction project from scratch.
Additional factors to consider include:
Size of the boathouse
Permit fees and necessary adjustments for compliance
Site planning
Water testing
Building materials
Construction labor
Engineer consultations
Architect design
Furniture, decorations and amenities
Homeowners association (HOA) fees
Property tax
Insurance
Ongoing maintenance and repairs
Paint and stains
Layout and design
Boat ports and launches
Connecting docks and gangways
Work with professionals to create a project estimate before you start construction, or talk to neighbors and fellow boaters to get a rough idea of how much their boathouse cost on a similar property.
Tips and Things to Consider Before Building a Boathouse
Building a boathouse is a significant investment that takes considerable time and resources. Consider the following as you plan your design:
Account for the sun: If you're adding a residential level, orient the home to absorb as much heat and light as you need to manage indoor temperatures and light. Windows and common rooms should face south, whenever possible, to absorb winter warmth.
Focus on the view: Design your boathouse with the view in mind, especially if you plan to use it as a vacation rental, residence or event venue. Incorporate a comfortable indoor and outdoor living area that takes advantage of the waterfront.
Connect it to land: Consider how you will connect your boathouse to land — will part of the house be directly attached to the land via stairs or sidewalks, or will you connect it to shore via gangways and floating docks?
Make it accessible: Make your boathouse accessible for all with features like the EZ Dock EZ Launch® System, guardrails and ramps.
Add more features: Pack your boathouse full of features and amenities to entice visitors or to create your personal oasis on the water. Consider outdoor furniture and lighting, outdoor heaters, a game room, a breakfast nook with a view of the sunrise, convenient boat, kayak and canoe launches and swimming platforms.
Materials You May Need
Your engineer, architect and contracting company will provide you with a list of necessary materials and equipment, depending on the scope of your project. Some boathouse materials you might need include:
Building materials: Many boathouses are constructed out of chemically-treated wood or composite wood, but be careful to avoid hazardous chemicals that could leak into the water and damage the ecosystem. You should also take special considerations if you're building in saltwater, as the material needs to be resistant to salt corrosion.
Pilings: You may need materials for wood or metal pilings if you're building in deep water or the floor of the river, lake or ocean is too loose without them. Size your pilings according to water depth and floor conditions — shallow water or firm floors will need shorter pilings than deep water or water with stony or sandy floors.
Fasteners: All fasteners and hardware should be made out of noncorrosive galvanized metal or durable rubber.
Heavy equipment: Some projects may require heavy equipment, like pile drivers, to install pilings and work beneath the water's surface.
Work platforms: Laborers may need to use an equipment barge or floating work platform to complete the project from the water and hold heavy equipment and tools.
Boat ports: Boat ports, like the EZ BoatPort®, provide a convenient drive-on, drive-off platform for easy docking.
Boat lifts: EZ Dock boat lifts use air-assisted pumps to lift your vessel completely out of the water to keep it dry and free from algae growth or intrusive marine animals.
Docks and gangways: Install floating docks around your boathouse to create a full docking system that accommodates as many vessel types and sizes as you want, and use gangways to attach your docks to land.
How to Build a Boathouse 
Working with a professional engineer, architect and construction company is the best way to build your boathouse since shoreline construction projects come with several environmental regulations and building restrictions. Shop around for the best quotes and ask for references from experienced companies to see other boathouses they have done before getting started.
1. Choose the Location and Design
Many places have strict regulations for shoreline construction projects because they can worsen shoreline erosion and be detrimental to marine ecosystems if not done correctly. Consider conducting formal water tests and consulting a professional site planner who can analyze the long-term effects of your boathouse on the shore and account for any predicted changes in water levels. You also want to test that the water is safe and nontoxic in your chosen area if building somewhere new.
Never excavate or otherwise alter the land without consulting your local environmental or building officials. If you share a lake or shoreline with neighbors or public spaces, be careful not to obstruct their use or view of the water in any way. Consider water depth before you choose your building site — it must be deep enough at all times to drive your boat in and out, regardless of tide. Your boathouse and accompanying docks should be careful not to impede the natural water flow beneath the surface and around pilings.
Local building ordinances may also specify whether your boathouse can be placed parallel or perpendicular to the shore.
2. Get Permits and Approval
Once you know where you want to build, it's time to seek approval and permits. Most permits will require formal site plans and may request compliance tests. Be prepared to pay additional fees and meet regulations for building permits, HOAs and environmental agency approval.
3. Gather Materials
Gather all materials per your formal site and building plans. While your contractor will give you an estimated cost for the materials, be aware that this could change if you encounter any issues or building concerns throughout the process. Invest in higher quality building materials so your boathouse and supporting structures will last longer and require minimal repairs. While nontoxic treated lumber is a popular choice for its cost-efficiency, composite wood requires less upkeep and cleaning.
Polyethylene is the best choice for the floating docks surrounding and attached to your boathouse because they are highly durable and require very little upkeep. All EZ Dock floating docks and gangways are made with polyethylene filled with airtight chambers that allow them to float on the water, even on fluctuating water levels.
4. Begin Construction
Once you've secured your materials, the marine construction crew will get to work on your boathouse by:
Building the foundation: Your boathouse's foundation can be a sturdy dock, a solid wooden crib, pilings or a combination of the three. The site engineer will account for the type of material on the water's floor, like hard clay or loose sand, as well as your project's estimated weight and impact. Floating boathouses require buoyancy features in the design but are the least invasive to your surrounding environment. Some crib designs have small, open spaces that welcome marine life to build shelter there. Your crib foundation might be designed as a "false bottom" to further minimize impact.
Assembling the house: Once the foundation is complete, the contractors will begin building the rest of your boathouse, per your design. If you're going for a pavilion-style boathouse without enclosed walls, this will be a brief part of the process. If you're designing an entirely enclosed space, complete with residential quarters, expect it to take longer and cost more.
Adding the roof: Determine the best shape roof for your materials and needs. Hip roofs have four sides with a peak and are ideal in windy areas, while gabled roofs with rafters that form a peak in the middle are better for open boathouse designs in low-wind regions. Flat roofs are usually not recommended because they cannot accommodate moisture and weight in the same way that hip and gable designs can. Corrugated metal is a common choice for boathouse roofing, but many materials may be suitable, depending on your budget and environmental needs.
If you're handling your boathouse project alone, remember to abide by all shoreline building requirements, or you risk fines and irreversible damage to your waterfront property.
5. Furnish and Complete
Once construction is finished, it's time to personalize your boathouse with things like:
Accommodations: If you're using your boathouse as a residence or vacation house, don't forget to allocate space in your budget and layout for the kitchen, bathroom and bedroom, including plumbing and water heating. If space allows it, add built-in shelves and storage closets to optimize your square footage.
Decorations: Paint and stain the inside and outside of your boathouse to complement other parts of your waterfront property, like your home or nearby marina. Add personalized fixtures to all doors and cabinets, and include curtains or rugs to add more warmth to the place.
Furniture: Invest in indoor and outdoor furniture for your boathouse. Outdoor furniture includes benches, picnic tables, patio furniture and lounging chairs. The indoor furniture you need depends on how you plan to use the extra space, but start with some comfortable chairs, a sofa and a bed if someone will be sleeping there. Don't forget to arrange furniture so those sitting can enjoy the view.
Utilities: Hook your boathouse up to utilities, like water and electricity or solar power, and schedule professional HVAC installation if you want a climate-controlled boathouse. Optional utilities include phone lines, internet lines, satellite television and security systems.
Necessities: Enclosed boathouses need lighting, flooring and adequate insulation. Consider adding windows and window treatments to let in natural light and control the temperature.
Enjoying and Maintaining Your Boathouse 
Once your boathouse is complete, maintenance is similar to what you already do with your docks and your home. Protect your investment and get the most out of your new addition with these tips:
Add security features: Keep your boathouse doors locked and use lockers and storage chests to store valuables while you're away from the property. Install motion sensor lights or timed lights around the boathouse for further security. Never leave your keys in the boat.
Prevent pest infestations: Just like your primary home, boathouses are susceptible to the same insects and pests that infiltrate and wreak havoc on wiring, walls and fabrics. Schedule preventive pest inspections and keep the house free of clutter, dirt, debris and food scraps. Keep all garbage sealed and remove it promptly.
Inspect it regularly: Inspect your boathouse and docks regularly to ensure all connectors and fasteners are still intact and that there are no signs of damage. Inspections are especially crucial after storm surges or hurricanes and after winter is over. Never ignore seemingly minor damage to pilings or other structural components, as they could create costlier, more hazardous results if left untreated.
Keep it clean: Pressure wash your boathouse and docks as needed to maintain a like-new appearance or prepare the property for potential buyers.
Be prepared: Equip your boathouse with emergency supplies, like a first aid kit and fire extinguisher, and keep plenty of sunscreen and drinking water on-site for easy access before boating trips.
EZ Dock Products for Your Boathouse
If you're an avid boater, a boathouse is a perfect investment to add value to your waterfront property and give you the convenience and protection of on-site boat storage. EZ Dock is here to help with floating docks, gangways, walkways, boat lifts, boat ports, PWC Ports and launches — everything you need to bring your waterfront vision to life.
Visit an EZ Dock distributor to learn more about our products and request a quote for your next project today!