17 Fun Water Toys for Your Next Lake Trip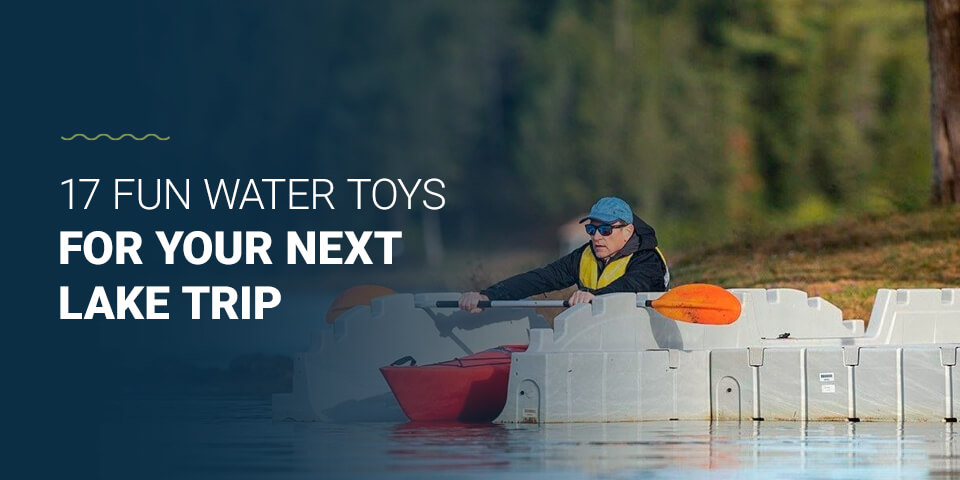 Fun toys like inflatables or floating water games can make your next lake trip the best. If you're looking for some fun water toys that you, your friends or your family will enjoy, there are a variety of unique options to fit your needs. Here are 17 fun water toys you can take on your next lake trip. 
Table of Contents:
1. Seascooter
If you're looking for a fun way to explore the lake while snorkeling or diving, then a Seascooter may be for you. Seascooters, also called diver propulsion vehicles (DPV), aqua scooters or underwater scooters, make it easy for adults and children to explore the depths of the water or the shallow areas near the beach.
A Seascooter is equipped with an electric propeller that guides you while underwater, essential for underwater divers or curious explorers. These fun lake toys are waterproof and battery-powered, with one or two propellers depending on how much speed you want. If you want to go scuba diving or snorkeling, Seascooters can also help young children save energy and air while playing underwater. 
Not only are Seascooters easy to handle, but they can also come with various accessories like an underwater camera. You can even find them used as a surfboard accessory. 

2. Floating Mat
A floating mat can accommodate large groups of children or a party of adults depending on the mat size you choose. From single floaters to large mats that allow you to lounge or stand, floating mats are a versatile lake toy that helps you relax, play games or socialize with friends. Let your kids play on the mat all day while the adults sunbathe. Even your pets can join in on the fun.
Many floating mats come with a bungee rope so you can attach them to a dock or boat. Don't stress about the mat floating away while you play, and if the floating mat is attached to a boat, you can use it as a swim landing or a launchpad. Most mats are made with a durable material that protects the mat from wear and tear, meaning you can run on, jump, flip and dive off as much as you want. Buy a floating mat with cupholders for some extra fun on the lake.
Many floating mats are so large that it may be challenging to know how to roll and store them. Remember that some extra large mats will require careful transportation and may not be as easy to roll up. Most mats roll up relatively quickly on the dock if you have open dock space. Use bungee cords to keep it together. You can store smaller mats easily behind the boat's rear seats. 
3. Water Blasters
Water blasters are a classic lake toy that kids and adults have enjoyed for years. Whether you want to start an epic water fight or keep the kids entertained during a party, water guns and water blasters are a perfect way to make lake time fun. Some typical water blasters include piston-based blasters, syringe loaders and motorized water guns:
Piston: Piston-based water blasters use a trigger to operate the toy, pushing water through the nozzle and blasting friends and family with some cold-water fun. Remember that these types of water guns are often small and made from plastic, making them great kids' lake toys for smaller children who might be unable to operate a larger blaster.
Syringe: Slide or syringe loaders can spray water over a long distance and use more water pressure. While it takes a bit more effort to create a stream, these water blasters are cheap and easily replaceable if they break. You can refill the blaster in the lake, and because these water guns depend on an ample water supply, these blasters make great toys for your next trip.
Motorized: While some people may be opposed to an electric water gun, these kinds of blasters include extra parts that are battery operated, making them a more expensive option for lake time fun. Many motorized water guns come with rechargeable batteries, making it easy to continue play time throughout the day.
4. Water Trampoline
Water trampolines take the fun from the land and transport it to the water. Adults and kids can enjoy bouncing, splashing and playing with one inflatable trampoline. You can even move the trampoline to the dock or boat to do some running jumps or flips, and many of them come equipped with ladders or slides for extra fun. 
It should be noted that there are a few different kinds of water trampolines. Your classic trampoline is an inflated tub with a bouncy material in the center and spiral steel that connects the jumping area to the frame, much like a regular trampoline. On the other hand, a bouncer uses nylon cords to secure the frame and jumping area. You'll get more air using a water trampoline, although a bouncer may be a safer option if you plan for small kids to use the toy. 
Water trampolines are great for use in a lake, as they require several feet of water depth. Keep in mind that most trampolines are not intended for very young children. Whether you plan to anchor the trampoline to the lake or tether it to your boat, make sure adults and kids are aware of trampoline safety measures. Always swim around the base rather than under it and check it frequently for rips or missing parts.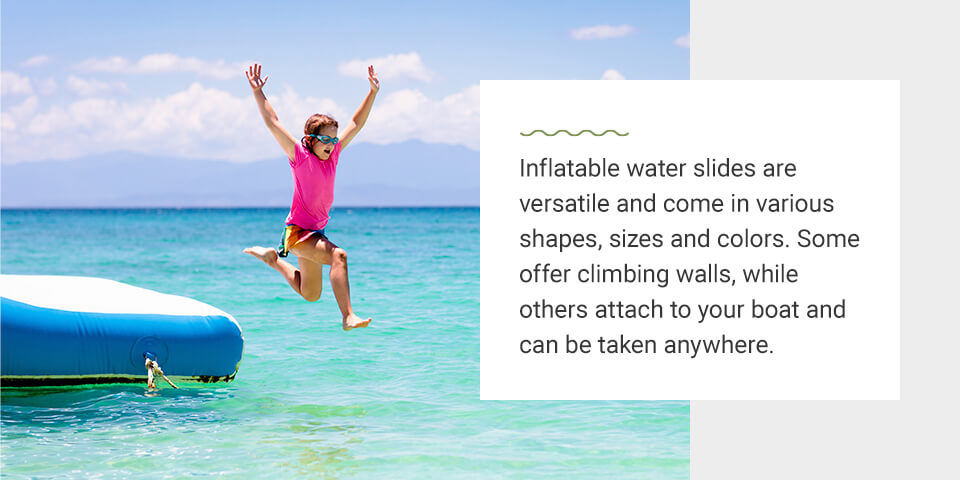 5. Inflatable Water Slide
Inflatable water slides are versatile and come in various shapes, sizes and colors. Some offer climbing walls, while others attach to your boat and can be taken anywhere. Some of the largest slides can be attached to your boat and are reinforced with durable piping so one person can enjoy the slide at a time. Or, you can get a pyramid-style slide, which has steps on either side for accessible climbing and a slide or two to make playtime extra fun.
After deciding what style of water slide you want, consider what size may be best for you. Think about where you plan to use the slide at the lake and how many people will use it. Consider a larger structure that can handle the extra weight if you want to host a lake party.
6. Floating Canopy
An inflatable with an attached canopy offers a way to lounge in the water comfortably with some extra shade to prevent sunburn. While a trip to the lake always means some water fun, sunscreen can wash off in the water and you may get some burns after several hours outside. Floating canopies are excellent for those who want to enjoy the fresh air in the shade. Some even come with cupholders so you can have a refreshing cold drink by your side.
There are many different sizes and shapes of floating canopies to choose from. Perhaps you want a small, straightforward pool floaty with a detachable top for your baby or toddler to protect them from the sun. Or you can invest in a larger inflatable that can seat several people if you plan to invite a lot of friends. Whatever the case, you can choose from various unicorn, car or animal designs to fit your needs and aesthetic. 
7. Pool Noodles
Water lovers have used pool noodles everywhere and their versatility doesn't just stop in the pool. From the classic foam noodle to the buoyant solid core noodle, there is a toy for everyone to enjoy at the lake. Here are a few types of pool noodles that you may want to bring with you on your next trip:
Foam pool noodles: These noodles are very affordable and available in hollow or solid core designs. The higher the quality of the foam, the more it will resist sun damage or wear and tear. 
Vinyl-covered: With a vinyl coating that prevents the colors from fading, the foam in these noodles is also protected from shredding. 
Inflatable: Inflatable noodles can be stored and taken anywhere, so long as you have a way to blow them up when you get to the lake. 
Hollow-core: While less buoyant, hollow noodles are a less expensive option for the lake.
Solid-core: Without a cutout hole, solid-core noodles are safe for both adults and children to use in water.
Curved: Curved noodles make it easier to stay seated in the water and come in various shapes like unicorns, fish or sea mammals.
8. Inflatable Climbing Wall
A floating climbing wall gives you all the fun of rock climbing on the water. Many inflatable climbing walls come in tall and large sizes, holding thousands of pounds. This means that you can invite lots of friends to come to try the rock wall with you on the lake. 
Buy a climbing wall with a giant slide, sea stairs or entry mat addition to make it easily accessible and easy to get down. These climbing walls also ensure kids of all abilities can enjoy their time in the water by hopping onto the entry mat, using the slide or socializing with friends. 
Kids and adults of all ages will enjoy an inflatable climbing wall in the shape of an iceberg or mountain and larger groups or parties won't stop talking about the inflatable for days to come.
9. Transparent Kayak
A transparent kayak is a unique way to see the fish and aquatic life under the boat without snorkeling or diving. Transparent canoes and kayaks may work best in cleaner waters, but even murky lakes offer interesting views that can be seen through the boat. 
Seat two people in a versatile kayak with high sides, low seats and a stable form for rowing. Most transparent kayaks are made from a durable material often used in airplane windshields, making them ideal for extended fishing trips or explorations. Maintaining the kayak is also pretty straightforward — use a mild soap solution or follow the manufacturer's suggestions for cleaners to use.
10. Floating Bluetooth Speaker
A Bluetooth speaker is one of the best ways to entertain you or your guests while relaxing at the lake. Play some of your favorite tunes while you swim with a waterproof speaker that can float in the water or be tethered to your boat. You can dunk it in the water as much as you want, and the music will continue to blare. Consider tying the speaker to an inflatable or floating canopy lounger so you and your friends can be entertained wherever you go.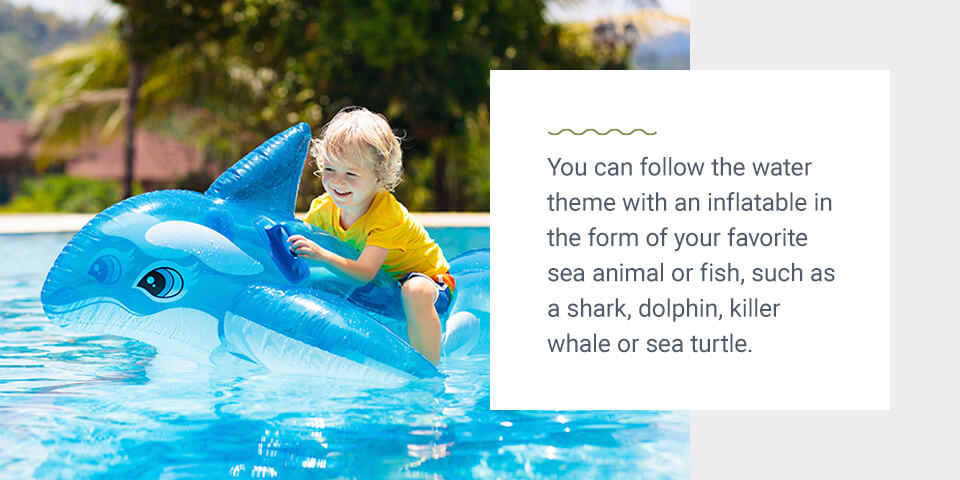 11. Inflatable of a Favorite Animal
Inflatable tubes in the shape of animals offer a fun twist on the classic floaty. You can follow the water theme with an inflatable in the form of your favorite sea animal or fish, such as a shark, dolphin, killer whale or sea turtle.
Here are a few unique types of animal inflatables to look out for:
Dinosaur inflatable: A giant dinosaur inflatable is an excellent purchase for the rough-and-tumble child looking for a fun way to enjoy the sunshine.
Chicken fight inflatable: These chicken inflatables can come in a pack of two and let you compete to see who can stay upright the longest.
Unicorn floaty: The famous unicorn float is a giant inflatable toy that puts the magic into relaxation. It can also come with cup holders for extra enjoyment.
Wiener dog floaty: A dachshund dog pool inflatable lets a single person float around while enjoying their uniquely shaped floaty. 
12. Floating Games
Floating lake games are one of the best ways to entertain yourself throughout your day on the water. Whether you're looking for some above-water sports and exercise or a way to explore the lake's depths, there are various floating games to suit your fancy. 
Here are some fun floating lake games to consider:
Floating volleyball net: Sturdy and inflatable nets can store easily when not in use.
Inflatable ring toss: Many come in the shape of dolphins or octopus arms that you can toss your floatable rings onto.
Floating cornhole: Why not play cornhole on water? These are often made of plastic and foam with floating bean bags that make it easy to play at the lake.
Floating pong set: Inflate a floating pong set and fill the cups with your choice of beverage. After playing, you can also use the game as a cup holder.
Inflatable dart board: With giant darts and suction cupped tips, an inflatable dart board is a creative way to involve family and friends in the fun.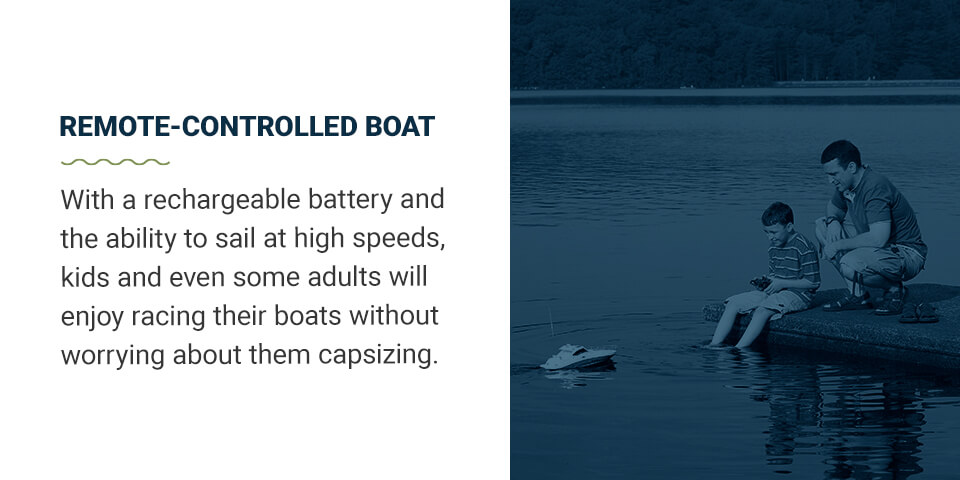 13. Remote-Controlled Boat
A remote-controlled toy boat is a great way to enjoy the lake from dry land, the dock or your boat. With a rechargeable battery and the ability to sail at high speeds, kids and even some adults will enjoy racing their boats without worrying about them capsizing. Many toy boats come with a powerful propeller and a capsize recovery button in case it does decide to flip over. 
Depending on where you plan to use the boat, you may want to consider the size of the toy you purchase. Both large and small versions are compatible in lake waters. The weight of the remote control boat will also tell you how fast it may go — a heavier boat will tend to use more power for higher speeds. Some toy boats have unique features like capsize recovery functions or salt water abilities. 
14. Towable Tubes
Towable tubes are among the most popular kinds of inflatable lake toys out there. They usually come in two forms — a flat tubed shape for lying down or a high-walled shape for sitting on your knees or bottom. There are a few factors to consider when looking for the right towable tube that fits your boat's capabilities.
You'll want a durable tube that can last through the ups and downs of being pulled along by your boat. A damaged nozzle will lead to deflation, and poor quality could cause the rope to snap. The tube cost should also be a consideration, as you don't want to spend too much money if you only plan to use the tube a few times. Consider the tube shape you want and whether it will affect how it rides the surface of the water. For the adventurous type, you may look for a tube that will quickly pick up speed.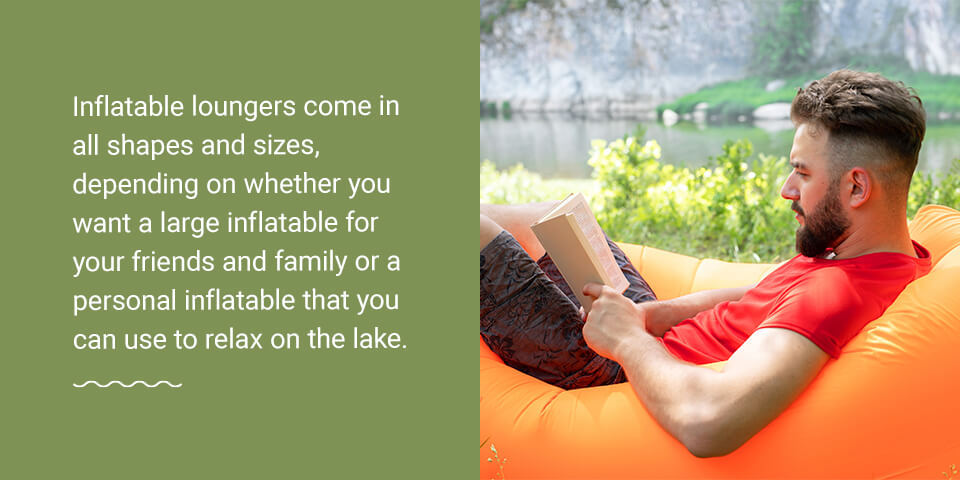 15. Inflatable Loungers
Inflatable loungers come in all shapes and sizes, depending on whether you want a large inflatable for your friends and family or a personal inflatable that you can use to relax on the lake. There are many designs to choose from, including motorized loungers that move you around the lake on their own, giant inflatables for fun parties or loungers with a built-in hammock for extra comfort. 
Inflatable loungers are incredibly buoyant and are designed to keep you afloat for hours at a time. Some are made with material that can withstand the sunshine without fading, while others have built-in cup holders so you can enjoy a cool drink while you float. 
Here are a few things you may want to consider when choosing the perfect inflatable lounger:
Material: An inflatable made with fabric mesh or vinyl material will be more durable while keeping you cool during the day. Good material won't easily rip or split.
Size: You might look for a space to lie down or a chair to sit on. An island float may be right for you if you plan to host a large party of guests. 
Design: There are many designs to choose from, from practical chairs to giant pizza slices, swans or avocados. Consider whether you want a float with back support, mesh or extra cupholders.
16. Bumper Boats
If you are a fan of bumper cars at your local amusement park, then bumper boats may be a great addition to your lake toy collection. You'll have the entire lake to play with friends and family, battle it out or even fish from. Many bumper boats are available in either gas-powered or electric versions. 
No matter which model you choose, you and your friends will have a lot of fun cruising around the lake in your bumper boats. Transporting them is relatively easy due to their smaller size, and some models even come with squirt guns to make playtime much more exciting. 
17. Log Game
The inflatable log game is a novelty among lake-goers. In this game, you sit on an inflatable log and use a log bopper to joust or bump your opponent until the last one standing wins. Like the chicken fight game, the first person to be knocked off the log loses. 
Kids and adults are bound to have loads of fun battling it out on the lake. Or you can use the logs as floaters to lounge around after the fight has wound down. However you choose to use them, the log game is a great way to get the family involved and active during your day at the lake. 
Prepare for the Perfect Family Lake Trip With EZ Dock
EZ Dock has served our customers since 1991. We're dedicated to providing customizable and innovative docking solutions and products that are durable and eco-friendly. Our docks are fit to weather tropical storms. With our wide selection of dock systems, boat lifts and extra accessories, every customer, from the boat owner to the adventurous kayaker, is sure to find the right EZ Dock solution for their adventures. 
Contact us today to learn about EZ Dock docking systems or browse our products online!