How to Choose a Floating Dock for Ponds
Living on a lake or pond is a special experience — from the sparkling water and sounds of wildlife to the endless recreational opportunities, the waterfront is the place to be. One of the biggest advantages of living near the water is that you can install a private dock for easy access to your boat, PWC or kayak. When you pair a private dock with recreational accessories, like a swim or fishing platform, you can enjoy both recreation and convenience.
In this guide, we'll discuss why private floating docks are a great investment and how to choose the best one for your property. 
Read the full article or jump to a specific section: 
Why You Should Invest in a Private Dock for Your Lake or Pond
Owning your own dock is the ideal investment for boat owners, kayakers or anyone who wants to add to the value of their home. If you live on a lake or pond, a private dock offers:
Privacy: A private dock means you can enjoy your serene surroundings without loud or heavy boat traffic nearby. This also makes it easier to launch and dock your boat, especially if you use a floating dock that moves with the water level.
Convenience: One of the most significant benefits of owning a private dock is the convenience of docking your boat or kayak on your own property. Whenever you feel the urge to hit the water, you don't have to worry about commuting — simply walk outside and head to the dock. This can also save you the time, money and stress of securing and paying for external storage. 
Entertainment: A private dock is more than practical — it's also fun! Your dock will be a natural focal point for your home and a beautiful place to gather and entertain. You can also fish or lounge on your dock and enjoy unbeatable views.
Security: With a private dock, there is a lot less uncertainty surrounding your vessel. Compared to public boat storage, you have more control over who is on your property and what access they have to your vessel. 
Value: No matter the type, size or number of watercraft vessels you own, you can customize your dock to meet your exact needs — a value you do not get with public storage options. A quality private dock can also increase the value of your home and property, should you decide to sell in the future.
The Difference Between Floating Docks and Stationary Docks
When choosing a dock for your waterfront property, you need to first decide whether you want a stationary dock or a floating dock. Though both serve the same purpose — to keep your vessel secure and help you launch easier — there are some significant differences to consider.
Stationary Docks
Stationary docks are structures that, once installed, do not move unless you tear them down and relocate or rebuild them elsewhere. They are a good choice for lakes and ponds with consistent water levels that do not fluctuate often. Stationary docks are typically made of wood or aluminum. 
Stationary docks have a few advantages:
They are sturdy: Because stationary docks are installed into the ground beneath the water, they stay stable during storms or strong winds. If you are worried about keeping your balance while walking on your dock, you may appreciate the added security of a stationary set-up.
You can use them for other activities: Because of their stable construction, stationary docks are easier to use for other activities, like fishing, lounging, grilling or entertaining. While you can certainly furnish a floating dock, it is easier to keep your furniture secured on a stationary dock. 
Although they are a stable choice for waterfront property owners, some disadvantages come with a stationary dock:
They are challenging to repair: Because a stationary dock extends below the water, it can be impossible to detect damages until they become significant, costly problems. Depending on the construction and quality of the materials used, your stationary dock may also wear down and develop weak points over time.
Fluctuating water can be problematic: Stationary docks do not adjust according to the water level. When the water is particularly high or low in your pond or lake, it may be difficult to enter and exit your boat from the dock.
They can be costly to install and maintain: Stationary docks are usually more expensive to install than a floating dock because they require professional assistance. Some stationary dock installations require drilling and extensive underwater construction. This is in addition to the cost of ongoing maintenance and repairs.
Floating Docks
Floating docks are docks that use built-in airtight components to float on top of the water. EZ Dock floating dock sections use a patented design with integrated chambers that displace water and allow the dock to float on top of the water without the need for filler or foam. A floating dock can be made of several different materials, including recycled rubber, plastic or treated wood. Because they are so durable and versatile, floating docks continue to gain popularity. 
Floating docks have many advantages, including: 
They are easy to repair and maintain: Floating docks are much easier to repair and maintain because it's easier to locate any issues or damages than it is with a stationary dock. Additionally, most floating docks are made of strong materials that do not warp, crack or fade over time. 
They move with the water: One of the most notable floating dock advantages is that they rise and fall with the water, so you never have to worry about your boat or kayak becoming inaccessible. 
They are more affordable: Since installation is less complex and requires fewer materials, floating docks are often the most economical and cost-effective decision. 
Installation is simple: Perhaps the biggest difference between floating and stationary docks is how easy a floating dock is to install. In many cases, you do not even need professional assistance to install a floating dock, as they come with kits or clear instructions for a quick and painless set-up.
You can easily change them: Many floating docks — including EZ Dock floating docks — are modular. Modular floating docks are easy to customize because you can mix and match the sections you want. If you ever want to expand, all you have to do is install the add-ons — no construction required. This also makes it easy to relocate your dock, should you decide to move.
Although floating docks are an excellent choice for most homeowners, there are a few possible drawbacks to consider:
They are less stable: If you live on a pond or lake that gets a lot of boat traffic, your floating dock might be less stable. Because they rise and fall with the water, excessive waves might rock the floating dock. If you live on calm waters, however, stability should not be an issue. 
They could get damaged if the water is too low: If the water levels get dangerously low, it is possible that the bottom of your floating dock could get damaged if it scrapes against the bottom of the lake or pond.
Things to Consider When Purchasing a Floating Dock for a Pond
Floating docks for ponds are the ideal solution for those who want an adaptable place to store their boat and don't want to spend a lot of time or money on maintenance. If you've decided they are the best decision for your lifestyle, here are some things you need to consider:
1. The Type of Vessel You Own
What kind of boat do you own? The type and size of your vessel are important facts to note when browsing the best floating dock systems for lakes. The kind of boat you own will also help you decide if you want to add any accessories or additional ports and launches:
Boat: The larger your vessel, the larger dock and boat port you'll need to install. If you have more than one vessel, you'll want a dock that is sized to accommodate each one with ease. EZ Dock floating docks come in different configurations to meet these needs, like rectangular, L-shaped, T-shaped, U-shaped and I-shaped. 
Kayak or canoe: You can also choose a dock that has a kayak or canoe launch. The EZ Dock EZ Launch® Residential features a convenient V-shaped entry, paddle notches for easy entry and exit and seamless integration with the rest of your dock.
PWC: Own a Jet-Ski, SeaDoo or something similar? Choose an integrated port station for your personal watercraft to keep everything in one place. EZ Dock has the Port VXP for small vessels and the self-adjusting EZ Port 2i for any PWC up to 1,700 pounds. 
2. Your Budget and Lifestyle
What is your budget for your floating dock? When considering your budget, include both the cost of the initial investment as well as the cost of ongoing maintenance. Choose a floating dock constructed with durable materials, like recycled rubber or polyethylene, that do not splinter, fade or require much maintenance. 
Your budget will also help you know how many dock sections you want if you're purchasing a modular design. Keep in mind, you can add-on to your modular floating dock at any time, should you decide you want to expand your waterfront area or if you purchase a new boat.
You should also consider how much time and resources you have to dedicate to caring for your dock. If you don't have time for constant inspections or upkeep, a modular floating dock from EZ Dock is the perfect choice for you.
3. The Type of Water in Your Pond
While you can use a floating dock in a variety of different water levels, it's essential that your lake or pond is not so low that the dock could become damaged. You should also consider the conditions of your water — do you live in an area that gets a lot of strong winds, currents or storms? If so, choose the orientation and placement of your dock carefully to minimize movement.
4. Local Regulations and Restrictions
Always consult local building regulations and restrictions before you install your floating dock. If you are a part of a homeowner's association, check for any specifications you must follow or fees they require you to pay. Some places might have restrictions on docks that:
Block access to shared waters
Are too large or made of unapproved materials
Do not have a dock ID
Disrupt or damage the surrounding ecosystem
Must be stored for winter
Inhibit the natural flow and movement of the water
Consult your local government to see whether there are any environmental restrictions to consider before installing any type of dock.
5. What Accessories You Want
To enhance your dock experience, consider which accessories you want to add-on to your floating dock, such as:
Swim platforms and ladders, so you can access your dock easily from the water
Fish cleaning stations for anglers
Benches for entertaining and waterfront lounging
Storage containers to keep any fishing supplies, swimming gear or towels
Security curbing or edging for added boat protection
Nylon or aluminum tie-up cleats to secure your vessel
A dock slide for never-ending fun
Dock wheels for easy winter storage
Gangways, so you can access your dock regardless of location
You should also consider adding modular railings if you want to offer additional stability for those who use your dock, or if you need a system that meets accessibility standards.
How to Choose the Best Floating Docks for Lakes and Ponds
Before you purchase a floating dock, make sure it meets all of your wants and needs. Ask yourself the following questions:
Does the manufacturer or company have a history of quality products and customer service?
Can I install this dock myself, or do I need to seek professional assistance?
Does this dock meet all local regulations and restrictions for size, material and location?
Is this dock made of durable materials that require minimal maintenance?
What kind of dock configuration or layout is best for my vessel?
Does the dock manufacturer provide after-sale support in case I have questions?
Are there any helpful accessories or add-on features that will enhance my experience?
What kind of warranty program comes with this dock?
Is this dock available in the color and design I want?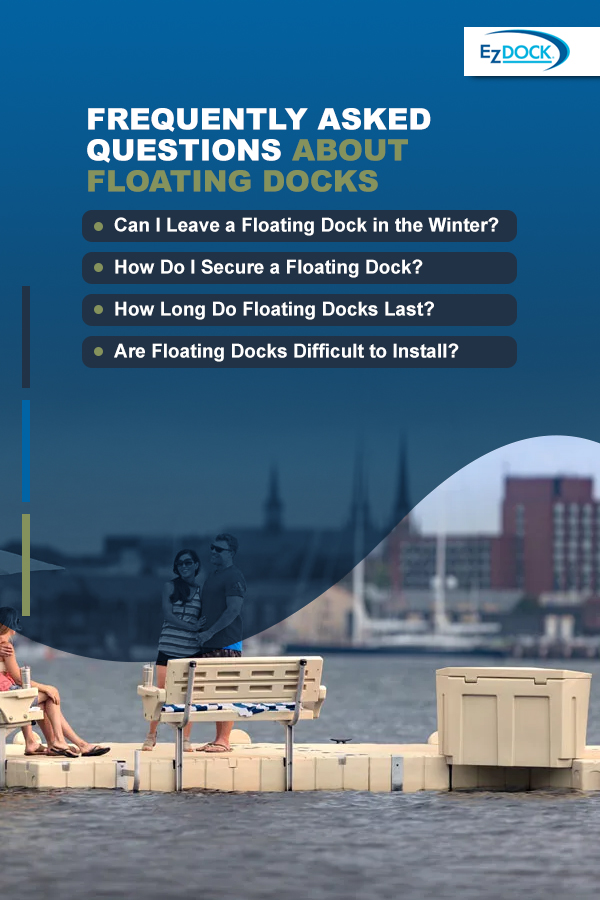 Frequently Asked Questions About Floating Docks
Although floating docks are simple to install and use, you might have a few questions about what to expect. Below are some of the most frequently asked questions we receive about floating docks. You can also contact one of our experienced professionals who are more than happy to answer any questions you might have. 
Can I Leave a Floating Dock in the Winter?
Leaving your floating dock in the water for the winter depends on the type of weather you usually get. If your pond or lake water gets cold but does not see ice or snow, you may not need to store your dock unless required by an HOA or local law. If you live in a four-season area, however, you want to be careful of ice damage. EZ Dock floating docks are easy to remove and store away for the season if necessary.
How Do I Secure a Floating Dock?
Because floating docks move with the water, you might be wondering how to make it more steady on windy days. With a good anchoring system in place, your floating dock will stable enough to withstand some of the most turbulent conditions. EZ Dock anchoring systems come with the brackets, winch inserts and hoops you need to keep your dock in place and make walking, boarding and exiting your boat safe and easy.
How Long Do Floating Docks Last?
How long your floating dock will last depends on the materials it's made out of, the quality of the product and how you care for it. Because EZ Dock floating docks are constructed out of high-quality, durable materials that require little maintenance, you can expect your dock to last a very long time. We've also designed our docks to withstand most tropical storms, as well as low to mid-category hurricanes, so you can rest easy knowing your dock isn't going anywhere.
Are Floating Docks Difficult to Install?
An EZ Dock floating dock is simple to install, and with the help of a few tools and an assistant, you can usually complete it in a single day. All you need to complete the task is: 
An in-water coupler installation tool
A coupler nut tool
A hammer
A ratchet
A 15/16-inch wrench or socket
A Philips head screwdriver
If you don't want to install your dock, don't worry! EZ Dock distributors are happy to both deliver and set-up your new floating dock system.
Floating Docks by EZ Dock
EZ Dock floating dock systems are the perfect solution for your boat storage and launching needs because:
Our docks are comfortable to use, thanks to their splinter-free and slip-resistant design.
EZ Docks will not rot, splinter or fade in the sun, so all you have to worry about is when your on-the-water adventure will be. Aside from an occasional quick wash with soap and water to keep your dock looking new, an EZ Dock floating dock requires no upkeep. We stand by our product so much that we offer an eight-year limited warranty for any damage to floating products, including docks and ports. 
We remain a leader in providing award-winning accessible products, like the EZ Launch Accessible Transfer System.
Trying to achieve a specific look? Many EZ Dock floating docks, ports and launches are available in both beige and gray. 
In addition to these benefits, EZ Dock strives to meet high environmental standards and works to conserve natural habitats. Plus, 90% of EZ Dock products come from recycled rubber and are free from contaminants. While designing our products, we work alongside specialists and conservationists to make sure our docks and ports have as minimal an impact on the environment around them as possible. Our floating docks for ponds do not block the sunlight from shining through to the water, which also keeps your lake or pond inhabitants happy!
Get a Floating Dock for Your Pond or Lakefront Property Today
No matter what size or type of vessel you own, a floating dock is a great addition to your pond or lakefront property because it's easy to install, customizable and durable. Floating docks are also the perfect way to turn your outdoor area into a fun gathering space for your friends or family. A floating dock by EZ Dock is a durable, long-lasting docking solution that makes it easier than ever before to secure and access your boat, kayak or PWC. 
Find an EZ Dock distributor near you to get started, or visit us online to request a quote for your new floating dock today.