Guide to Dock Accessories
A well-designed floating dock can be more than an area to park your boat. Many boaters, family and friends who enjoy spending time on the lake may find that the dock space becomes their second home. Boating enthusiasts often look for ways to enhance their on-water experiences, from cruising along the lake to lounging on the dock. 
One great way to enhance the dock area is to add dock accessories, creating an inviting and comforting space for your family and friends to enjoy. Some dock accessories may include various lights, water-accessible ladders, dock bumpers and other objects to add more recreational activities and create a safe atmosphere along the dock site. Dock accessories can be fun and functional, making it easy to access water and boats.
When you look for high-quality accessories to enhance your space, you may find yourself looking through various dock accessory options, wondering which ones would fit your needs. Try looking at each kind of accessory and what would suit your current style and dock requirements. 
Getting Started Buying Dock Accessories
You may consider a few things before investing in new dock accessories. Whether you are a new or experienced boater, you may be wondering what dock accessories you need to complete your floating dock's safety and aesthetic design. Consider stores' type, budget and shopping availability when buying extra accessories.
1. Decide What Type of Accessories You Want 
From storage boxes to swim ladders, you may want to explore the various accessories available to boaters. One of the first things you should consider is what questions you may want to ask before looking at types of accessories. Some questions may include the following:
Where: Where will the accessories be used? Where will your dock accessories be located during each boating season?
What: What do you plan to use the accessories for? What type of dock accessory do you need or want?
Who: Who will use the dock accessory during the day? Who will need certain kinds of accessories for easy access or safety?
Why: Why do you want to buy new accessories? Why do you need these kinds of dock items?
How: How many accessories does your floating dock require? How do you plan to budget and pay for the accessories?
When: When do you plan to use the accessories? When will you implement the new items into your floating dock design?
The first kind of floating dock accessory you may want to explore are practical and safe items. While a floating dock should be easy and secure to walk on during the day, hold your boat lift and hold your boat when roped to the dock, many boaters want to find different objects to improve safety features. 
Dock bumpers or dock guides, for example, can help you safely steer your boat into the lift or near the dock to tie your rope to the cleat. Many boaters enjoy dock lights so that you can see them during the dark. Dock lights placed underneath the canopy system or on the legs of the dock can help create a safer space.
Other practical accessories include battery trays, motorized lifts and a leg wheel kit. Battery trays underneath the dock canopy can assist with your electronic needs. Some boaters enjoy motorized boat lifts to ensure they can accurately and efficiently park their boat in their space. A leg wheel kit can assist your electronics while making removing the motor lift or electronic accessories easier if you need to get rid of the system. 
Fishing Accessories
If you prefer to fish during your days on the water, you may want to consider the various types of docking accessories made for fishers. For those who love catching fish off their floating dock, you could invest in items like a rod holder. A rod holder secures many standard rod sizes to the dock to make it easier for you to sit for long periods. Whether you want to leave the rod for a second to grab a cold drink or need to untangle your family members' line, a rod holder can make it easier to fish while lounging and relaxing. 
Some more helpful fishing accessories include a cleaning station for dockside usage or a propane grill for on-water cooking. If your area allows you to keep what you catch, consider cleaning and cooking the fish on the water. Your friends and family may enjoy some delicious grilled fish for lunch or dinner while enjoying the cool water and the sunshine. 
Sporting Accessories
Many boaters enjoy playing water sports while taking a trip out to the lake. While fun lake sports items like volleyballs, basketball hoops, nets, floaters or slides may seem like obvious choices, you may also want to explore different types of storage accessories, racks or ladders to enhance your playtime during the day. 
Those who enjoy lake sports may agree that it requires many particular parts and items. Consider storage boxes to place your dock accessories inside and keep them safe and compact during your day on the water. Finding a place to tuck your gear, nets or balls away from the dock can prevent trips or falls and create a clear path to the boat. If you use a kayak, canoe or small watercraft, consider dock accessories like racks or ladders to assist you in containing the boats and entering the water quickly. 
Lounging Accessories
Suppose you enjoy lounging around the dock while others boat or swim. You may want to look at different kinds of lounging accessories. Some of these include comfortable chairs or relaxing benches. Dock furniture can enhance the space and create a lovely aesthetic for the area.
2. Determine Your Budget
Besides the types of dock accessories, you will want to look closely at your budget and ensure that you can afford new items. Consider how much you want to spend, or set aside some money to save a certain amount for later. Depending on what you can afford, you may purchase the many accessories you need but not the extra items that also catch your eye. If you plan to buy accessories that require monthly or yearly maintenance, you will also want to factor this into your current budget.
3. Start Shopping
The last area you'll want to look at is where you may be able to shop for accessories. Consider the various options and styles available to you, whether online or in person. Different items may change your experience on the water, while others may be out of or within your budget. Regardless of the available items, try to find good deals and read online reviews to ensure you've invested in reliable products.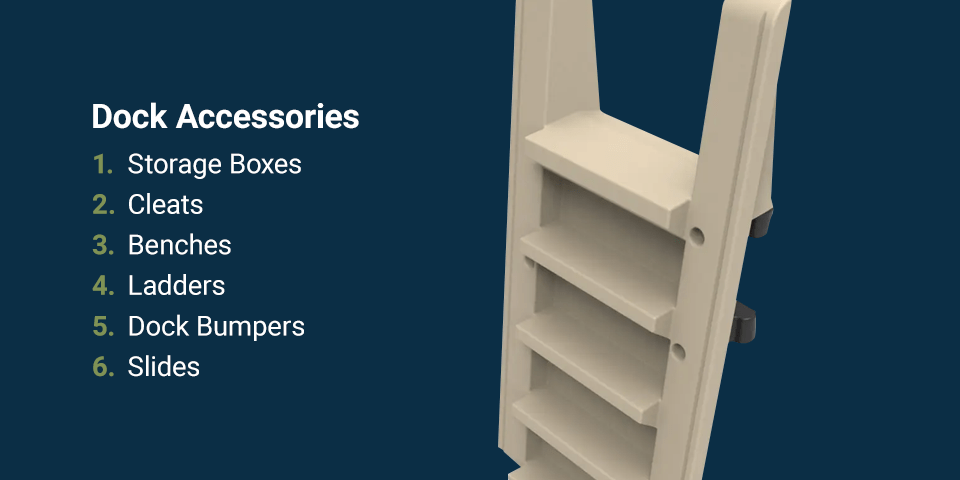 Dock Accessories
Regarding the various dock accessories available on the market, any boat enthusiast will want to examine what would fit their needs carefully. From storage boxes to slides or ladders, you can enhance floating docks with new products that make the space safe and enjoyable for friends and family. These six accessories are available at EZ Dock, making them accessible and durable for boating days throughout the year. 
1. Storage Boxes
Storage boxes can help you contain essential boating accessories like life vests, ropes or personal items. When you don't have to worry about where your items are located or whether or not you can fit enough vests, you can enjoy the water anxiety-free. Packing is also made easier with storage boxes while clearing the boat dock of any obstructions or tiny objects that could create an unsafe environment. 
Many boaters may enjoy that dock boxes keep everything organized and in place throughout your day on the water. You can invest in containers that fit your aesthetic, as many come in various materials, designs or colors to match your style. Remember that when storing expensive items, it may be best to invest in a lock for your dock box, ensuring that all your belongings are kept safe should you leave the box alone.
2. Cleats
Many boaters are familiar with the kinds of cleats that help you tie your boat to the dock and keep it secured when not in use. Consider the various types of cleats that can attach to your boat dock, making it easier to park your boat. Sturdy cleats also help with security and safety, making it easy for guests to access and exit the boat. 
3. Benches
Perhaps you want to enjoy the water from the comfort of the dock. Or maybe you would like a space to sit while watching over children or other family members. Regardless, a well-placed bench can help create a comfortable space while making boating more accessible for those who appreciate sunbathing or relaxing more than swimming or boating. 
4. Ladders
Another great accessory is a swim ladder. Swim ladders often make the water more accessible for children and adults who may need help entering the water. If your area experiences variations in water levels, it may also be good to invest in a durable ladder that includes sturdy handles and enables guests to climb in and out of the water safely. Lightweight ladders may also be easier and safer to repair or upgrade when it comes time to find a replacement. If you enjoy repairing boats, a well-placed ladder can also give you easier access to the lower areas of the boat.
5. Dock Bumpers
Dock bumpers help protect your boat or boating equipment should your boat accidentally bump into the dock. Bumpers work to soften the initial impact, taking the damage that would otherwise harm your boat. If you want to protect your boat's surface or prevent damage during rough storms or water levels, you may consider investing in some dock bumpers for your floating dock.
Dock bumpers also come in many kinds of materials. However, the most common is PVC. Made to protect any equipment installed on your floating dock, an investment in durable dock bumpers can increase your dock's safety and make the space more comfortable for you and your guests.
6. Slides
Consider a transfer slide bench that allows you to enter the boat and include more guests during your day on the water. For those who have mobility challenges or want to join the boat quickly, a slide can help include those friends and family members that want to enjoy the water along with everyone else.
Additional Accessories
Besides some standard accessories found on floating docks, you may want to consider other items that may enhance the space visually or assist you with specific hobbies or activities you enjoy on the water. Explore these five additional accessories to see if they would fit your needs.
1. Lights
For those who like boating during the entire day, you may want to invest in bright dock lights to help you see at night. Evening boating can be very popular, whether you plan to do some night fishing or enjoy spending time under the stars. Many boat docks may not come with built-in lights, and adding extra lights can help illuminate the space and make it safer for you and your guests. 
Docking your boat during the evening can also be a challenging endeavor. You must use dock lights to bring your boat to the correct spot, get it into the right positions and dock correctly. You'll also be able to see other equipment and boating accessories, making it easier to lounge at night without worrying about trips or falls in the dark.
2. Piling Caps
Piling caps help protect your dock pilings while protecting the boat from scrapes or scratches should you bump into the dock. An accessory that is both simple to install and safe to use, piling caps have many benefits, including:
Rot and rust prevention: Piling caps help stave off rotting wood or rusting metal.
Improved visibility: Help improve the visibility of your dock with piling caps in various bright colors like red or yellow.
Nice aesthetic: You can find piling caps that fit the current aesthetic of your floating dock, or you can choose caps that improve the design of your space.
Water and sun damage prevention: Piling caps protect the tops of pilings from water or sun damage.
Bird hindrance: Piling caps in a cone or pointed shapes may hinder birds from collecting on your docks.
Long life span: Piling caps improve the overall life span of the dock by protecting the pilings from damage.
3. Racks
Whether you need a rack for a kayak, canoe or other small watercraft, a rack to hold the item can be very helpful when it comes time to transport or put away the boats. A rack can also be beneficial in keeping your rowing or paddling items in one place, holding things like oars or paddleboards. Racks can be highly versatile while helping equipment stay in good shape when not used.
4. Hoses
Many don't consider how helpful a nearby hose can be when packing up and leaving your dock for the day. Consider installing a quality hose that you can use to wash down your boat or floating dock after a long day of working or fishing. Hoses also assist with safety issues. You can use a hose to prevent extensive damage if a fire starts on the dock.
5. Fishing Accessories
Items like a fish cleaning table can be portable and foldable, making it easy to store and access should you want to catch some fish during the day. Many fishing enthusiasts also enjoy rod holders, which help you drop multiple lines or let you know when a fish bites. 
Benefits of Dock Accessories
Many dock accessories mentioned have various benefits you may also want to explore. The accessory benefits you enjoy, from improved safety and protection to accessibility and storage, may inform what items you want to buy.
Benefits of Dock Bumper 
Dock bumpers improve the safety and protection of the boat and its guests. Some dock bumper benefits include the following:
Minimal impact: Bumpers prevent potential impacts from boats from negatively affecting both the floating docks and the boat itself.
Shock absorption: Dock bumpers work to absorb the shock from potential boat bumps or crashes that could cause harm to the boat. Bumpers are also meant to absorb the potential damage from a collision.
Less boat damage: By protecting the dock and the boat, bumpers reduce the chance of boat maintenance issues or noticeable cracks and scratches.
Surface protection: A marked or scratched boat can look unflattering or weathered. When the boat's surface is scratched, it can lead to a lower life span for both the boat and the dock. Bumpers protect the boat's surface from scratches and reduce the chance of regular upgrades due to damage.
Equipment protection: Other equipment on the boat or dock will also be protected when using dock bumpers. Even during rough storms or changing water levels, a dock bumper helps keep the area safe.
Benefits of Storage Boxes
Aside from storing your items and accessories, storage boxes have many other benefits. Consider the kinds of lake hobbies you enjoy and how much room the extra items may take up when out on the lake. A storage box helps to minimize mess and keep all your items organized and out of the way. Whether you need easy access to gear, ropes or life vests, a storage box helps you keep track of all your products, no matter how many you have.
Benefits of Swim Ladders
Swim ladders on a floating dock can assist with many accessibility and safety concerns. Many are made with slip-resistant or textured surfaces, making it safe to climb in and out of the water at your convenience. Ladders also improve accessibility. For those who find it more challenging to enter the water, a ladder makes it easier to enjoy the lake. Swim ladders may also improve access to the lower parts of the boat should you need to repair or upgrade a component. 
Benefits of Slides
Slides with coated steps and a durable surface make it easier for children or adults of various abilities to enter their boats. Slides also make for a smoother and more comfortable day on the water and many can be installed along docks that live on bodies of water with five or more feet of depth.
Benefits of Cleats
Cleats have various benefits, from helping you stabilize your boat to preventing it from drifting. Some other advantages include the following:
Easy tying: Easily tie off your boat using the cleat and some rope. Some boaters even tie off both ends of the boat to make it safer to access.
Boat accessory attachments: You can also tie your water mat, floaties or other accessories to your cleats by attaching a rope to them. This helps you access your floating mats from the dock with ease.
Fishing benefits: Try attaching your fishing bucket to the cleat and keep it in the water while you fish. Many use the cleats to connect minnow buckets, allowing them to stay under the cool water during the day.
Benefits of Benches
A bench can provide many benefits to both you and your friends and family who visit the space. Whether you want to provide a comfortable spot for guests or spend some time under the sun or stars, a well-placed bench adds a new layer of relaxation and versatility to your floating dock. 
Benefits of Dock Lights
Dock lights reduce safety hazards that may pop up during the evening. You and your guests must be able to see both the dock and other equipment during night boating and lights can assist you in illuminating the space. Wherever you place them, lights help improve visibility and make it safer to board and park your boat.
Contact EZ Dock for All Your Dock Accessory Needs
EZ Dock makes gathering all the great dock accessories you need simple. From dock lights to storage boxes, we offer accessories in various vibrant colors and functional sizes. Encourage friends and family to spend more time outdoors with accessories that make it comfortable to relax and use the space.
Since 1991, we've been the industry leader in floating docks and accessories. Whether you need a complete dock system, a specific part, a boat lift or other accessories, our products are versatile and customizable. Browse our dock accessory products online or contact us today to request a quote and learn more about our current options.