Boat Buying Guide
Owning a boat can be one of life's greatest pleasures. Think of the memories you'll make when you take your friends and family out on the water, enjoying the cool air on your skin and the sun shining overhead. It's an exciting and happy prospect for anyone. But how exactly do you buy a boat?
Purchasing a boat is a process you'll learn through experience. You want to get a good deal, and you also want to ensure you're buying a boat that will provide years of nautical enjoyment. EZ Dock has put together this boat buying guide to help you make an informed, confident decision — even if it's your first time shopping for a boat.
Read the full article or jump to a specific section: 
Getting Started Buying a Boat
Buying a boat includes many important steps. Remember, you're in control of the process. Go at your own pace, do the necessary research, and enjoy yourself. You could end up having lots of fun as you plan, especially if you get your friends and family involved. If none of the boats you find feel right, keep looking. You'll soon find the perfect vessel for your boating needs. 
Once you've decided to buy a boat, there are some easy steps you can take to prepare. They involve some light research and personal planning to provide the foundation for the rest of the process:
1. Decide What Type of Boat You Want
There is a huge variety of boats on the market. Large yachts, small sailboats, fishing boats, cabin cruisers, and inflatables are a few of your options, and that's just scratching the surface. There are boats for every size, speed, and activity. You'll need to ask yourself the following questions to determine the kind of boat that is right for you:
Where will I use my boat? Where you'll be using your boat affects its size. Shallow waters may have a size limit, whereas deep, expansive waters may require boats to be on the larger side. 
What will I use it for? Boating is part of a range of hobbies and interests. From fishing and personal watercraft (PWC) sports to joyriding and overnight traveling, different uses call for different types of boats. 
Who will use it with me? Some people love to boat by themselves, which opens the door to purchasing a smaller vessel. Others intend to use their boat with varying numbers of friends and family. The more people you want to have on your boat at once, the larger it will have to be. 
Where will I store my boat? When you're not out boating, you're going to have to keep your boat somewhere. Having a personal dock makes this easy, but sometimes, you'll need to rent a spot at a marina where you can keep your boat. Larger boats usually come with higher monthly storage payments.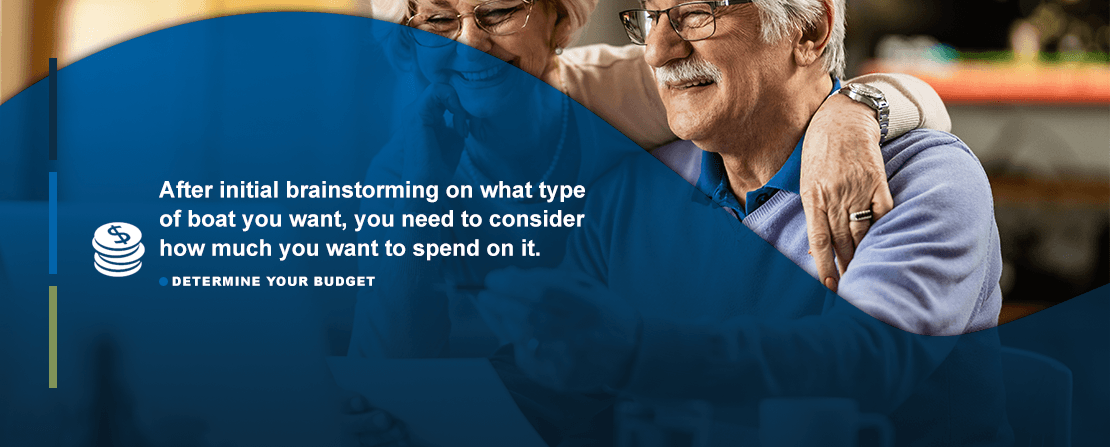 2. Determine Your Budget
After initial brainstorming on what type of boat you want, you need to consider how much you want to spend on it. Look at your budget and see how much you can direct toward buying a boat. Start setting aside money now to prepare yourself for when you have a monthly boat expense. This can also help you prepare for the initial down payment. How much you can afford within your budget will affect what boat you end up purchasing.
You may want to factor in typical boat maintenance costs and other expenses when considering your budget. Start researching the cost of boat insurance during this stage. Some states will require you to have boat insurance on your vessel, so this will be an additional expense on top of your boat's purchase price you'll want to factor into your budget. 
3. Start Shopping
The next step in how to buy a boat is to start shopping around. You'll find many options and styles, and you'll begin learning what you like in a boat. Consider different features to change your boating experience depending on what you want to use the boat for. 
You'll also start to get an idea of prices as you browse, which is helpful for budgeting purposes. Knowing how much certain boats cost can help you find good deals. You can read reviews and join online boating communities and forums to get even more information from boaters who were once in your position. They can be a great resource for finding the perfect boat. 
Choosing the Type of Boat to Purchase
There are many boats to choose from, whether you're looking online or at boat dealerships. It's fun checking out all the different types of boats, but when you're ready to narrow down the field, there are ways to sort your options into a more manageable list. Try using the process of elimination to whittle away the boats that don't meet your needs and arrive at the right one. The first way you can practice this is by filtering your choices between new and used boats. 
Benefits of Buying a New Boat
Many boat owners prefer buying new despite the higher price point. Here are some of the reasons why paying more for a new boat could be worth it:
A clean slate: When you buy new, you don't have to worry about how previous owners have treated the boat. You're the first owner the boat has ever seen, so everything will be in pristine condition. There will be no hidden problems a previous owner could leave for you to discover.
More options: The used market usually has limited options. When you shop new, you can find the exact boat you want without the limitations of the used market. New boats also have upgradeable options, so you can customize your boat to meet your needs. 
Warranties: New boats come with warranties to protect you from paying for various mishaps. This can offer peace of mind not always present when buying a used vessel. If something breaks, you'll have the warranties to fall back on.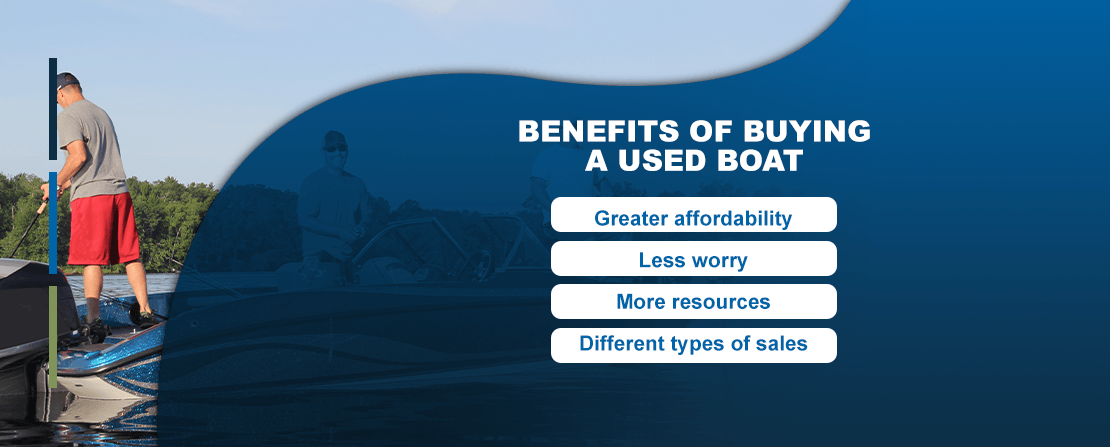 Benefits of Buying a Used Boat
Here are some of the benefits of buying a used boat:
Greater affordability: Used boats are often more affordable than new ones. That means you can get bigger or more high-powered boats for less money. That translates to lower monthly bills and more freedom in your budget. If you have your eyes on a new boat that is too expensive, you may be able to find a similar one on the used market for a better price. 
Less worry: When you buy new, you may worry about every little scratch the boat receives. There is a type of confidence that comes with buying used and knowing any dent the boat incurs won't be the first — or the last. 
More resources: Buying used lets you use the internet and other boaters' testimonies to find out if the boat you're looking at has any common issues that could arise over time. Used boats can have several years' worth of data available to help you know if a certain model is truly the right choice. 
Different types of sales: When you buy used, you have many buying options to choose from. Buying from a used dealer gives you a better price while still offering dealership benefits. You may find even lower prices when buying used from a broker thanks to lower overhead costs than dealerships. If you buy from a private seller, you may be able to haggle the price down even further. You also have the option to trade in an old boat for an even better deal.
After you decide if you want to buy new or used, you can begin looking for specific styles of boats within your category. Keep your eye on the market to make sure you're up to date on the latest deals. Extend your search radius to any distance you're willing to travel to find a good deal. Remember, when you buy from a dealership, they're who you'll likely go through for repairs and other warranty-related services. Accordingly, keep distance in mind when choosing where to buy your boat. 
6 Tips for Making the Right Purchase
Use the following tips to help your boat-buying experience go smoothly the first time and every time.
1. Narrow Your Search
It's a good practice to first shorten your list of options by deciding between new or used boats. But there are other ways you can make your list of options easier to manage. Limit your search radius depending on how far you want to travel to find a boat. Are you willing to travel two, four, or even six hours? When looking at boats for sale online, keep your searches within your desired distance to make your results easier to navigate. 
Then you can start searching for boats by type. Do you want a boat cabin for overnight adventures? Would you rather have a classic sailboat? Will you be using your boat for fly fishing excursions? Only search for boats in line with your intended application so your time is spent looking at boats you'll be interested in.
2. Attend Boat Shows
Once you know what kind of boat you're looking for, start attending boat shows. Boat shows are where you can see dozens or even hundreds of vessels at once. You can also meet the boat dealers and ask them questions about their boats and the kind of services they offer. 
Boat shows can be fun for the whole family, and they're also a time to make steady progress on your research. Board as many boats as you can to get a closer look. Be prepared to ask the dealers questions because they're who you'll be dealing with during and after your purchase. You want to make sure you're getting connected with a dealer who will treat you well. They should also be within a reasonable distance from where you'll be using your boat. 
3. Check Warranties
Warranties should be a key point of interest for you as you conduct your boat search. Whether you're shopping online or touring a boat show, always ask about the warranty situation. There are warranties for different parts of the boat, so you need to know which components it covers. If a boat lacks warranties other boats commonly include, you may want to keep looking.
Find out if any of the warranties are transferable. This can raise your boat's value if you ever decide to sell it. Ask dealers what the process would look like if you needed to have the boat repaired for an issue your warranty covers. 
4. Keep Track of What You See
You'll likely spend a lot of time narrowing your search, so make sure you keep track of what you see as you shop around. Here are some ways to document the boats on your shortlist so you know exactly what each boat has to offer:
Take pictures: As you tour boat shows and visit dealers, have your camera or smartphone ready. Take pictures of the inside and outside of every boat that catches your eye. Try taking a picture of yourself or a family member between boats so you can distinguish where one boat ends and another begins in your camera roll. 
Write down notes: Bring a notepad and pen with you when looking at boats. You could also use the notes feature on your smartphone to catalog information. Make sure you include all identifying information to keep the boats organized. It can help you remember what you saw if you have information to back up the images you took on your camera. 
Use a voice recorder: Your smartphone may have a voice memo app, or you can download one. As you look at boats, have your phone recorder running so you can speak your initial reactions and listen to them later. 
Ask your family to share their reactions and opinions of the boats you've looked at. They might see or remember things you forgot, which can help you keep all the boats straight. Plus, you want to make sure they love the boat just as much as you. 
5. Go on a Test Drive
You can and should test-drive the boat you're considering purchasing. Dealers may offer the experience to you, but don't be shy about asking if you can take a boat for a spin. It's common for boat buyers to test-drive a boat before making their purchase. 
This experience will help you determine if the boat is the one for you. Get a feel for the controls and how the boat handles in the water. How does it ride? Is it pleasant to navigate? After the test drive, you'll either walk back on the dock with the feeling that you found your future boat or that the search continues. 
6. Consider Hidden Expenses
When a dealer makes you an offer on a boat, remember the price given is going to be lower than what you end up paying. Taxes, fees, processing payments, and extended warranties are a few of the extra expenses you'll have to pay. You may also have to pay boat insurance every month to keep your boat water-legal. Repairs, regular maintenance, and storage costs are a few more expenses you'll encounter when you become a boat owner. 
These costs add up, but they're worth it in the end. You'll find the joy the boat gives you, your family, and your loved ones are well worth the price in dollars. The memories you'll make and the fun you'll have out on the water are priceless. 
Questions to Ask When Buying a Boat
When you're face-to-face with a dealer, you need to ask the right questions. There's no shame in entering a dealership with a list of questions. That shows you're serious about your purchase and you're not one to make a hasty decision. Here are some questions you should remember to ask boat dealers:
Does this boat come with any warranties? Warranties are an important part of the boat buying process. They can make a big difference if anything on your boat happens to break. Get all the information you can about them. 
May I take it for a spin? Some dealers will be more eager than others to get you behind the wheel of one of their boats. You have the right to see how the boat handles before making your decision. Make sure you ask about test drives to get you closer to making your decision. 
What service information can you give me? Your boat is going to need some routine service to keep it in the best shape possible. Ask your dealer how often you should take your boat in for service and how much it will cost. 
What is the boat made of? Boats consist of different materials, from the physical structure of the boat to the seats and internal components. Materials affect the quality of the boat. Ask about the boat's materials to know what kind of quality you'd be getting for the price. 
What will the insurance costs be? Make sure you know this information before making your purchasing decision. This fee will increase your monthly payment, so it is important to consider it within your budget. 
What is the maximum passenger capacity? Every boat has a passenger limit. It is unsafe to surpass this limit, as it can alter the boat's integrity in the water. Ask the dealer what each boat's passenger limit is. You want to make sure you have enough space for your family and friends to enjoy the boat with you. 
Can I finance this boat? Many dealers are willing to offer you a financing plan to make the boat more affordable. See what kind of options the dealer has for you, as this can help make room in your monthly budget and affect which boat you end up purchasing.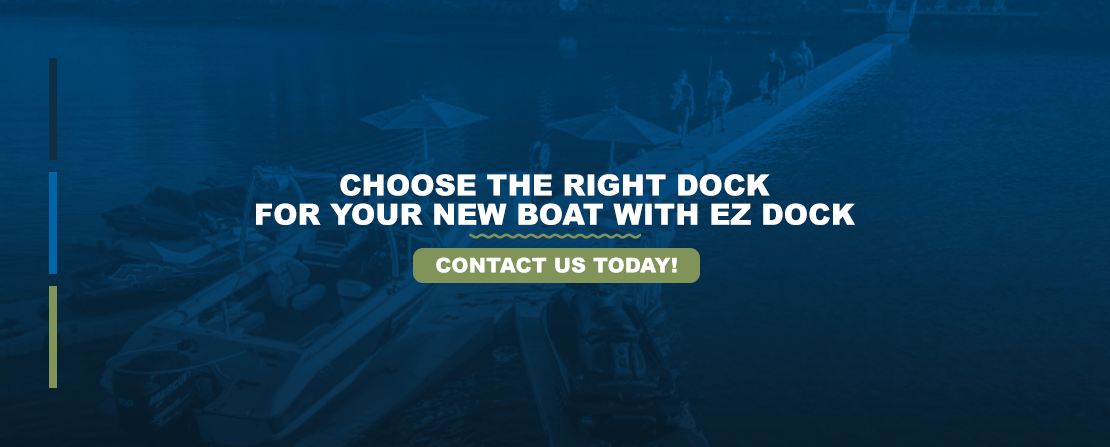 Choose the Right Dock for Your New Boat With EZ Dock
What better way to upgrade your waterfront property than to install a brand new dock to accompany your new boat purchase? EZ Dock floating polyethylene docks are friendly on bare feet and slip-resistant. With EZ Dock, high waters covering your dock can be a thing of the past. Boat confidently knowing you and your family can rely on one of our kid-friendly and water-resistant docks. 
Browse our wide selection of docks to see how you can increase the value of your waterfront property. Upgrade your dock with any of our additional products to add character and enhance your enjoyment of your new dock. Since our docks are made from polyethylene, you never have to worry about restaining or repairing broken sections of your dock. 
Your boat dock will be the centerpiece of your family's fun days on the water, so make sure you're investing in a quality dock from EZ Dock. Request a quote today.