19 Best Gadgets for Your Boat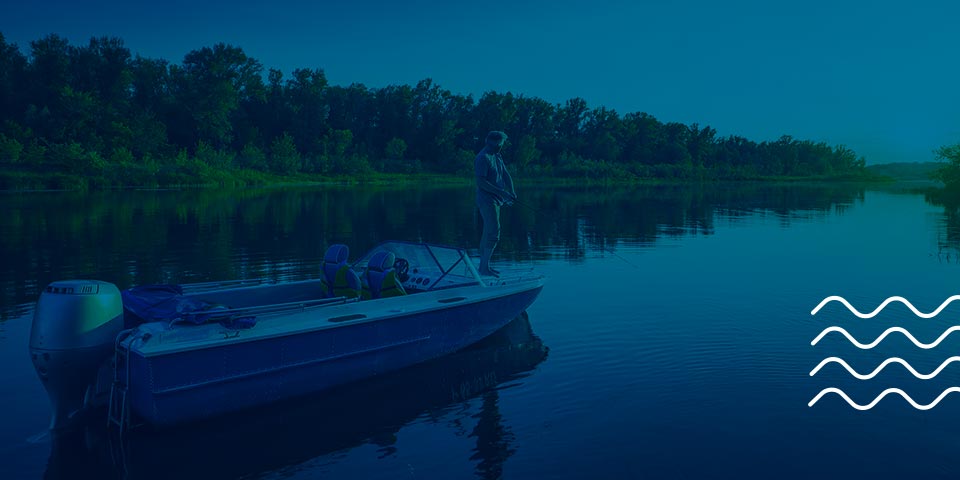 Want to upgrade your experience on the water? We've compiled a list of the best accessories and coolest boat gadgets that will improve the fun and effectiveness of your time on the water. 
1. Boat Erasers
Do you have scuffs along the bottom of your boat from bumping into the dock so many times? Boat scuff erasers will have your boat looking shiny and new in no time. With a little elbow grease, you can get rid of black dock marks and other imperfections on your boat. 
2. Fun Hats
Hats are an ideal accessory for a day on the water since they help protect your face and your head from the sun — they also make a perfect birthday or anniversary gift for someone who logs a lot of water time. A simple baseball cap that says "Captain" is a great choice, but you can also find funny caps with slogans like "Boat Hair, Don't Care." 
3. Aqua Socks
There's nothing more unsettling than stepping into the muddy bottom of a creek or inlet as you drag your boat ashore or go for a dip with the kids. Protect your feet with sturdy aqua socks, which will keep them safe from rocks and other detritus in the water. They dry off quickly and come in lots of bold colors for those who like making a statement with their feet. 
4. Boat Trash Bag
How often do you end up using a random plastic bag to corral trash on your boat, only to find it's flipped over the side when you weren't looking? With a boat trash bag, you can keep your trash on board and dispose of it properly once you get back ashore. The bag can hook onto a railing, and even small ones can hold an impressive amount of trash. 
You can also get a trash bag holder if you want to stick with your disposable trash bags. Add one to the boat as the designated discarding spot. 
5. Boat Cleaning Wipes
Your boat needs careful cleaning to remain an attractive, functional space. Use boat cleaning wipes on the wheel and all the other frequently touched places throughout the boat. 
6. Pontoon Grill
How fun would it be to grill your favorite food while you're out on your boat? A pontoon grill hooks onto the railing of your boat and lets you cook up a small feast to enjoy as you cruise. You can cook up your favorite meats and vegetables right there on deck with the sun shining overhead. Plus, a marine-grade grill is gas-powered, meaning you can be confident it will light up every time. Bring a cooler of grillable food on your next trip, and you're set. 
7. Cooler
Use your cooler to store snacks and keep your favorite beverages ice-cold while boating under the sun's warm rays. A cooler is also essential for keeping your raw meat fresh and ready for grilling if you plan on doing so. And if you're fishing, a cooler will serve as a way to keep your catches fresh. Whatever you plan on doing on your boat, a cooler is an excellent item to have that will come in handy on many outings. 
8. Rod-Mounted Cutting Board
If you're planning on grilling on your boat, then getting the right cutting board is a good idea. Rod-mounted cutting boards make slicing and dicing meat and vegetables easier and more secure than ever, which is essential when handling a knife on the water. Some even come with knife slots and trays to keep all your cooking tools in one organized place. A rod-mounted cutting board is essential if you plan on using your boat for fishing, as you can immediately clean and cook your catches. 
9. Boat Hook
Need to pull your boat into the dock? Use a boat hook, and you won't even have to hop out of the boat to guide it. An effective boat hook will include a telescoping feature to become longer when you need extra length to reach the dock. It should also float if you accidentally drop it in the water, making for easier recovery. 
10. Boat Dog Ladder
Do you like going out on the water with your furry friend? If so, then a boat dog ladder could be a real game-changer. A boat dog ladder makes it easier to move your dog on and off your boat, especially when they're wet after spending time on the boat or in the water. Most dog ladders attach directly to your boat's ladder, making it easy and convenient to use. Your dog — and your back — will thank you for upgrading your boat with a dog ladder. 
11. Spill-Proof Dog Water Dish
If you'll be taking your dog with you on your day on the water, then you need to make sure they have reliable access to drinking water. A consistent supply of clean water is a must for your pet, whether you're boating on a fresh body of water or the salty ocean. Get your dog a spill-proof water dish so that their water stays in the bowl, even when you start hitting some choppy waves. Then your dog will always be able to quench their thirst. 
12. Wireless, Waterproof Bluetooth Speakers
Your favorite music can elevate your boating experience. But boating comes with high moisture levels that can make using electronics difficult or unsafe. The solution is to get a wireless, waterproof Bluetooth speaker for your music enjoyment. With a wireless speaker, you control your music from anywhere on the boat with your connected smartphone or Bluetooth-capable music player. And if a little water makes its way onboard, you can rest assured that your speaker will keep working thanks to its rugged, waterproof design. 
13. LED Rope Lights
The right lighting sets the tone every time you take your boat for a spin. Get some LED rope lights to accent various parts of your boat. Your boat will have its own unique charm, especially after the sun goes down. If you want to get even more technical, you can connect your LED lights to your speakers so they pulse with the rhythm of the music. There are many possibilities when it comes to LED lighting, so make it entirely your own style. 
14. Shatter-Proof Drinking Glasses
Picture yourself enjoying one of your favorite ice-cold drinks on your boat on a pleasant summer afternoon. Suddenly, a surprisingly strong wave hits, and your drink falls from your hand. Glass shatters in all directions. It goes without saying that broken glass is one of the last things you want to experience while on your boat, potentially barefoot. 
That's why you need shatter-proof drinking glasses. These special cups will resist shattering upon impact, making them a safer alternative to standard glasses both on your boat and at home. Consider getting ones with nautical-themed decals to fit the theme!
15. Waterproof Camera
If you're a photography enthusiast or like the idea of casually taking pictures of your boating adventures, then a waterproof camera is an essential gadget to have on board. You can get traditional waterproof cameras where you point and shoot to take pictures, but you can also get small, sporty ones that attach to your hat so you can film whatever you're looking at with ease. In either case, make sure they have good ratings and are adequately waterproof because boat photography can become a wet affair.
16. Portable Solar Charger
When it comes to pool boat gadgets, each plays a very specific role. Your phone, GPS device, Bluetooth speaker and flashlight are just a few of the items you rely on while boating that require a charged battery to function. Life can get a little more inconvenient rather quickly should any of these items run out of power. That's why you need a portable solar charger on your boat. 
A portable solar charger uses the sun's rays to store power that it can then transfer to the devices that you plug into it. Keep your essential electronics charged while enjoying a day on your boat. 
17. Personal Locator Beacon
If you or one of your guests have a concern about getting lost or needing help while on the water, then a personal locator beacon can help ease some of those fears. This little device will send out a distress signal so that you can receive assistance should you need it while out boating. 
18. Waterproof First Aid Kit
A first aid kit is one of the most essential boat accessories to have on hand at all times. Better yet, you should get one that is waterproof so that the items inside stay as safe and dry as possible so they're ready when needed. It's impossible to know when someone might need first aid on your boat, but having a waterproof first aid kit nearby ensures they get the initial help they need right away should an injury occur. 
19. Handheld Spotlight
If you plan on boating at night, a handheld spotlight is one of the best boat gadgets to have. These are perfect for sightseeing and alerting other boats of your presence if you experience issues. Keep one of these handy, and you'll always be able to see and be seen while on your boat. 
Browse EZ Dock Boat Dock Accessories Today
Finding neat boat gadgets makes your time on the water even more fun. You'll also want to be sure you have all the accessories you need for your dock, too. Browse the dock accessories available from EZ Dock to find the pieces for your next outing.