Top Reasons to Get Commercial Dock Insurance
We don't like to think about how exposed we are. However, everything we do is a risk, and when we take risks, something could always go wrong. If we damage property or injure others, we can certainly be held liable. If you are held responsible for injuries or damages, your assets could be exposed to cover the costs of medical care or repairs.
On the other hand, there is always the possibility that someone will damage our property or injure us. Even if the other person is liable, if they aren't as responsible as they should be, you could find yourself having to cover the costs to repair or replace your belongings or receive the appropriate medical care to heal injuries.
If you own a commercial dock, you will likely experience lots of traffic from boats and people from all directions. Many things could happen or go wrong, such as people getting injured, property taking damage or natural disasters coming through. These events can all leave you at a loss. This exposure to risk is the top reason you should get commercial dock insurance.
What Is Commercial Dock Insurance?
To understand commercial dock insurance, you need to know the true purpose and concept of insurance in general.
Different Types of Insurance Policies
Insurance policies can insure many different things, from vehicles such as tractors, boats, personal watercraft (PWC), all-terrain vehicles (ATVs) and golf carts to real property like stores, restaurants, office buildings and homes. Insurance also includes life insurance policies and health insurance policies, though these policies are not relevant here. Other policies offer additional liability coverage in the event of large insurance claims.
Additionally, while some insurance policies cover liability as an added inclusion or endorsement, other policies cover just liability. For instance, a general liability policy insures someone's liability while performing work or tasks. Typically, this type of policy is for freelance repair people to cover any issues or problems that may arise as a result of their work.
The main goal of an insurance policy is to take some of the risk and financial burden off you if something happens. If your car is totaled, your home burns down, your ATV is stolen, your store is broken into or your restaurant is vandalized, the corresponding insurance policy will help you recover from the loss you experienced from that specific event.
Personal vs. Commercial Insurance
For the most part, insurance policies fall into two categories: personal or commercial.
Personal lines of insurance cover anything you own for personal use, such as your car, home, boats and PWCs. Personal policies also include jewelry insurance, renters insurance and flood insurance.
Commercial lines of insurance include work trucks, stores, restaurants, heavy equipment, tools and any other property used for business. Typically, if you're using something to assist you in making money, you need a commercial insurance policy to cover it. Other commercial lines policies cover your liability as an employer since you are responsible for some of the actions of your employees.
Be certain you insure your assets correctly. While it may cost more to insure your property exactly how you're supposed to, if something happens, you will be covered and compensated. Additionally, insuring yourself and your assets properly reduces the risk of issues and complications if you ever have to file an insurance claim.
For instance, let's say you own a truck and have it insured under your personal auto insurance, but you also use the truck in your freelance business. If you were to have a car wreck while engaging in business activities and be the at-fault party, your insurance could deny the claim completely or decide to pay only half of the necessary amount. You would be underinsured, which could cause lots of problems, as you'd have to come up with the necessary funds to pay for repair or replacement costs that the insurance policy didn't cover.
Be sure you do your research on how insurance works so you can truly understand why you need it and what you need to make certain you are covered properly.
Commercial Dock Insurance
So now that you've learned a little about the world of insurance, let's dive into what commercial dock insurance is. Commercial dock insurance can help protect your dock if any boats or people cause damage to your dock. It also protects you if someone injures themselves due to a problem with your dock or if an issue with your dock damages someone's boat. If you run a commercial dock and have employees, you'll also need employer's liability coverage, which will protect you for the decisions and actions your employees make.
Hundreds of different insurance carriers will write insurance policies. You may be familiar with the larger companies, like State Farm, Geico and Farmers Insurance. However, there are many other smaller companies that you don't hear much about because they aren't as widespread as the larger names. It's important to note that just because an insurance provider isn't as well-known as another doesn't mean it is better or worse.
It's usually best to shop around with providers since different insurance carriers include and exclude different things from their policies. Generally, a commercial dock policy covers the dock itself, gangways, electrical and utility hookups and equipment permanently attached to the dock.
Go over your commercial dock insurance policy in detail with the insurance agent or producer writing the policy for you. Insurance policies are contracts between the company and the insured, and the contract is very exact and detailed, including specific wording on everything the policy includes and excludes.
Make sure your policy covers everything you need it to cover. If it doesn't include everything you need, ask about available endorsements. Some insurance carriers offer extended coverage or other additional features, but only if you request them and pay an additional premium amount.
Additionally, every policy has a limit or a maximum amount it will pay. You want to ensure your limits for each type of coverage are sufficient. If someone were to get injured due to problems with your dock and incur $150,000 in medical bills, but you only have $100,000 worth of this kind of coverage, you and your business will be responsible for the additional expenses for this person.
While it may seem tedious to review the policy in detail, you need to understand what occurrences or known perils your policy does and does not cover.
Why You Should Get Dock Insurance
If you haven't had any issues or damage to your dock or others' boats, you may be wondering why you should bother getting dock insurance. Let's take a closer look at specific marine insurance needs and their importance.
The Vessels
Whether you allow vessels to dock permanently or just make quick stops, boaters will probably be tying off by using your dock. What if your dock begins having problems and damages the boats? While vessels need to have their own policy to be insured properly, if your dock caused the damage, any claims would be filed on the dock's insurance policy. 
Watercraft are a significant investment, so if your dock is the reason for damage to a large boat, paying to repair the vessel could be a considerable expense for your business. With commercial dock insurance, you won't have to take on that burden and stress since your insurance policy will pay for repairs.
The Liability
This coverage works hand-in-hand with the one above. In the instance above, the claim would be filed on the dock insurance policy because you are liable since your dock caused the damages. You could be held liable for many things, such as personal injuries, any damages that occur on or because of your dock, and the actions or negligence of your employees. In some areas, you could even be liable for the actions of other boaters while they are at your dock. 
As the owner of the dock, you are responsible for checking your dock regularly and making sure you keep it properly maintained and safe. For example, if you have a wooden dock and one of the boards rots, you could be held liable for any medical expenses if someone falls through and injures themselves. You could also be liable if one of your employees leaves a pile of screws on a pathway, and someone steps on it and injures themselves because your employee was negligent by leaving screws in an area meant for walking. 
With lots of people coming and going, many things could cause a problem and leave you liable for the damages, so you want to be certain you have an adequate amount of liability insurance.
Property Damage
The risk of your dock causing damage or injury to others isn't the only thing your commercial policy will cover. If a hurricane or tornado comes through, these strong and uncontrollable events can cause devastating damages in their wake. If something happens to your dock, it can be expensive to buy the materials and hire workers to perform the necessary repairs. The right commercial insurance policy can help you replace or repair your dock so you can get back up and running as soon as possible.
Loss of Use
You will see this coverage in most commercial insurance policies. This type of coverage is also called loss of use, additional expenses or loss of income. Suppose a covered peril causes significant damage to your dock, such as from a storm in the area. In that case, it can take time to get the necessary funds, materials and labor together to repair the dock and get your business back up and running.
Because of this closure, you lose business and traffic to your dock and any accompanying revenue, which can begin to cause financial problems for you and your employees. A loss of use insurance policy will compensate you for the money you lose from having to shut down until repairs are completed. This coverage can ensure that you still have money to pay employees and cover any bills, helping you avoid further financial issues for your business.
Pollution
Most insurance policies either limit or exclude pollution coverage, but you may need to consider it. If boats use your dock while transporting chemicals or other harmful substances, you might want to look into adding or raising your pollution coverage. Even if it only happens once a year, if you ever have any harmful substances transported using your dock, you need to make sure you have pollution coverage. 
If someone knocks a container of chemicals or harmful substances into the water while unloading onto your dock, the substance will quickly spread in the water, polluting it and potentially killing any living plants or animals. This spill could result in a hefty fine for you and your business. However, adequate pollution coverage can help pay for spill response, clean-up, damage mitigation and any penalties you may incur.
It is always better to be safe than sorry and ensure you are covered in case anything leaks pollutants or other harmful substances at your dock.
Flood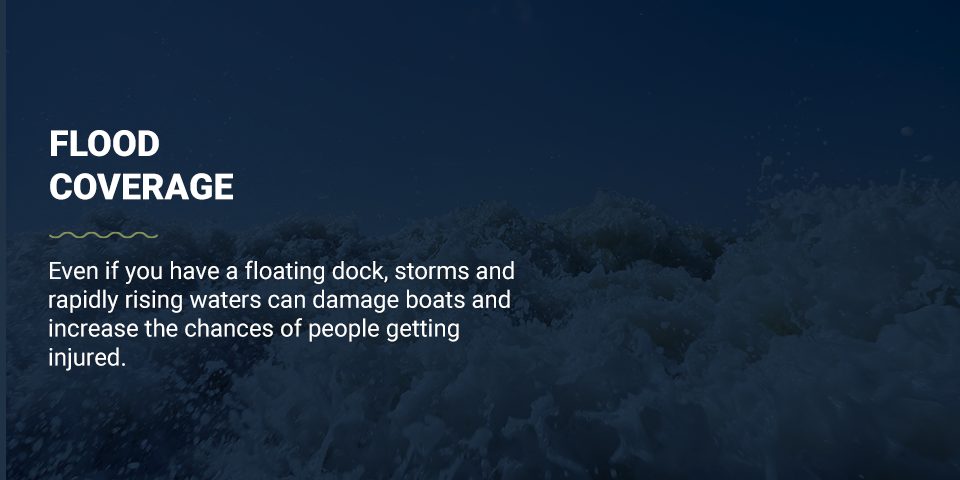 Flood coverage is excluded from almost every basic insurance policy. You generally need to get a separate flood policy or add it as a special endorsement through a private insurance carrier. Since your dock is right on the water, flood insurance is critical. Even if you have a floating dock, storms and rapidly rising waters can damage boats and increase the chances of people getting injured. Additionally, your dock may lead to an area for boaters to take a break from the water to enjoy land activities, like shopping at a gift shop, eating at a restaurant or relaxing at a play area.
What if a strong storm comes through, raising the water over your dock and into your land areas, damaging your merchandise or amenities? This kind of damage could be devastating for your business, but a good flood insurance policy can protect the assets past your dock. Thousands of different scenarios could happen at any time. It never hurts to be prepared, so talk to your insurance agent about all the coverage available to you, including commercial flood insurance policies.
Consider everything you offer at your dock. What could cause problems? What kinds of things could you be held liable for? What needs to be protected? Ask yourself these questions, and be open and honest with your insurance agent so they can advise you on what you need to be covered as best as possible.
How to Insure Your Boat Dock
The first step to insuring your boat dock is to call your local commercial insurance agent. Explain your situation and what you think you need to have covered, then ask for coverage recommendations and get quotes so you have an idea of what the dock insurance cost will be. The process can be a little more complicated than that because you need to make sure you're working with a reliable insurance carrier.
There are many different types of insurance carriers, and some of them specialize in certain areas, while others avoid covering specific perils. For example, people living in coastal areas often have trouble finding homeowners insurance options with good premiums because not all insurance carriers want to take on the enhanced risk of water being so close by. However, other insurance carriers only write policies for properties in those coastal areas or other locations with enhanced risk.
Finding the right carrier with the best policies for your business is crucial, but your commercial insurance agent should be able to help you find policies that meet your needs.
Be sure you do some of your own research as well. Find out how different insurance companies are funded. Some well-known carriers receive state funding. Conversely, some insurance carriers that aren't as well-known are their own source of funding. Self-funded insurance companies or surplus line carriers are generally rated based on their financial stability. Ratings range from A++ to D.
How an insurance company is funded matters because if a company doesn't have the funds available to pay a claim, they are more likely to deny any claim you file, which is just as bad for you and your dock as if you didn't have any insurance at all.
When your agent sends you quotes from different commercial insurance carriers, you will definitely want to know if the insurance company is self-funded. If they are self-funded, ask what their financial standing is. To be on the safe side, you'll probably want to stick with A-, A, A+ and A++ carriers for peace of mind.
We share this information to help you understand some things a great insurance agent should take the time to explain. An agent who is more concerned with making the sale might not explain these things to you. However, an agent who wants the best for their clients will ensure you are fully covered if you ever do have to file a claim and will take the time to give you all of this information upfront.
Make sure you're thorough when it comes to your commercial dock insurance. Insurance can be complicated, and standard policies could leave you exposed if something goes wrong on your dock. Be certain you have all the insurance coverage you need. Talk to your insurance agent and go over your commercial dock insurance policies in detail.
Check Out EZ Dock for Your Commercial Dock Needs
While having commercial dock insurance is extremely beneficial to have in case anything goes wrong — and often required in many areas — having a reliable dock in the first place can help reduce possible risks. EZ Dock products consist of recycled rubber and low-maintenance polyethylene, so they are weather- and rust-resistant and durable against heavy use. Our floating docks are stable and customizable, so you can change your commercial dock as needed. 
When it comes to docks, you have so many more options available to you than you might think. At EZ Dock, we have docks and dock sections, of course, but we also offer PWC ports, launch ports and boat ports that you can add to your dock for people traveling in all different types of watercraft. Additionally, we have various additions and accessories to give your dock a little something extra, whether you need cleats and bumpers for boaters or ladders and slides for swimmers.
With EZ Dock, you have endless options. We can help you design the perfect commercial dock for your space. Shop our products online or request a quote by entering your information into our online form. You can also contact us through our website, give us a call at (800) 654-8168 or find one of our dealers near you. Reach out to EZ Dock today!