Top Kayaking Destinations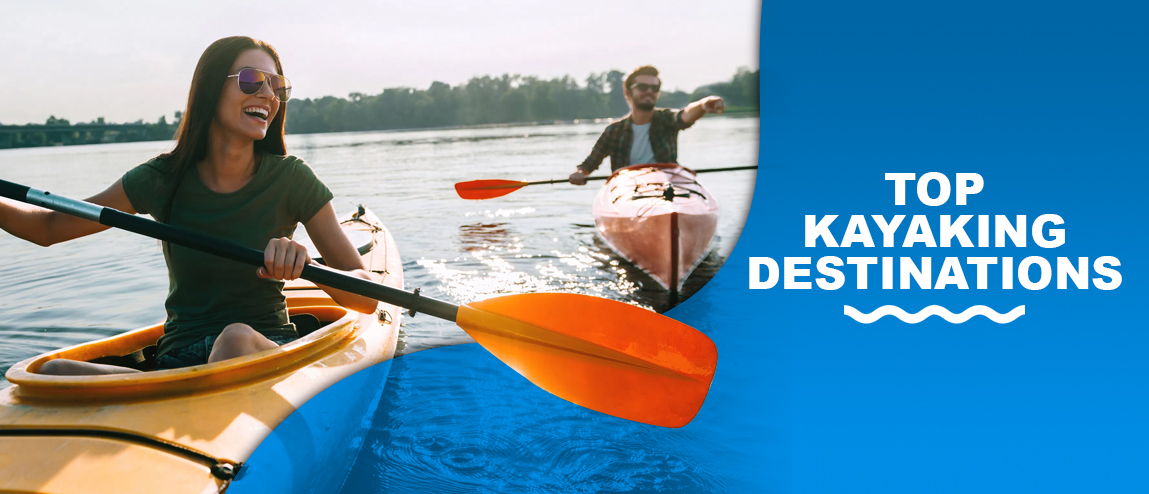 When you launch your kayak, you can see extraordinary landscapes from a totally new perspective. Kayaking can be one of the most beautiful, refreshing ways to experience thousands of unique rivers and lakes that crisscross the United States. Whether you are a veteran kayaker or are new to the water, there are a ton of kayaking destinations in the U.S. Grab a paddle and learn about the top rivers, lakes and unique kayaking destinations for every skill level.
Read the full article or skip to a specific section: 
Best Places to Kayak for Beginners
If you're new to kayaking, there are certain types of locations that are best to avoid, especially as you're learning to paddle and balance in your kayak. For example, a river with rapids and white water is better left for experienced kayakers. Instead, look for calm bodies of water like ponds, lakes or slow-flowing rivers. Here are four locations that are great for practicing and offer some spectacular views:
1. Eleven Point National Scenic River
Located in Southern Missouri, Eleven Point National Scenic River is a 44-mile long river established as a protected waterway in 1968. Because the river is protected, much of the shoreline is undeveloped and rich in natural history.
With plenty of launching spots throughout Mark Twain National Forest, kayakers are sure to see an abundance of wildlife and nature. Eleven Point National Scenic River is a great option for beginner kayakers because it's a relatively small, slow-moving river.
2. Lady Bird Lake
Due to its warm location in Austin, Texas, Lady Bird Lake is a popular kayaking location year-round. Named after Lady Bird Johnson, who advocated for the lake and surrounding area to be revitalized, Lady Bird Lake is actually a section of the Colorado River that's been dammed off.
Though part of the river, the water is calm and perfect for beginner kayakers. Kayakers can enjoy an escape from the heat with views of the downtown skyline. There are numerous places to launch kayaks, whether launching your own or using a rental.
3. Boundary Waters Wilderness Area
Boundary Waters is located in a wilderness area in Northern Minnesota. The wilderness area itself is massive, and the kayak routes alone equate to over 1,200 miles. Many routes pass through multiple lakes and rivers, giving kayakers a variety of experiences along the way.
Because this area is so expansive, many beginners and individuals new to the area use guided kayaking services to experience Boundary Waters. Using a guided adventure outfitter can be beneficial, especially for beginners still learning the ropes.
4. Juniper Run
Juniper Run is miles of winding river flowing through the Ocala National Forest in Florida. The length of the river makes for a great day trip, even for beginners, and there are several beach and bank areas to stop at along the way. The jungle-like scenery makes for a unique experience.
Unlike some other popular waterways, Juniper Run is specifically for kayaking and canoeing, so there won't be any motorized boats speeding past you. There is even a shuttle that kayakers can ride back to their starting location!
Top Three Rivers to Kayak in the U.S.
Smooth and tranquil or gushing and turbulent, rivers are an exciting place to take your kayak and paddles. The top kayaking rivers take you through unforgettable scenery in three very different parts of the country. Each river has its own beauty. Depending on the time of year and which section of the rivers you decide to tackle, the kayak skills required will vary. Rest assured that beginners and experts alike can find a thrill on the Gauley River, Arkansas River and Snake River. Learn about the kayaking advantages and disadvantages of each of these rivers.
1. Gauley River
The Gauley River in West Virginia is a gorgeous spot to embark on a kayaking trip. The river runs through a gorge, offering a beautiful view of steep, rocky cliffs as you paddle. Kayakers can venture out onto the 25 miles of the river included in the Gauley River National Recreation Area. You can also catch glimpses of wildlife among the numerous different types of trees.
This river makes an ideal day trip spot. You will be treated to plenty of beautiful, natural views no matter the distance you decide to cover. Given the sometimes narrow passageways and changing water conditions, the Gauley River is not the best place for first-time kayakers.
Come September, the Gauley River is best left to the experts. Water is released from Summersville Dam, transforming the river into a popular white water run. The deluge of water creates more than 100 different rapids for kayakers and rafters to navigate. The speed and rough nature of the water make for an invigorating experience for those experienced with the paddle. Between the rapids, you navigate your kayak through some calmer pools. The challenge and beauty of the Gauley River means you can expect to see many other boaters out on the water, particularly during September. Keep this river in mind when searching for the best places to kayak for experts.
2. Arkansas River
Though the name may suggest otherwise, the Arkansas River starts in Colorado. It is among the longest rivers in the United States, eventually making its way to the state of its name. If you are wondering where to begin on the 1,460 miles of river, Salida, Colorado, is a good place to start. Located a few hours away from Denver, Salida is a small town bisected by the Arkansas River. People from all over come here to kayak and boat on the river.
The Rocky Mountains are one of the biggest draws of this kayaking destination. The stunning mountainous landscape makes the Arkansas River one of the top kayaking destinations in the U.S. Cutting a sharp line through bedrock, the river can be both a challenge and a peaceful spot to paddle. Royal Gorge is one of the most popular scenic spots on the river. The necessary skill set to navigate the river depends on where you are and the time of year, which makes the Arkansas River a versatile option.
Late spring and summer are the best times of the year for expert kayakers to come to the Arkansas River. Melted snow from the surrounding mountains changes the river into a wild ride with rapids that will challenge even the most seasoned of paddlers. The Granite to Buena Vista run is known for its major rapids that can reach Class V to VI levels. But, this river doesn't have to be a non-stop thrill ride. Beginners or kayakers looking for a calmer experience will find the Canon City to Pueblo Reservoir section of the river to be the ideal place to slow down and watch for wildlife. Though calmer, it is still important to pay attention. This area of the river may have obstacles, such as low-hanging branches, which kayakers should avoid.
3. Snake River
The Snake River is one of the top kayaking rivers in the U.S. because of its scenic offerings. It runs through Wyoming, Idaho, Oregon and Washington before flowing into the Columbia River. The river carved its way through basalt lava flows, creating waterfalls along the way. This river is one of the best places to see the incredible topography of the western United States. From your position on the water, you might even catch a glimpse of the animals, including moose and deer, that live in this wild terrain.
Idaho's section of the river is one of the best kayaking spots. This part of the river caters to both new kayakers and more experienced paddlers. Some sections offer slow, scenic movement down the river, and other sections challenge you with rapids. If you are new to the water sport and worried about the rapids, you can book a helpful guide to help you navigate the Snake River safely.
Summer is by far the most popular time to go kayaking on the Snake River in Idaho. The weather is pleasant, and you can count on some challenging but fun rapids. The rapids are conveniently broken up by smoother stretches of the river. This is a plus for beginners, but perhaps a disappointment for experts looking for an adrenaline-fueled trip on the water. If you want a more secluded experience, try bringing your kayak to the river during the spring or fall. Autumn may be a good time for newer kayakers, as the water level is typically lower and the river calmer.
Top Three Lakes for Kayaking in the U.S.
Lakes and rivers are two very different types of water, but both can be ideal for kayaking. One day a lake may be as still as glass. On another day, the wind can create powerful waves. Just like river kayaking, you will want to check weather conditions before leaving the shore behind. These three lakes offer a mix of open water for more experienced kayakers and small coves for those who are still learning their way around a kayak and paddle. No matter where you fall in the range of experience, Cranberry Lake, Lake Powell and Lake Tahoe are must-see destinations. Learn about the kayaking advantages and disadvantages for each lake.
1. Cranberry Lake
When you hear "New York," your mind likely goes immediately to the city, but the state is large, and parts of it the polar opposite of NYC's urban sprawl. Upstate New York, in particular, is a haven for outdoor enthusiasts. The Adirondacks are characterized by sloping mountains, thick forests and sweeping lakes. Kayakers who want to explore the water of this region have plenty of options, but Cranberry Lake is a large lake and one of the best kayaking spots in the U.S. The lake covers almost 7,000 acres and offers many choices for adventure.
As another large body of water, Cranberry Lake can be difficult to explore in a single day. If you decide you want to see more of the Adirondacks from the water, the lake is dotted with multiple different campsites. Feel free to make your trip more than one day. The state boat launch can be a bit crowded during peak season, but kayakers can find quieter access points, such as the Oswegatchie River. When you aren't out on the water, try one of the numerous different hiking trails that surround the lake.
Like many large lakes, Cranberry Lake offers options for novices as well as more advanced paddlers. If you want to challenge yourself, paddle out more toward the middle of the lake where larger waves can form. Hugging the shoreline typically allows for a smoother ride. Plus, you can keep an eye out for wildlife. Cranberry Lake also has several small inlets that are ideal for getting your bearings and adjusting to the rhythm of kayaking.
2. Lake Powell
The Southwest is known for its arid climate, but that does not mean it is devoid of kayaking opportunities. Getting on the water is actually one of the best ways to explore the surreal beauty of Utah's vibrantly colored canyons. Lake Powell is different than your typical lake, in part because it's technically a reservoir. Instead of a round, uninterrupted body of water, Lake Powell splits into small slivers of water that run through Glen Canyon National Recreation Area. It's one of the top kayaking lakes in the U.S.
For kayakers who prefer this open water, Lake Powell may not be their first choice. But, it is one of the best places to kayak for beginners. The water is typically smooth, though it can get a bit choppy at times. More experienced kayakers may find pleasure in navigating the narrow canyons. Regardless of your skill level, Lake Powell offers a unique way to meander through the vibrant reds and oranges of Glen Canyon. Though the weather in Utah may be hot, the water in the lake can still be cold. Always check the lake conditions before you get out on the water and prepare accordingly.
Lake Powell may be broken up by different geological features, but that does not stop it from being a massive body of water. It has almost 2,000 miles of shore. You are more likely to run into other boats, including fellow kayaks, houseboats and tour boats, in certain spots, but the size of the lake also makes it possible to take a more private trip. Lake Powell also has several camping sites available if you want to make your kayak trip a multi-day adventure.
3. Lake Tahoe
Lake Tahoe is not your average body of water. This alpine lake, accessible from either California or Nevada, has stunningly clear water. At its deepest point, the lake is 1,645 feet. While you paddle along 75 miles of shoreline, you will be treated to a majestic view of both mountains and forests. The large rock formations rise from the water to give this spot an otherworldly feel.
One of the best and worst parts of the lake is its sheer size. If you are looking for a day trip, you can certainly do that here. But, you won't be able to see everything in a single day. If you know you will fall in love with the lake, plan to spend more than one day out on the water. The water temperature is another factor to consider. This is not a shallow lake with sun-drenched waters that feel as warm as an evening bath. Given how big the lake is, you can expect the water to feel chilly no matter the time of year. Dress appropriately to ensure you are comfortable and safe. Weather conditions on Lake Tahoe can be unpredictable. There can be snow, rain and lightning. Always check weather conditions before you set out on a trip.
Heavy winds can create large waves on Lake Tahoe. If you are an experienced kayaker, proceed with caution on days with choppier water conditions. If you are new to kayaking, consider waiting for a calmer day. New kayakers may also benefit from staying closer to shore as they build their paddling skills.
Top Three Unique Destinations for Kayaking
If you want to see something different for your first kayaking trip or you are looking to add a "wow" factor to your next outing on the water, there are plenty of unique places to explore. Whether it is a shipwreck or mangrove wetlands, these three kayaking destinations offer a distinctive experience. Discover what advantages and disadvantages kayakers can expect at each of these special spots.
1. Little Sodus Bay
New York scores another one of the most popular kayaking trip destinations with Little Sodus Bay. This kayaking gem is located in a sleepy resort town. Relatively small at just two 2 miles long and three-quarters of a mile wide, this is one of the top kayaking trips for beginners. A part of Lake Ontario, the natural bay is protected from the rougher conditions of open water. When you aren't on the water, you can relax in the restaurants and shops of Fair Haven. The town just steps away from the bay.
While a smaller, calmer place to kayak, Little Sodus Bay is not without a sense of adventure. Paddle to the east end of the bay and you can see a submerged shipwreck. Though a popular tourist spot, Little Sodus Bay is not overwhelmed with other kayakers on a typical day. If you are worried about crowds, it is best to avoid this spot around major warm-weather holidays, like the 4th of July.
Little Sodus Bay is one of the best kayaking locations because it offers a restful escape. The water of the bay is shielded from rough conditions. The picturesque town offers a charming backdrop to the kayaking trip and a welcoming spot to stay between trips out onto the water.
2. Chesapeake Bay
The east coast is known for its top kayaking destinations. The Chesapeake Bay in Maryland is another dream come true for kayakers. Formed thousands of years ago by glacial melt, the bay attracts thousands of people annually. The 200-mile-long bay has thousands of unique animal and plant species. Kayakers can enjoy leisurely day trips or opt for multi-day trips. The Chesapeake Bay even has islands open to campers.
The bay's popularity means it can sometimes get crowded, particularly during peak season, but this is offset by its multiple launch points. Kayakers can launch from several different places, including boat ramps and beaches. If you want to get a little extra breathing space, you can always look for another, less populated launch spot. Once you get on the water, you will be treated to some spectacular views. Many nooks and crannies of the bay can only be accessed by small boats, like kayaks. Paddle on the calm water to find spots unavailable to larger boats. You may even be rewarded with glimpses of the wildlife that live around the Chesapeake Bay.
Like many bays, Chesapeake is protected from the rough conditions of the open ocean. The water is typically fairly placid, allowing kayakers of any skill level to enjoy it. Given how popular kayaking and canoeing is here, the Chesapeake Bay and nearby rivers have several established water trails. These trails vary in length and scenery. For longer journeys, check out Mathews Blueways Water Trails, which is 90 miles long, and the Potomac River Water Trail, which is 100 miles. If you want to stop off and explore some of the bay's small islands, try the Janes Island Water Trails. Some wind and waves can make these trails more challenging.
3. Indian River Lagoon
Indian River Lagoon, a 156-mile-long estuary in Florida, is unique thanks to its incredible biological diversity. It is one of the best kayaking destinations if you want to see a multitude of wildlife up close. Indian River Lagoons Preserve State Park protects mangrove wetlands and salt marshes rich in unforgettable views. Freshwater and saltwater come together to create an environment that supports more than 600 species of fish, 370 species of birds and 2,100 different species of plants. Keep your eyes peeled for spoonbills, sea turtles, manatees and more. If you are lucky, you might even spot a dolphin.
This Florida kayaking spot is a beloved attraction for fishers. You can even take your gear out onto the kayak and catch trout, snook, redfish and more. Of course, you can opt to look upwards and try your hand at birding while you paddle. If you want to stretch your legs during the trip, Indian River Lagoon as several small islands to explore. Step out of your kayak for a brief walk, or set up camp on one of the larger islands.
Indian River Lagoon is large enough that both beginners and experts can find places to suit their skill levels. Beginners should stick to narrower portions of the lagoon to avoid rough waves and heavy winds. Experts can venture out into parts of the lagoon that stretch miles wide for tougher conditions. Navigating some of the submerged roots in the mangroves can be tricky, so be sure to keep an eye out as you paddle.
Launching into the Water
No matter where you are located on the water, you want to make sure that you have convenient and easy access for your kayaking excursions. EZ Launch® Residential is designed as a durable, easy-to-use solution specifically for kayaking. This EZ Dock product helps you stay stable and completely dry as you settle into the boat. The simple, one-piece design of the launch helps you move from the dock to the water smoothly. This launch also has the versatility to be installed nearly anywhere. Begin your kayaking adventure with confidence. The water is waiting.