Guide to Kayaking the Finger Lakes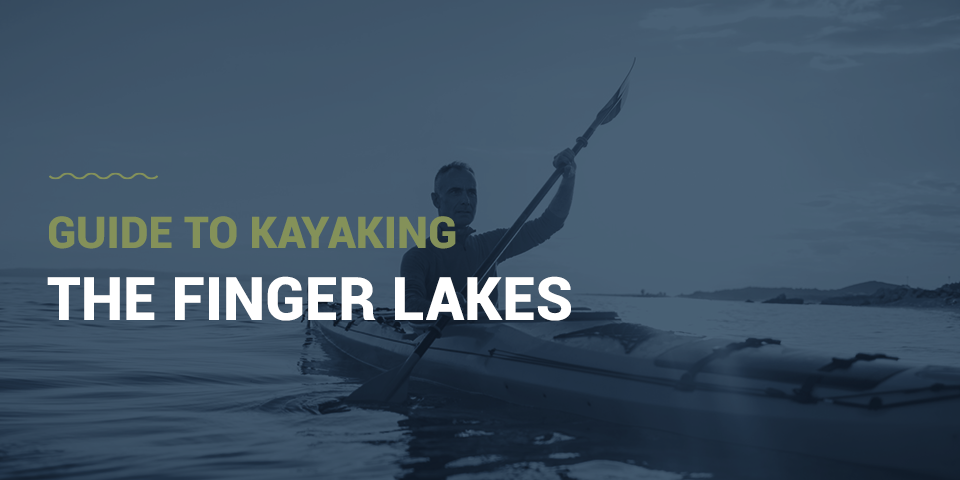 Kayaking in the Finger Lakes area of Western New York allows you to explore the state's natural beauty and rich history. You can plan a camping trip at the Finger Lakes for a weekend or a fun day trip.
Kayaking is permitted in all 11 lakes of Western New York. Use this kayak rental guide for the Finger Lakes in New York to help you determine the best place to kayak and plan your next nature getaway.
Read the full article or skip to a specific section: 
1. Otisco Lake
At only 6.5 miles long, Otisco Lake is considerably smaller than the other major Finger Lakes. Originally a marshland, dams were built in this region in 1869, causing water levels to heighten in 1908 into the lake it is today. Well-established residential villages surround Otisco Lake, leaving most of Otisco Lake to homeowners in the area.
The Otisco Lake Campgrounds and Marina in Marietta is a small, private campground at the south end of the Lake. Most of Otisco Lake is surrounded by residential communities, so public access is limited. Luckily, The Skaneateles Lake is close enough that you can visit Otisco Lake and Skaneateles Lake on the same day or weekend.
Where to Launch Your Kayak at Otisco Lake
The public launch point for kayaks is off the Otisco Causeway, at the end of West Valley Road. At the launch point, you will see some of the best views the Lake has to offer. In addition to kayaking, you can also fish, boat and go sightseeing.
Otisco Lake Campgrounds and Marina at the south end of the Lake offers kayak rentals and camping in the Finger Lakes region. This location also features a playground for kids. You can book a cabin on their website for a fun family vacation. 
2. Skaneateles Lake
Skaneateles is one of the best places to kayak in the Finger Lakes. Measuring three-quarters of a mile wide and 16 miles long, the Skaneateles Lake is the sixth largest lake in the region. The Lake spans across three counties in Western New York — Cortland, Cayuga and Onandaga.
Skaneateles is a well-established community with shops, hotels, inns, eateries and activities to welcome visitors of all ages. Skaneateles was first settled by veterans of the Revolutionary War who were granted land as a result of their service. The village is rich with history and is surrounded by breath-taking natural beauty.
Where to Launch Your Kayak at Skaneateles Lake
Skaneateles Lake has several public boat launches. The DEC Boat Launch located off of Route 41A has plenty of parking. You can also launch your kayak near the Skaneateles Marina in Mandana, but be prepared to pay a non-resident fee for parking.
If you don't own your own kayak, Skaneateles Marina offers kayak rentals for you to enjoy. In addition to kayaking on Skaneateles Lake, you can also hike, hunt, fish, swim and go sightseeing. Skaneateles Lake is surrounded by three major state parks — Thayer Park, Cliff Park and Shotwell Park. These parks each offer a pier where you can launch your kayak, as well as a public swimming pool, walking trails and live music over the summer.
Consider visiting Staghorn Point on the eastern side of Skaneateles Lake. The Staghorn Cliffs in this area feature fossils of staghorn coral that date to nearly 400 million years ago.
3. Owasco Lake
A lot of history lives at Owasco Lake as it formed nearly 200 years ago. The lake is a little over 11 miles long and about 1.3 miles wide. Auburn is the largest city in the region, which features historic landmarks such as the Harriet Tubman Home and William Seward House. It is also home to Abner Doubleday, who is credited with inventing baseball.
The land surrounding Owasco Lake is filled with natural beauty. Emerson Park is the only public beach for kayaking in the area, and it also includes swimming, sightseeing and the Merry-Go-Round Playhouse. If you're looking for nature trails to explore, you can check out Fillmore Glen State Park to find an abundance of waterfalls and natural beauty.
Where to Launch Your Kayak at Owasco Lake
If you need a kayak, the South Shore Marina in Moravia and Owasco Paddles at Emerson Park in Auburn provide kayak rentals. Emerson Park has limited access to boats due to a small footbridge that boaters have to pass to enter the lake. If you do launch your boat at Emerson Park, the outlet will lead to the north of Owasco Lake near Auburn.
Owasco Inlet is also a great place to launch your kayak at Owasco Lake. Nature lovers enjoy the beauty of Owasco Flats, a wetlands preserve at the southern end of Owasco Lake that features birding, paddling, fishing and scenic trails.
4. Cayuga Lake
Measuring nearly 40 miles long — from Seneca Falls to Ithaca, New York — Cayuga Lake is the largest lake in the Finger Lakes region. The lake spans across three counties — Seneca, Cayuga and Thompkins — and flows into the Cayuga-Seneca Canal. Ithaca, at the southern tip of Cayuga Lake, is home to Cornell University and Ithaca College.
As a college town, Ithaca features a wealth of eateries, art and entertainment, but it's also famous for its natural waterfalls and gorges. Frontenac Island on the eastern side of the Lake boasts fossils of an extinct sea sponge species. You will find plenty of places to launch your kayak and explore the natural beauty of Cayuga Lake.
Where to Launch Your Kayak at Cayuga Lake
As the longest lake in the Finger Lakes region, most people who explore Cayuga Lake have large motorized boats, but kayaking Cayuga Lake is also possible at several locations. To start, you can rent your kayak at Puddledockers in Ithaca, which also offers evening and daytime tours of Cayuga Lake. Allan H. Treman State Marine Park in Ithaca offers fishing, scenic views and picnic space.
One Cayuga Lake EZ Launch® Residential is located in Taughannock Falls State Park on the western shore of Cayuga Lake. This park is home to the tallest single-drop waterfall in New York State, which is 50 feet taller than Niagara Falls. Here, you're able to explore the nature trails in the area or rent a kayak at Paddle-N-More, a company that offers guided trips along the Lake. Taughannock Falls State Park also offers picnic space, playgrounds and swimming.
Deans Cove Boat Launch is located on the western shore of Cayuga Lake. If you're up for the challenge, you can kayak the Cayuga-Seneca Canal if you enter the lake through Deans Cove. You can also fish and hunt at this location.
5. Seneca Lake
Measuring about 38 miles long, Seneca Lake starts at Geneva in the north and ends at Watkins Glen State Park. Seneca Lake is famous for its wine trails, hiking and fishing. Seneca Falls is also home to the Women's Rights National Historical Park, where you can take guided tours and learn about an exciting part of American history.
Watkins Glen State Park boasts a wide variety of waterfalls and nature trails for you to enjoy. In addition to kayaking, you can also camp at Watkins Glen. You can pitch a tent, hook up your RV or rent a cabin at Watkins Glen. Some vineyards in the area also let you set up camp at their sites.
Where to Launch Your Kayak at Seneca Lake
You can kayak on Seneca Lake by renting a kayak on the north end of the Lake in Waterloo or on the south end in Watkins Glen. Summit to Stream Adventures in Watkins Glen offers guided tours of Seneca Lake throughout the day.
Municipal Marina & Campgrounds in the village of Montour Falls has a beautiful Seneca Lake EZ Launch® Residential. You can rent a kayak at Geiger's Marine Services and explore the natural beauty of this area.
You can swim in Seneca Lake at Smith Memorial Park, only 9 miles north of Watkins Glen. Smith Memorial Park offers picnicking, camping facilities and showers, as well as other recreational activities along the Finger Lake. They have access to more than 2,000 feet of lake frontage.
6. Keuka Lake
With its unique Y-shape, Keuka Lake measures approximately 20 miles long and about 2 miles wide. Keuka Lake empties into Seneca Lake by the Keuka Outlet. This lake is famous for its lake view restaurants, warm waters and fishing spots. Keuka Lake is one of the most picturesque lakes in New York. You can fish, hike and boat with this beautiful scenery as your backdrop. 
Penn Yan, the largest town surrounding Keuka Lake, is on the northeastern shore. Branchport surrounds the northwestern shore of Keuka Lake, and Hammondsport rounds out the southern shore. Home to Keuka Lake State Park, Penn Yan includes hiking trails and other recreational attractions. The Keuka Lake Outlet Trail connects Keuka Lake and Seneca Lake, so you can explore both lakes in one weekend.
Where to Launch Your Kayak at Keuka Lake
There are many EZ Launch® Residentials at Keuka Lake. You can rent a kayak at Champlin Beach in Hammondsport at the southwestern tip of the Lake. If you're up for the challenge, you can paddle across Keuka Lake from Hammondsport to Penn Yan — a 20-mile journey — or you can take the slightly shorter 14-mile journey to Branchport.
Penn Yan offers EZ Launch® Residentials into Keuka Lake at the Penn Yan Village Boat Launch or Morgan Marine. You can also use the EZ Launch® Residential at the Harbor Lights Marina in Hammondsport. As well as kayaking, you can swim, fish, hike and go on a wine trail.
7. Canandaigua Lake
Canandaigua Lake is the fourth-largest of the Finger Lakes, measuring 15.5 miles long and 1.5 miles wide. The town of Canandaigua at the northern tip of the Lake has a population of about 8,000 people. Naples, a town on the southern tip of the Lake, has a population of about only 2,500 people.
You will appreciate the natural, untouched beauty of the region surrounding Canandaigua Lake. Bring your bike and ride the 35-mile trail around the lake. You can fish at Canandaigua Lake, but you will need a fishing license from Canandaigua City Hall. Naples and Canandaigua both boast acres of nature preserves for you to hike or go sightseeing.
Where to Launch Your Kayak at Canandaigua Lake
You can rent a kayak at the German Brothers Marina or Sutter's Marina in Canandaigua. If you decide to kayak at Canandaigua Lake, you should check out the West River and Hi Tor Wildlife Management Area. The nature-rich, serene river is 4 miles of pure nature, including lily pads and tall cattails surrounding your trail. West River flows into the South End Canandaigua Boat Launch.
Canandaigua Lake State Marina offers a Canandaigua EZ Launch® Residential facility and fishing access. For kayaking in Canandaigua, New York, you can also access the lake from the Canandaigua City Pier on the north shore.
8. Honeoye Lake
Measuring just 4.5 miles long, Honeoye Lake is the second smallest lake in the Finger Lakes region. Honeoye Lake is surrounded by Richmond, Canadice and Honeoye. This region of Western New York offers fertile soil and a rich history that dates back to the American Revolution.
Honeoye Lake is mostly known for its outdoor recreational activities. In this area, you can fish, swim and participate in a variety of water sports. Finger Lakes Community College also has a hands-on nature and environmental laboratory at Muller Field Station, at the southern tip of the lake. Harriet Hollister Spencer State Recreation Area on the southern shore of Honeoye Lake offers on-land recreational activities, such as hunting, biking and hiking.
Honeoye also celebrates the Ring of Fire tradition on Labor Day weekend. Area residents light a fire around the lake to celebrate the end of summer and to welcome the new harvest season.
Where to Launch Your Kayak at Honeoye Lake
You can rent a kayak at shops in Honeoye on the eastern shore and Springwater on the southern shore. Sandy Bottom Park has a boat launch for you to start your kayak route on the north shore of Honeoye Lake. In addition to kayaking, Sandy Bottom Park features swimming, a boat launch and two playgrounds open during the summer. The park offers a variety of recreational activities, including tennis, pickleball and volleyball. 
Honeoye Lake Boat Launch State Park is a boat launch located on the southeastern coast of Honeoye Lake. You can launch your boat or kayak and fish at this location from May to November. In the winter, you can also go ice fishing, but the boating launch is closed from November to April.
9. Canadice Lake
Canadice Lake is the smallest Finger Lake, measuring just 3 miles long and one-third of a mile wide. Canadice Lake is surrounded by forests and lush green scenery, leaving most of the lake untouched. This location can help you clear your mind and enjoy the untouched beauty of nature.
Since Canadice Lake is the source of Rochester's public drinking water, visitors must respect this area and keep it clean during and after visiting. Hemlock-Canadice State Forest allows several recreational activities, including kayaking, fishing, hunting, boating and hiking.
Where to Launch Your Kayak at Canadice Lake
Canadice Lake offers one boat launch off the north shore — Canadice North East Boat Launch, located within Hemlock-Canadice State Forest. The area is heavily protected due to its provision of public drinking water, so you should make yourself familiar with the safety and environmental regulations in place at Hemlock-Canadice State Forest. 
You can rent a kayak in the town of Canadice. Please note that because of its preservation, you are not permitted to swim or camp at Canadice Lake. You can participate in other recreational activities in the area, such as hiking or biking along the trails and fishing.
Canadice Lake is among the best places to kayak in upstate New York because of the lake's easy access and small size. Boats with motors are limited and jet skis are prohibited from Canadice Lake, so you will have a peaceful environment as you paddle across the lake. Along with the tranquility of the lake, you will also see unique wildlife that has made this preserved area their home.
10. Hemlock Lake
Hemlock Lake is located only a few miles west of Canadice Lake, so it shares many of the same qualities. Measuring only 7 miles long, the area surrounding Hemlock has almost no lakefront property. Since the area surrounding Hemlock Lake has been preserved to provide a serene environment, this Finger Lake is excellent for kayaking and fishing.
You can rent a kayak in Canadice. Like Canadice Lake, the city of Rochester uses Hemlock Lake for public drinking water. If you want to visit this rare scenic view, you should check the preservation regulations for the Hemlock-Canadice State Forest. In addition to kayaking, you can also fish and admire the wildlife surrounding Hemlock Lake.
Where to Launch Your Kayak at Hemlock Lake
Hemlock Lake shares a boat launching point with Canadice. The Hemlock-Canadice State Forest has a boat launch facility for mechanical and non-mechanical vessels. Public boat or kayak access is available on the northeastern corner of the lake, off Rix Road and Route 15A.
11. Conesus Lake
Conesus is a short 25 miles from Rochester, measuring 8 miles long and a mile wide. Four major towns surround this lake — Geneseo, Livonia, Conesus and Groveland. Conesus Lake is among the minor Finger Lakes, so there are only a few recreational activities available.
Kayaking is relatively popular at Conesus Lake, along with fishing, water skiing and boating. Conesus Lake doesn't have as many preservation regulations as Canadice Lake and Hemlock Lake, so you are free to do more recreational activities at this location.
Where to Launch Your Kayak at Conesus Lake
Despite its small size, Conesus Lake offers several boat launch facilities. You can rent a kayak at Conesus Lake Campgrounds in Conesus. Other recreational activities at this location include fishing, gem mining, a playground and group activities.
Conesus Lake Public Boat Launch in Livonia — on the eastern shore of Conesus Lake — offers picnic tables for small gatherings. Conesus Inlet Wildlife Management Area in Conesus includes recreational activities such as hiking, fishing, hunting and sightseeing. While boats with motors are not permitted in the Conesus Inlet Wildlife Management Area lagoon, you can rent a kayak and enjoy the peaceful atmosphere.
Pebble Beach in Livonia is located off of Pebble Beach Road on the northwest shore of Conesus Lake. The beach offers another space exclusively for cartop vessels such as canoes and kayaks. 
Vitale Park hosts a third boat launch on the northern shore of Conesus Lake — Sand Point — exclusively for non-motorized water vessels. The park features picnic tables, gazebos, pavilions for rent, fishing access and summer concerts. Swimming and camping are not permitted at this location.
Launch Your Kayak With Ease With EZ Launch® Residential
Wherever you go, you can get in and out of the water easily with EZ Launch® Residential. EZ Dock is a premier floating dock company that provides low maintenance docks to any waterfront region. We also EZ BoatPorts, Dock Sections and PWC Ports to get you out on the water.
We have distributors all over the world, so find an EZ Dock distributor near you.  Our safe docks are perfect for kids and families who want to easily transition from land to water. Contact us today to request a quote.