PWC Buying Guide: Jet Skis, WaveRunners & More | EZ Dock
PWC Guide to Buying Jet Skis, WaveRunners and More
At EZ Dock, we know that there's no better feeling than jetting across the water, catching waves on a PWC (also known as a "Personal Watercraft"). As a trusted provider of custom waterfront docking solutions for PWCs, we also know that no two WaveRunners, Jet Skis, or Sea-Doos are the same. To help point you in the right direction, we've created this handy PWC buying guide to help you determine what to buy based on your needs and provide tips on how to care for it.
Read the full article or jump to a specific section: 
The Different Types of Personal Watercraft
Personal watercraft are often referred to by many names:
PWC's: PWC stands for personal watercraft. This general term covers many brands and types of small recreational watercraft. A rider sits or stands on this vehicle rather than inside it as on a standard boat. PWC's are sometimes also called "water scooters" but are mostly known by the brand names of the three biggest manufacturers: Jet Skis, WaveRunners and Sea-Doos.
Jet Skis: The term Jet Ski comes from the brand name of personal watercraft manufactured by Kawasaki. Their offerings include over a dozen stand up, three-passenger and supercharged models.
WaveRunners: The phrase WaveRunner is the brand name of a PWC manufactured by Yamaha. They currently offer four different series of WaveRunners composed of 18 different models. Models in their line have received numerous Watercraft of the Year awards.
Sea-Doos: A Sea-Doo is another brand name of personal watercraft. Their products have received Red Dot Design Awards and include six different models.
Whether you know these recreational vehicles by brand name or general terminology, a personal watercraft is a vessel that uses an inboard motor for propulsion via a water jet pump. They can be operated by standing, sitting or kneeling, and can be used in fresh or saltwater environments. Depending on the model and manufacturer, each PWC offers specific advantages or benefits that help you achieve your desired ride.
Apart from the manufacturer, personal watercraft can be broken down into additional subcategories that take into account the position of the rider, the number of passengers and the type of water ridden in.
Stand up PWC's: The original type of PWC, stand up PWC's are smaller, which makes them easier to transport. They also require less maintenance compared to larger, more complex PWC's. Stand up watercraft are often geared toward more active use, like doing tricks and racing. These PWC's usually fit a single rider.
Sit down PWC's: Sit down PWC's are larger than stand up versions to accommodate a more comfortable ride. They can typically fit more than a single rider and can tow objects like rafts or wakeboarders. The performance of sit down PWC's will vary from smooth cruising models to faster, more performance-driven models. These can accommodate up to four riders, depending on the model.
Each of these PWC variations is meaningful for the vessel's design as well as its performance. For instance, some multi-seater models may be geared towards comfort and stability, while other PWC models may be built for speed and performance for solo riders. Knowing how you'll use your watercraft should influence your final decision.
Thankfully no matter which version you choose, our dock systems are compatible with all major brands and variations.
The Many Uses of Jet Skis, Sea-Doos & WaveRunners
There are many ways you can use a personal watercraft. From family fun to solo sporting, the different kinds of Jet Skis, WaveRunners, and Sea-Doos available are capable of satisfying nearly every on-water need. As you learn about the different types of PWC for your personal watercraft comparison chart, consider the ways you'll most likely use this vessel.
Learning the ropes as a beginner: Every rider needs to start somewhere, and the standard model of many PWC's is the perfect personal watercraft for a first-time PWC buyer to test the waters, literally and figuratively.
Providing fun for the family: One of the best reasons to own a PWC like a Jet Ski is that you can have fun sharing it with the whole family.
Action and adventure: Let's face it — many people who hop on a Jet Ski or other PWC want an adrenaline-fueled ride. High-performance Jet Skis, WaveRunners and Sea-Doos deliver just that.
A perfect sized fishing vessel: PWC's are versatile watercraft ideal for aquatic adventures of all sorts. Their small size enables them to navigate narrow channels and shallow waters that some boats cannot reach, making them perfect tools to use for fishing.
Emergency rescue services: Of course, many lifeguard stations on beaches have PWC's on standby should they need to use it to quickly rescue a swimmer or boater farther from shore.
Law enforcement services: Believe it or not, PWC's are a useful resource for law enforcement officials to patrol waterways, rescue civilians and respond to calls during on-water incidents.
Though you've surely witnessed a WaveRunner or Sea-Doo cruising past the ocean coastline, PWC's are used in nearly every other body of water including lakes, ponds and rivers. However, not all water types are the same. In fact, it's important that you understand how saltwater can impact your PWC.
Freshwater vs. Saltwater Jet-Skiing
Any time spent on the water is time well spent. While boating is a fun way to enjoy life topside, riding around on a PWC is a unique open water experience that can't be compared to any other aquatic activity. If you're lucky enough to own a PWC in a region where you have access to the ocean, lakes, rivers and canals, you'll be thrilled to know that you can enjoy your PWC in all of these waters.
Where you plan to go jet-skiing is an essential factor in your purchasing choice. Some people may not realize that even though they bought the best option for the ocean, they still need to take precautions. Saltwater can cause damage to your PWC. Even the backwaters near the ocean may have a high salt content that can corrode your vessel. You'll need to consistently care for your PWC any time you use it in these environments.
Thorough cleaning is key after a ride in saltwater. First, you should flush the water injection port with fresh, clean water. This water will run through the interior of your system and flush out lingering saltwater. You may also want to use a salt dissolver as well to ensure that even the smallest salt particles are removed. Carefully rinse out the engine bay to clear any traces of saltwater, being especially careful not to get the electrical components wet.
Though it's essential that you make sure all interior spaces are properly cleaned, you must also take care of the exterior in the same manner. Saltwater can harm other components of the WaveRunner, Sea-Doo, or Jet Ski such as the seats, coverings and hull. Rise and wipe the entire PWC down. You can even hand wash some areas like the seat crevices that rinsing may not fully cover. By taking care of your vehicle after a saltwater run, you can prevent costly damages and a potentially shortened lifespan.
New vs. Used: What to Look for When Buying a Jet Ski or Other PWC
The thought of finally owning your own personal watercraft is exciting, and you'll be tempted to get out on the open water as quickly as possible after you've made up your mind. However, buying a PWC is a large purchase. In fact, you should prepare to buy a Jet Ski in the same way you would prepare to buy a car, motorcycle or boat. Before you make a final decision — or even begin your search — you should be able to answer the following questions:
Why do you want a PWC? Riding on a PWC is a fantastic feeling and owning one is even more fun! Whether it's for occasional recreation when the summer arrives or for fishing every weekend, you should know why exactly you're buying one.
Can you already ride a PWC? You don't need to know how to ride a PWC before you purchase one, but it would be beneficial to learn before getting your own.
Where will you use it? Lakes, rivers, oceans and even canals are great spots to use your PWC. Know where you can legally and safely use your PWC around your home.
How often will you use it? If you have waterfront property or public boating areas close by, you may be using your Jet Ski, Sea-Doo, or WaveRunner more frequently than if you have to drive hours to reach a body of water. Be sure to keep in mind the seasonal changes in your region that impact your ability to use a PWC.
Who else will use it? If friends and family will also be riding, you'll want to take this into account to help you pick out a PWC that suits the needs of children or more inexperienced jet skiers.
What is your budget? You should have a set budget in mind before you browse so you can responsibly afford this investment for the long-term.
Is there a model or brand you are focused on? Every brand and model of personal watercraft has advantages and drawbacks that may cater to or limit your plans for using it. Thoroughly research brands or models and read user reviews before making the final purchase, to help make sure you're getting the right PWC for your needs.
Will you buy a new or used PWC? This is a critical question and requires a lot of thought. While newer PWC's are pricier, they can come with warranties that provide peace of mind. Oftentimes there's nothing wrong with buying a used Jet Ski, Sea-Doo, or WaveRunner however, so long as you thoroughly inspect the PWC prior to purchasing, for potential flaws and maintenance needs.
Consider choosing a PWC in the same way you would select a car. You can have the newest model for a higher price, or you can spend less money and pick a pre-owned model that other outdoor enthusiasts have enjoyed. There is no wrong choice — just simply the choice that's best for your needs, lifestyle and budget.
Three benefits of buying a new Jet Ski, Sea-Doo or WaveRunner:
You won't have to worry about hours of wear and tear from previous owners.
The newest models often feature the latest improvements to everything from performance to technology.
Many new PWCs come with warranties.
Three benefits of buying a used Jet Ski, Sea-Doo or WaveRunner:
Typically, a pre-owned PWC will be less expensive than a new one.
If you plan on owning multiple PWC's, purchasing a used model as your first one will allow you to become a better rider and learn maintenance prior to investing in a brand new model.
A used Jet Ski or PWC is still a big investment, but opting to purchase a pre-owned model allows you to get used to the financial responsibilities associated with maintenance, insurance and other necessary costs.
What to Look for in a Used Jet Ski, WaveRunner or Sea-Doo
Shopping for a Jet Ski or other PWC involves a lot of research, and you need to make many considerations, especially if you choose to buy a pre-owned PWC. Buying a PWC isn't as simple as picking the coolest looking model out of the lineup and heading to the water. Keep these eight points in mind as you look for the best used PWC:
Size and functionality: Depending on who will use your PWC and how you want to use it, you may need to choose a size that caters to this functionality. For instance, PWC's for solo riders are smaller, more agile and are geared toward riders with more experience. Larger models can accommodate up to four passengers, offer better stability and can tow rafts or wakeboarders.
Hours: Knowing the average lifespan of a WaveRunner, Jet Ski or Sea-Doo is helpful. Typically, most PWC's will perform optimally for an average of 300 hours. Below 50 hours is considered low usage while above 150 is considered high. Take hour usage into account when you assess the condition of a model.
Specifications: You should also pay close attention to the specs of each model. Know which engines will deliver the speed and performance you desire. Compare aspects like stroke type, aspiration and fuel consumption.
Maintenance records: Regardless of how many hours a PWC has been used, poor maintenance practices can wreak havoc. Ask how many previous users have owned it and if the PWC comes with ownership, maintenance or repair records.
Wear and tear: Anything that you purchase pre-owned is bound to have some form of wear and tear. First, inspect the PWC's exterior. Look for scratches and dents along the body then move on to the seat, handles and controls to discover what damage may be present. Next, perform a more thorough inspection, looking for rust or weather damage. Ask how it was stored — sitting in the water, sun or in an uncovered space can potentially increase the likelihood of idle damage.
Test drive: Would you buy a car without test driving it? Of course, you wouldn't, which is why you should take any opportunity to test out the PWC as soon as possible. Ideally, the dealer or private owner that you're purchasing it from will be able to accommodate a test run. If not, you should get your Jet Ski in the water as quickly as possible. Try to find a vendor that offers a return window should you discover a mechanical or performance issue soon after your purchase.
Mechanic checks: Another way you can discover if there are any hidden problems with your used Jet Ski is to take it to a mechanic that specializes in personal watercraft. They'll know which areas to inspect to ensure that your PWC is ready for the water.
Warranties: If possible, purchase a WaveRunner, Jet Ski or Sea-Doo that is either still under manufacturer warranty or that comes with a limited warranty from the dealer. This coverage can protect you should a problem arise soon after your purchase.
Additional PWC Purchasing Considerations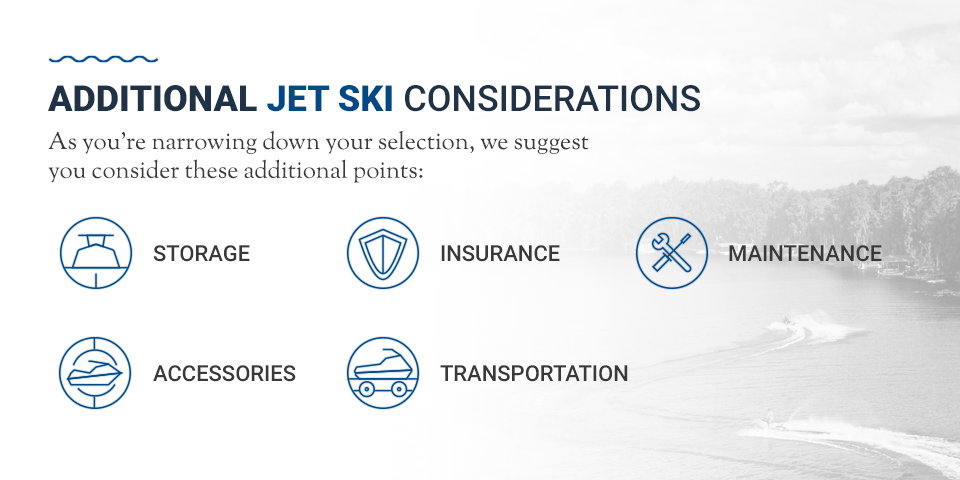 As you're narrowing down your selection, we suggest you consider these additional points:
Storage: Where are you keeping your PWC? If you're keeping it at home, you'll need a proper storage solution. Even out of the water, environmental damage can occur, so you'll want to keep it covered and secured in a garage, shed or storage unit. If you plan to store it on-site at your favorite recreation area, research what the annual cost will be, if the establishment is insured and how often you can access your PWC.
Transportation: Unless you live on waterfront property, you'll need a reliable and safe way to transport your PWC. Look into trailers that will conveniently help you get your PWC between places without incurring any damage. If you're storing it on-site at a recreation area, discover how their employees will transport it should it need to be moved or relocated to a different storage area.
Insurance: You should seriously consider a separate PWC insurance policy, as most home and auto policies do not include this type of coverage. Many insurance companies offer plans that cover personal injuries, property damage, medical payments incurred from accidents, damage to your PWC and those injured while using or interacting with it. It may also protect you in situations in which an uninsured watercraft operator caused an accident.
Maintenance: New or used, you'll eventually need to have your Jet Ski, Sea-Doo or WaveRunner repaired or serviced. Make sure you keep up on any requirements set by warranties and perform routine maintenance when necessary.
Accessories: You can use a PWC immediately after purchasing it, but we suggest buying a few helpful accessories first. Pick up a few life jackets to keep riders safe. You should also consider purchasing covers to keep your PWC safe during transport and storage. If you want to use your watercraft for fishing or exploring, a marine GPS unit is a convenient resource to have on hand. Though not a necessity, a mountable camera like a GoPro lets you relive your ride onshore.
Beginner Jet Skier Tips, Tricks and Advice
Even if you've ridden on a Jet Ski, Sea-Doo or WaveRunner before, owning your own PWC is a much different experience. For those who are new to ownership — or simply riding a PWC at all — here's some helpful advice:
Safety first: Don't operate a PWC while intoxicated. Always wear a life vest while riding and ride in an area where you will not endanger other swimmers or boaters. If another individual or child is riding the PWC or riding with you on it, make sure they are also engaging in smart safety practices.
Learn from the pros: Whether you want to learn new tricks or strengthen your performance as a safe rider, a lesson taught by a professional can help riders of all experience levels.
Never neglect maintenance: Care for your PWC like you would any large investment. Keep it clean and covered when not in use. Winterize it during the colder months and make sure it's washed and dried properly after leaving the water in the summer months. Perform routine maintenance checks and always address any areas of concern.
Always check your fuel level: Never leave the shore without knowing your fuel level. One good practice is to fill up your tank every time you head home.
Prepare for emergencies: An emergency can happen at any time. Keep a first aid kit, communication device and extra life jacket in your storage hull at all times.
Install a custom PWC docking solution: A personal watercraft port, like the EZ Port VXP or EZ Port 2i from EZ Dock can be integrated into an existing dock for nearly any size PWC. These devices enhance your convenience and safety by providing you with a stable structure that helps you get on and off of the Jet Ski after you've rolled it into the port. It also decreases the chances of the PWC becoming damaged by bumping into the dock.
Ride Easy With EZ Dock
Are you ready to jump on your PWC and ride some waves? Let us help make your experience awesome with our EZ Dock PWC docking solutions. Our EZ Ports for PWCs are the perfect tool to assist you in riding and caring for your Jet Ski, WaveRunner or Sea-Doo. Our newest EZ Port 280 offers multiple advantages that make it the ideal solution for any waterfront location. It enables you to get in and out of the port easily and keeps your PWC clean, secure and accessible. Contact us today or request a quote online for EZ Dock PWC ports.