10 Outdoor Design Ideas for Waterfront Properties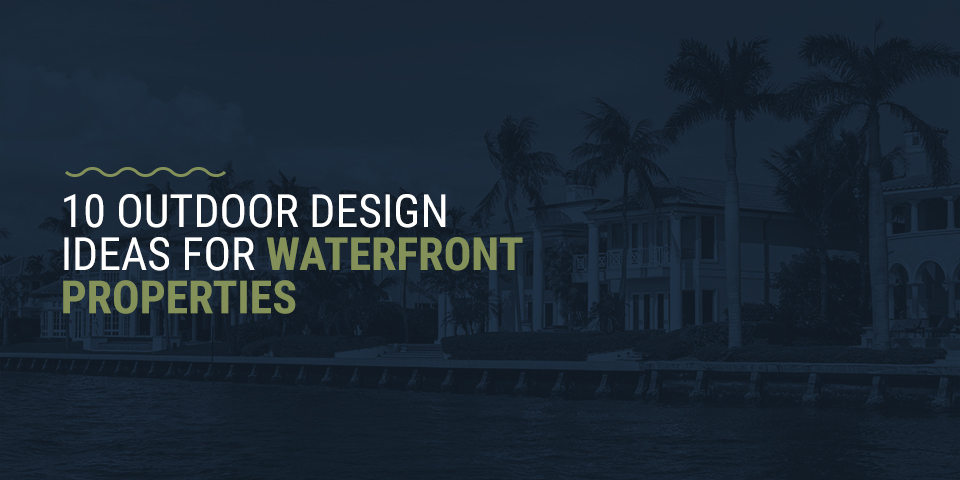 Whether you enjoy your waterfront property year-round or on vacations, you want to make the most of your outdoor space. After all, outdoor living is much more enjoyable when you mindfully design and create your yard and property to use the space advantageously. Luckily, waterfront properties have a lot of potential and opportunities for fun and practical landscaping designs.
Use these design ideas to make your waterfront home the place to be.
Read the full article or jump to a specific section: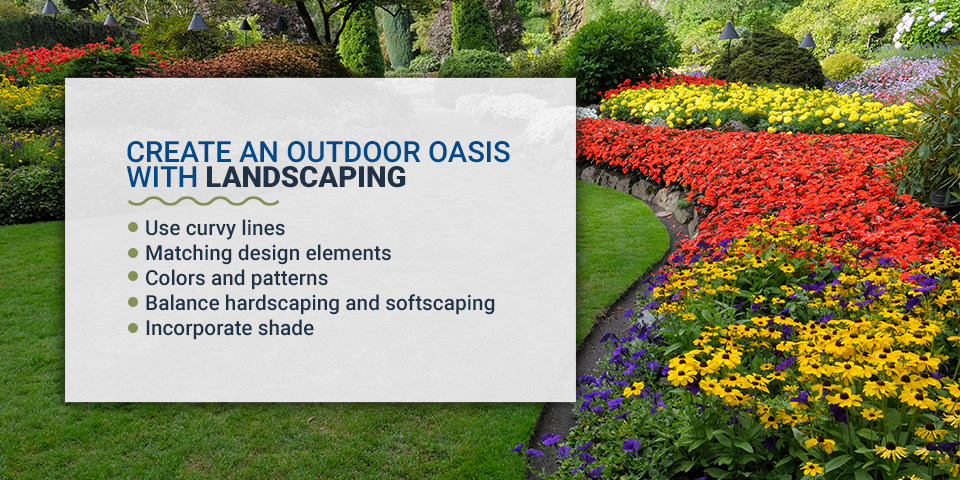 1. Create an Outdoor Oasis With Landscaping
With the right landscaping design, you can transform your outdoor space into an oasis. Consider landscaping as a journey for the eyes — visual appeal should be among your top priorities when designing your outdoor space. However, it should be a space you look forward to enjoying, so it must be comfortable, too. 
Here are some tips to help get you started:
Use curvy lines:

 When designing your hardscape features like walkways, flowerbed borders or retaining walls, use curved lines instead of straight lines. Curved lines help create a flow through your property and are more natural in nature than straight lines. While some straight lines may be necessary or even preferred, try to incorporate more curved lines than straight ones to produce a more natural feel for the environment you're creating. 

Matching design elements:

 Matching the design elements of your outdoor space with the design elements of your house can create a sense of continuity. For example, if your house is made of stone materials, try incorporating similar stone materials into your patio, walkways or retention walls. Doing so can help everything feel connected and coordinated.

Colors and patterns:

 Another great way to create an outdoor oasis is to use bright colors and patterns. Whether you choose fun patterns for your chair cushions or plant brightly colored flowers, find a way to add pops of color to show off your creativity and personality. Options like outdoor pillows or area rugs for the patio can also help add style and color to your space.

Balance hardscaping and softscaping:

 Both hardscape and softscape elements are equally important to a landscape design. While it's best to balance the two, depending on the climate or region your property is located in, it may not be easy to keep certain plants alive because of droughts. In this case, you may use more hardscape elements to make the most of your space. Find plant life that will thrive in the conditions around your property.

Incorporate shade:

 On hot, sunny days, you'll thank yourself for incorporating shade into your landscape design. If your outdoor space has trees, consider where you can position sitting areas or entertainment space to take advantage of the shade. Pergolas are also effective options to place over decks, patios or lounging areas.

2. Use Hardscaping to Create Accessibility
Hardscape elements are inanimate aspects of your landscaping, like stones, paving, retention walls, decks or patios and other artificial or natural "hard" objects. The opposite is softscape elements, which include living, growing components like trees, shrubs, flowers and other plants. Both are important to a well-designed landscape, although too much of one or the other can leave you in an overgrown garden or a concrete jungle.
You can use hardscaping elements to create access to various parts of your property. Creating stone or paved paths and steps leading down to the water, fire pit or additional seating areas make it easy to maneuver your property. Hardscaping also allows people of different ages and abilities to explore and enjoy all that your property has to offer. With well-designed hardscape elements, you and your guests will be able to safely access each area of your property, including the water.
Docks are another form of hardscaping that adds accessibility and convenience to your waterfront property. Without a dock, it can be difficult to access a boat port, boat lift or boat launch, making it more of a hassle to store and use your boat or kayak. Find dock accessories to further increase your hardscaping accessibility.
3. Make Space for Entertaining
Your waterfront property is the perfect place to entertain guests. Having a designated area for friends and family to gather is an essential element of your outdoor space. What kind of entertainment spaces would work best in your yard?
Deck or Patio Space
One of the best ways to create an outdoor entertainment space is with a nice deck or patio. Creating a functional patio or deck space is a great way to create a flow from inside your house to outside. Furnish your outdoor area with a table and comfortable chairs, and add colored accent rugs to tie in your home's aesthetic. This space can be an excellent area for friends and family to gather for meals or parties.
Outdoor Kitchen
An outdoor kitchen allows you to prepare and serve food without being secluded in the house. Keep the chef part of the party with a built-in grill and counter space to prepare and serve food and drink. Complete the outdoor kitchen with cabinets for storage for utensils and supplies and a mini-fridge to stow cold items before a party. Designing your outdoor kitchen to be near or connected to the deck or patio creates the perfect outdoor gathering place.
Fire Pit
Add a fire pit to create more entertainment space. A fire pit is a great way to entertain family or guests of all ages. There are many ways you can work a fire pit into the theme or design of your landscape. Whether you choose to dig out a huge pit with built-in benches for seating or buy a fire ring and lawn chairs from your local home improvement center, there are options for every budget.
Landscape Lighting
Proper lighting allows you to keep entertaining even after the sun goes down. Line walkways or steps with solar-powered lanterns, or string lights from deck railings and banisters and between trees to create an inviting atmosphere. An attractive lighting arrangement can take your outdoor space to the next level and keep your guests feeling welcome long into the night.

4. Install Docks for Easy Access
The main feature of a waterfront property is access to the water, whether you personally prefer boating, fishing, swimming or lounging in the sun with a water view. Installing docks can give you easier, complete access to the water and all it has to offer.
Whether your property is on the ocean, a river, lake, pond or another body of water, you should choose a dock that's compatible with the shoreline — and your recreational needs. The type of dock you get will depend on whether your shoreline is sandy, rocky or a wetland. In most cases, you'll want to minimize the degradation and destruction of any coastline.
EZ Dock floating docks are a minimally invasive and easy-to-install option. Because floating docks float on top of the water, they preserve the body of water's floor. Their ability to move with waves and currents in the water makes them simple to access even when water levels are shifting. EZ Dock floating docks are also modular, so you can customize the shape and length of your dock.
Take modular customization to the next level when you add accessories like swimming platforms, kayak launches, benches, boat ports and more to your dock. These additions can also be added to other modular EZ Dock options. Overall, installing a boat dock will help improve the way you access the water and use your waterfront property.
5. Highlight the Incredible Views
Your waterfront property offers more than just fun access to the water. You likely also love to take in the incredible views. When designing your outdoor space, highlight the views of the water. Waterside gazebos or pavilions offer a relaxing and architecturally pleasing way to enjoy the views of your property. Creating a seating area at the end of a dock can easily highlight the views so it becomes your favorite place to relax.
Adding softscaping elements like plants, bushes, grasses or flowers can also help add to the view. Whether you line your walkways with tropical flowers or keep a transition zone of native plants between sections of the edge of the water and your yard, flora and fauna complement your waterfront views.
When designing your outdoor space, it's important to keep your views in mind. Part of the joy of having a waterfront property is being able to look out your windows and see the beautiful body of water your property sits on. As a result, any elements you add should highlight the view of the water instead of block it.

6. Choose Practical and Stylish Retaining Walls
Using retaining walls to protect your shoreline and property from flooding and erosion is essential. While waterfront properties are beautiful and offer fun and relaxation for all ages, they also come with a risk of water damage to both your yard and house. Over time, the natural flow of the water and waves will erode the shoreline in front of your property. Storms that cause flooding can quicken this process, potentially destroy your dock access and cause damage to your house.
These sturdy walls help prevent damage flooding and erosion can cause, and feature either concrete, steel or stones, making them natural-looking and eco-friendly. With proper maintenance and installation, a retention wall will benefit your property for years to come.
In addition to their practical use, you can also incorporate retaining walls into your property's landscaping. They can hold back soil and earth to define areas of your yard and add a sculptural quality to your landscaping. Materials for this kind of retention wall can vary a bit more — wood planks and mortared stone are common materials for this application.
If your yard has a steep decline to the water, you may choose to design your landscaping with retention walls to level off the decline. This strategy allows you to carve out level, designated areas for play, gardening, entertainment and more.

7. Embrace Nature With Thoughtful Accessories
With a waterfront property, you get to be close to the surrounding nature and ecosystems. Similarly to protecting the coastline when installing a dock, your on-land landscaping should embrace nature. Create designs that use natural elements like rocks, wood and plant life. This trick will make native species happy, and it'll make your outdoor spaces unique.
With an oceanfront property, you may have a tropical indoor theme and want to reflect that in your landscaping. Tropical flora and palms are great plants to include in your landscaping to help you feel like you're living the island life. A lakefront property design might embrace native fauna or add perennial shrubs and flowers. Aquatic plants can even add a unique landscaping twist. There are many ways to incorporate plant life into your designs to embrace nature.
Boulders and stones accent your greenery well. Using these materials for retaining walls or walkways is both practical and visually appealing. Wood materials can be used in fencing, outdoor furniture, retention walls, docks and more. Additionally, thoughtful accessories can help embrace nature and natural materials.
8. Increase Privacy With a Fence
If you have neighbors or an open yard, you may desire a bit more privacy. There are a few ways you can achieve privacy, so explore some of these options and choose one that will complement your design ideas:
Fence: A traditional fence can do a lot for your property. You'll have a regained sense of privacy from neighbors, and an effective way to mark your property lines. Fencing will also ensure pets and kids don't stray. There are many options when it comes to fencing materials and design — whether you choose wood, metal or vinyl, a fence is an effective way to increase privacy for your outdoor space.
Hedges: As a more natural option, hedges are like a growing fence. Although less effective at keeping pets in your yard, hedges can provide unmatched privacy. Depending on the plant you choose, your hedge can reach towering heights. Planting hedges can be an effective way to increase softscape elements in your property design if you already have strong hardscape elements.
Pergola: Standing alone, pergolas are beautiful structures with tall beams, although they may lack the level of privacy you desire. Luckily, you can add plants or curtains to your pergola for an added layer of privacy. Fill in the sides and open beams on top with vining plants. As they grow, you'll be able to enjoy a private, shaded space. For a more modern take on this option, hang opaque curtains from your pergola's beams. This design blocks out neighbors while still letting the breeze flow into your space.
Plant wall: A plant wall or hanging garden is another take on a living fence. A vertical garden is a great way to take advantage of limited space while also increasing privacy. Fill hanging planters with your choice of flowers, vegetables, fruits or herbs to create a wall. A trellis can also serve as a plant wall. Whether bought or homemade, a trellis filled with flowering vines or climbing plants can easily become a focal point in your outdoor design while increasing privacy.
9. Prioritize Features That Add Value
While selling your waterfront property might not be at the forefront of your mind, you should consider how your landscaping features can add value to your property in the event you sell in the future. It's best to prioritize features that will add value to your property. For example, most people looking for a waterfront property are interested in the recreational opportunities of being on the water. Highlighting boating and fishing opportunities with a floating dock will help add value to the property so you can sell it faster and for more money.
Another feature that can add value to your property is a deck or patio. A well-constructed wooden deck can add over 60% value to your property. Buyers often look for space to entertain, which makes a patio or deck a hot commodity. Add this feature to your waterfront property and you're sure to impress future buyers. In addition to adding a deck, outdoor kitchens have become increasingly popular and can add value to your home. A built-in grill, sink and cabinetry are perfect for cooks and entertainers alike.
Other simple ways to add value to your property include increasing privacy with landscaping and adding well-constructed paths and walkways or planting trees and other low-maintenance plants. While the front of your home's curb appeal matters, so does adding aesthetically pleasing elements to your backyard. That's especially true when your property sits up against the water — do what you can to highlight that space!
10. Enhance the Outdoors With Additional Water Features
With a waterfront property, you may think adding water features is unnecessary since you already have access to a body of water. However, water features can add value to your property and enhance your outdoor landscaping or garden area. Consider adding the following features to boost your landscape design:
Fountain: 

A simple fountain can create a soothing and relaxing atmosphere in your outdoor space. Solar-powered fountains that circulate water are an easy way to make this feature part of your design. Place a fountain among flowers and foliage to create a dreamy accent against the softscape. 

Hot tub: 

Adding a hot tub to your outdoor space invites a new level of relaxation to a waterfront property. This luxury makes the perfect addition to your patio or deck. Extend your evenings with time spent in the hot tub. You can even enjoy this feature as the weather starts to get cooler.

Garden pond: 

A garden pond can be a great way to add a new variety of plant life to your landscape. Aquatic plant life and perennials that thrive around water are exciting additions to an outdoor space. A small garden pond bordered with stone or paving can be a quaint area for a small table and chairs. With the ability to add waterfalls, fountains and bridges to a garden pond, you can create new, exciting and beautiful areas in your outdoor space.

Embrace Your Waterfront Property Outdoor Design With EZ Dock
A dock is a must-have for waterfront homes. They provide space to store and launch boats, fish, swim and lounge on the water. When making improvements to your outdoor space, consider EZ Dock products. Our docks are made of ultraviolet- and weather-resistant polyethylene so they're long-lasting and require little maintenance. Customize your dock with modular sections and accessories to create a layout that's functional for your needs.
Learn about our products and how EZ Dock can make it easier to enjoy your favorite water activities by contacting us today!