A Guide to Kayaking in Michigan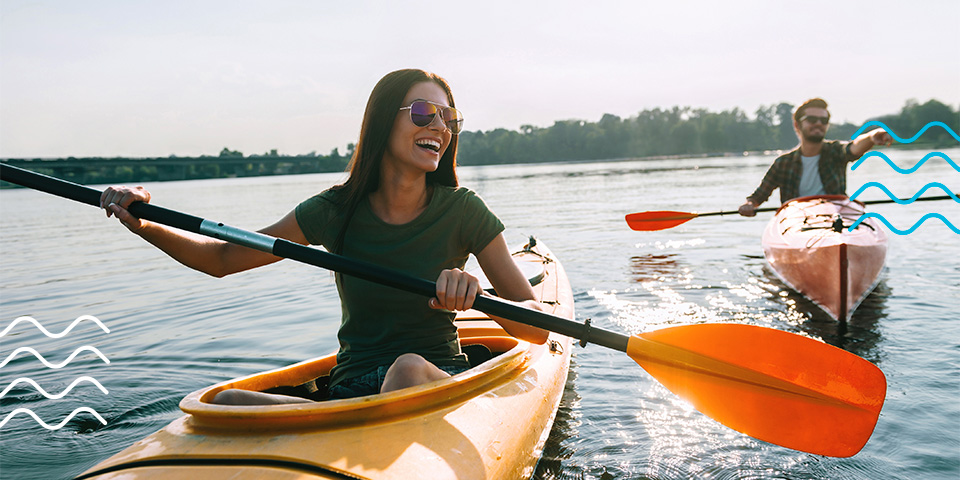 Kayaking in Michigan offers a refreshing fusion of natural beauty and aquatic exploration. The Great Lakes State boasts an impressive array of paddling destinations catering to novice and experienced kayakers alike. You can traverse the serene waters of inland lakes surrounded by lush forests or delve into the gentle currents of waterways like the Au Sable River.
Michigan's waters beckon in all seasons. Glide through crisp autumnal waters or witness the enchanting spectacle of kayaking amidst frozen landscapes in winter. Beyond the physical engagement, kayaking in this state nurtures a deep connection to natural heritage — it is a mindful endeavor that offers a chance to unplug and find solace in the rhythmic stroke of the paddle. Whether you are looking for tranquility, adventure or communion with nature, kayaking in Michigan presents a tapestry of experiences.
Where to Go Kayaking in Michigan
With plenty of free-flowing rivers and over 3,000 miles of freshwater shoreline, Michigan has the best kayaking. Paddlers can explore vast waters with dramatic shorelines, breathtaking sunsets and even a few shipwrecks. The State's commitment to conservation ensures that you will see unspoiled waterways and plenty of fauna and flora. From clean water to beautiful scenery, here are some of the best spots to bring your kayak to:
Pictured Rocks National Lakeshore
When you visit this location, you'll get a peek at Lake Superior and the multi-color-streaked sandstone cliffs along its shores. This lakeshore features crystal-clear water, sand dunes, waterfalls, lighthouses and caves to explore along the way. This is a more technical location to go kayaking in, so make sure you use a sea kayak, have a wet suit and spray skirt and are an experienced kayaker before you take on this amazing river. 
The surface water temperature during summer can reach about 59 degrees Fahrenheit. Launching locations include:
Sand Point Beach: This sandy beach is easily accessible, offers good vehicle parking and is just a short drive from Munising Falls. 
Miners Beach: An excellent spot to paddle to the Cliffs of Pictured Rocks, but to access the beach, you will need to traverse a staircase. This beach will give you access to Miners River and Lake Superior. 
Twelvemile Beach Campground: You can expect brilliant views of Grand Portal Point and Chapel Rock from here. However, it can be a long walk from the parking lot to the launch site.
Two-Hearted River
One of the most famous streams in the state, this beginner-friendly river flows through natural scenery for a quick 23.6-mile paddle before you reach Lake Superior. Pack your helmets and paddling shoes because the river in this area can be shallow in some areas. The best time of the year to kayak here is in the spring when rainfall rises water levels and the river runs faster with more rapids. 
Access to the river can be challenging, but you can find entry points at these locations:
Two Hearted River State Forest Campground: Offering a more intimate entry point to the river, you can look forward to picturesque surroundings and calm waters.
The River Mouth: This is an ideal starting point for paddling the Two-Hearted River. You will find a sandy beach that slopes into the water, making launching easy.
Reed and Green Bridge: A simple paddle with a few portages, you can kayak from here and stay over at the nearby Rainbow Lodge.
Sleeping Bear Dunes on Lake Michigan
This area has diverse wildlife, secluded beaches and amazing views of the dunes rising over the river. Sleeping Bear Dunes have gentle currents, making this an excellent spot for beginners to test their skills from April to November. There are several launch points to make use of when you are kayaking in this area:
Glen Haven: The waters at this port village are calm and you can enjoy a historical atmosphere as the town features some restored buildings. There is just a 100-foot walk between the parking lot and the beach.
Platte River Point: You will find a boat ramp near the mouth of the Platte River, with a parking lot that features picnic areas, restrooms and ample phone coverage.
The Long Float: Locals will tell you this is the best stretch to kayak on the Lower Platte. It starts on M-22 near Honor, ending on Lake Michigan after two to three hours of leisurely paddling. 
Crystal River
A short, adventure-packed river flowing from Glen Lake, where beginner paddlers can comfortably hone their skills. Crystal River Outfitters organizes kayak tours and even rents out glass-bottom kayaks. You will also find a culvert to push you across the lake at a decent speed. Crystal River is also a great location to wind down after your day on the water, with beautiful beach towns to explore. Relatively shallow, families enjoy launching vessels from these entry points: 
Fisher Road: Also known as South Dunns Farm Road or West Crystal View Road, with the opportunity for a 'pizza break' in Glen Arbor along the way.
Glen Arbor: There are a few entry points here, with one ford required where the river passes under 675 West Crystal View Road.
Detroit Canals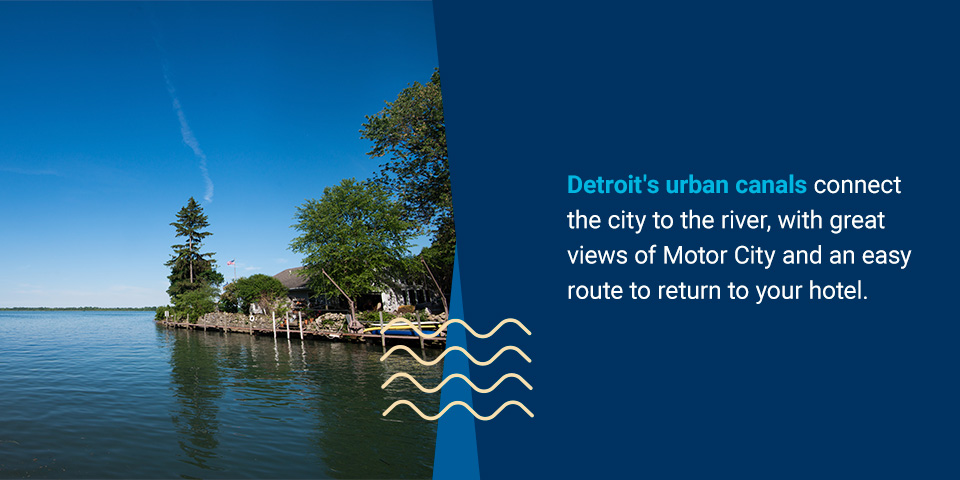 Suppose you want a unique kayaking experience. In that case, Detroit's urban canals connect the city to the river, with great views of Motor City and an easy route to return to your hotel. If you are unfamiliar with the area, you can sign up for a local tour to avoid any hidden challenges along the way. There are a few points of access you can choose from when you set out to embrace this dynamic water trail:
Kayak Cove: Located east of Lakeview Marina, this is the main entry point at the head of the Detroit River.
Peche Island: A nature park across from Kayak Cove, with beach canals and Carolinian forest habitat.
Lower Detroit River: Starting in Wyandotte's Bishop Park, this stretch travels towards Lake Erie and passes by a few features, including the Detroit River International Wildlife Refuge.
Belle Isle: A segment where you can travel around the historic Belle Isle and Detroit Yacht Club.
Lake Dubonnet
Some call it Big Mud Lake, Little Mud Lake or Floating Island Lake. Enjoy a calm day of kayaking alongside anglers and fishing boats at the inland Lake Dubonnet. The waters here are pretty calm, which is great for beginners and those who want a peaceful padding experience. To see stunning fall colors in the surrounding forest, visit this location during Autumn. This body of water offers several convenient access points:
Lake Dubonnet State Forest Campground: A place where you can easily launch your kayak near a campground.
Lake Dubonnet Canoe and Kayak Launch: A designated vessel launching and landing area.
Au Sable River
The Au Sable River forms part of the annual Canoe Marathon every July. This river runs for over 130 miles in the Northern Lower Peninsula, right into Lake Huron and offers some great opportunities for trout, salmon, smallmouth bass and pike fishing. Be on the lookout for some mild Class II whitewater rapids and get ready to do some portaging along the route if you are starting in Grayling. Some great kayaking spots along the river include:
Burtons Landing: You can find this location about four miles upstream from Grayling and enjoy a day of seclusion in a peaceful natural setting on the river.
Wakeley Creek: The water here is shallow, with various types of rocks and gravel to navigate and several RV and camping sites in the vicinity to use.
Stephan Bridge Landing: You will see clean and clear water with a sandy beach right in the town of Grayling.
Rainbow Point: One of the more popular spots along the Au Sable River, there are many rainbow trout in this location.
McMasters Bridge: On County Road 612, just outside Grayling, kayakers love this area for the boat ramp and ample parking spaces.
Mio Dam Pond: This pond is a small but deep body of water with a few islands for kayakers to explore.
Big Creek: A tributary of the Au Sable River, Big Creek boasts a sandy beach and stunning river views.
Safety Considerations for Kayaking in Michigan
The first safety rule to follow is that you should always let someone know what your plans are. If you can share your GPS location, that is even better. Ensure you bring the right equipment and clothing and pack enough snacks and water to stay energized throughout your trip. More importantly, stick to waterways and lakes that you feel comfortable handling, especially if you are new to the sport. Follow these precautions to have a safe and fun kayaking experience: 
Taking Life Jackets
Prioritize your safety by packing a personal floatation device (PFD) or life jacket for your kayaking adventure. The ever-changing nature of large bodies of water like Lake Michigan means that conditions change from calm to choppy very quickly. PFDs ensure that you are ready for any unforeseen circumstances. Make sure your PFD fits securely and won't slip off when you're in the water.
Watch for Others in the Water
The proper etiquette for kayaking is to respect other boaters and wildlife. Avoid cutting in front of other paddlers or swimmers and stick to your group to stay safe on long paddles. Stay aware of your surroundings to ensure you see others swimming, paddling or floating and keep a respectful distance to prevent accidents.
Get to Know the Area
Familiarize yourself with the water body you are going to kayak on, including its currents, depth and potential hazards like submerged rocks or fallen trees. Take note of access points and exit locations along the route. Having multiple exit options along the route ensures you can easily take a break if you get tired or get help in case of an emergency.
Never Go Alone
Many people see this as the first rule of kayaking, bring a buddy or two along or sign up for a tour. Going in a group creates a great shared experience and it is safer to have people by your side should you have equipment malfunctions or sudden weather changes.
Check the Weather
Michigan's weather can be unpredictable, with sudden changes in wind speed, rain or even storms. Always check the weather forecast a few days in advance and postpone your trip if there might be inclement weather. Strong winds can make paddling difficult and dangerous, even on shallow or ordinarily calm waters. High temperatures can be equally challenging, with dangers like dehydration or sunburn on high UV days.
Water Temperature
Check the estimated water temperatures before you head out to kayak, whether you are staying inland or going into a larger body of water.  You can also bring your own water temperature gauge to ensure you are well prepared. The water temperatures are quite low even during summer, so wear a wetsuit or dry suit to maintain your body heat and protect yourself from the cold. It is essential to wear the proper gear when you paddle in this state. 
Rules and Regulations
The state of Michigan does not require a license to operate a paddle-propelled kayak, nor do you need to register your vessel, but you do need a U.S. Coast Guard-approved PFD. If you plan to do some fishing during your kayak trip, anyone aged 17 or older will need to get a fishing license. You can buy these from the Department of Natural Resources or any local licensed retailer.
Michigan's lakes and waterways are rife with diverse ecosystems. Follow guidelines and respect regulations like the 'no-wake zones' or other protected areas. Keep a safe distance to avoid disturbing animals' natural habitats and ensure your safety.
What to Pack for Your Michigan Kayaking Trip
Choose the right kayak for the conditions you are going to paddle in. In larger bodies of water like Lake Michigan, use a sea or touring kayak that offers more stability. Next, apart from the essential kayaking gear, like your vessel, paddle and buoyancy aid, you must pack a few more things to make your trip as safe and comfortable as possible:
Waterproof phone case: Some incredible photo opportunities are coming your way on a Michigan kayaking trip, so protect your phone with a waterproof case that can attach to your person.
Cooler bag: Bring a small box or, ideally, a soft-sided backpack style with ice packs to keep snacks, water and more on your trip. Strap it to your kayak with bungee cords or if you are in a sea kayak, stick it in below.
Snacks: Pick snacks that travel well and will not spoil quickly. Pack healthy carbs to give you energy, hydration drinks and extra water.
Bathing suit: You should swim at one of your stops, so bring a bathing suit just in case.
Extra clothing: Pack extra clothing because there is a good chance you will get wet and need to change clothing before getting back into your car.
A multitool: Keep this attached to your PFD if you need to tighten a kayak fitting or cut something loose.
A whistle: Every vessel operating in U.S. waters must have a sound-producing device, like a whistle, on board. Attach this to your PFD so that you can easily signal for help.
A dry bag: Keep your valuables, towel and extra clothing dry and safe with a dry bag. This is especially handy on longer kayaking trips.
Towel: When you return to shore, you will need a towel to dry off.
First-aid kit: Keep a compact first-aid kit with all the essentials in your dry bag or cockpit.
Navigational equipment: On longer trips, it is a good idea to pack a GPS device and power bank for your phone so that you can always know where you are and how to navigate back to your starting point.
Lights: Carry a portable light for low visibility situations, like fog, rain or cloudy weather. You can permanently fix it to your vessel or get a light to deploy quickly.
What to Wear When Kayaking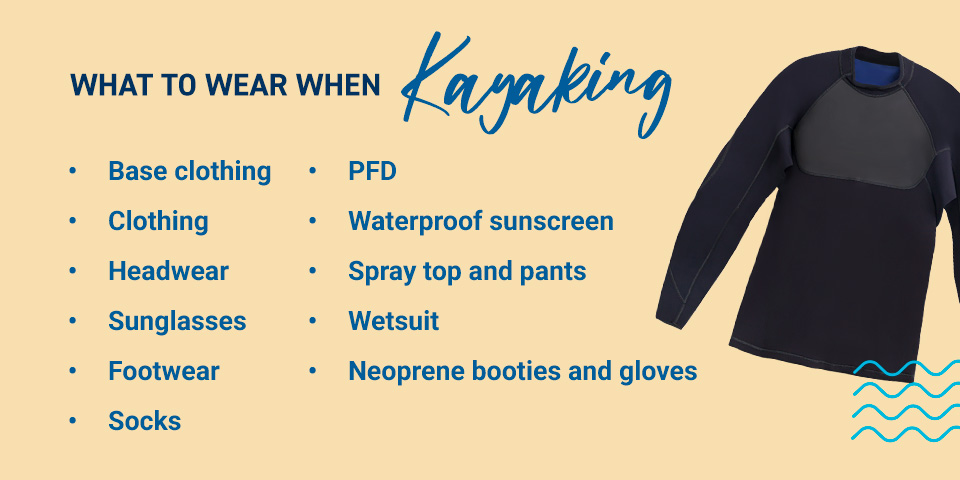 The weather on the Great Lakes can take a turn quite suddenly, so when you are gearing up for a kayaking adventure, choose clothing that balances comfort and protection. 
Base clothing: Build your base with lightweight, moisture-wicking layers to keep you dry and comfortable. 
Clothing: A long-sleeved shirt and pants shield you from cool weather elements and harmful UV rays on warm summer days. 
Headwear: A wide-brimmed hat helps keep the sun off your head and out of your eyes — on open water reflections can leave you squinting at the natural splendor around you.
Sunglasses: Shield your eyes from the sun's glare and potential water splashes with polarized sunglasses. 
Footwear: Water-resistant sandals are good footwear options, but water shoes offer grip and protection if you need to get out of the kayak to portage.
Socks: Wear waterproof or wool socks to keep your feet warm in cold weather or water.
PFD: Wear a properly fitted PFD or life jacket to ensure your kayaking safety. One that is designed for paddling allows for easy movement.
Waterproof sunscreen: Apply before you set out and keep extra in your waterproof bag for reapplication.
Spray top and pants: Another cold-weather winner, these items work well when it is windy out or you are kayaking in the ocean.
Wetsuit: Wear this on cold days when the water temperature or a combination of the water and air temperature, is under 120 degrees Fahrenheit.
Neoprene booties and gloves: Wear these with your wetsuit to warm your feet and hands.
Make Kayak Launching Simple With EZ Dock
Preparation is key when you are planning a kayak trip to Michigan. With the right gear and location, you will be ready to paddle comfortably, enjoy beautiful views and make the most of your experience.
Launching a kayak from a dock is a breeze with EZ Launch® Residential from EZ Dock. Our floating dock design is expertly crafted to streamline getting into and launching your kayak. With spacious entry points and convenient built-in paddle notches, EZ Launch is the right choice for newcomers and experienced kayakers.
Check one more item off your must-have kayak list today! Contact EZ Dock to get a quote.