Jet Skiing FAQs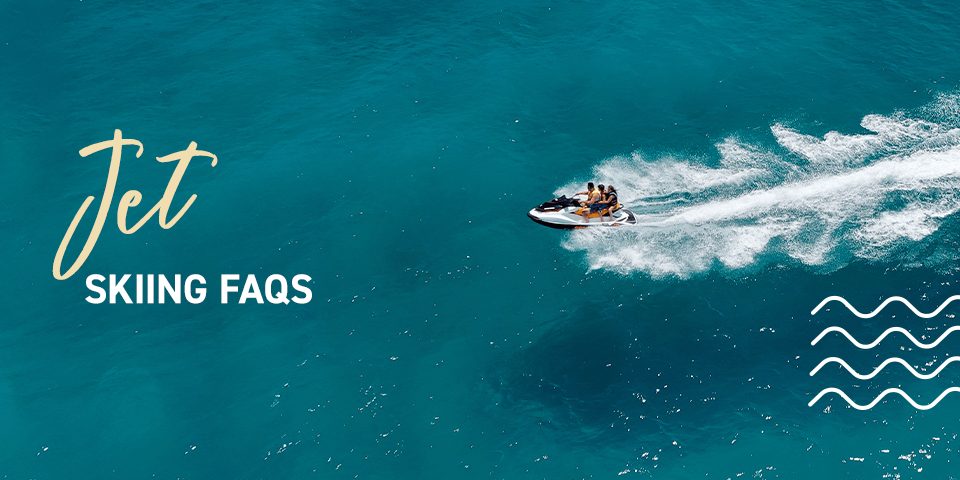 Being on a jet ski can be one of the most enjoyable ways to be out on the water. Personal water crafts (PWCs) are popular in the United States because they are quite easy to operate, even for total beginners. Whether you're an experienced PWC owner or completely new to jet skiing, you need to know how to stay safe on a jet ski. Remember these tips to enjoy your PWC safely.
This article takes you through some answers to common PWC questions, helping you avoid jet skiing mistakes and covering the basics of how to ride a jet ski safely in fresh and salt water.
1. How Do I Ride a Jet Ski?
PWCs are easy to get the hang of, even for beginners. To make the process even more straightforward, here are some step-by-step instructions on how to navigate a jet ski:
Once you're sitting on your PWC, get into a comfortable position and put the safety lanyard around your wrist. This ensures the key comes out of the ignition and stops the motor if you fall off.
Put the key attached to the lanyard in the ignition and turn the engine on.
Gently push the throttle, allowing the PWC to move forward slowly. Maintain a steady speed until you are safely away from the dock or shore.
Once you're sure it's safe, you can increase the speed gradually.
Stay aware of your surroundings and release the throttle when moving in a straight line. Make all movements relaxed and as fluid as possible.
Lean in the direction you'd like to go when turning, and have your passengers do the same.
Hold a steady grip on the handlebars when you come across waves and transfer some of your weight onto your feet so you can lift your body to brace.
2. How Do I Ride a Jet Ski With One or More Passengers?
Having a passenger on your PWC makes things more fun for everyone. Always consider safety, and ensure you and your passengers wear life jackets. Whoever is most experienced on the water should drive in the beginning until everyone is comfortable and has the hang of things.
The driver must board first and ensure they're sitting comfortably with the safety lanyard secure around their wrist. Once the driver is comfortable, the passenger can board, seated behind the driver in the straddle position. The passenger must wrap their arms securely around the driver's waist, but not too tight. It's safer for everyone if the driver can breathe comfortably, after all.
Communication is vital for safe jet skiing. The driver and passenger must communicate constantly to warn one another of emergencies and ensure everyone knows when and where the driver is turning. Passengers must be aware that they can upset the balance of the PWC and could capsize it. It's best if the passenger always faces the front while the PWC is in motion.
3. What Do I Need to Know to Operate a Jet Ski Safely?
How do you stay safe on a jet ski? While PWCs are fun and easy to operate, you mustn't forget they are still powerful machines. Anything can happen while you're out on the water, so review the following safety tips and always pay attention whether you are driving or a passenger on a PWC.
Follow the rules: Think of boating rules the same way you would think about the laws of the road. You need to know the rules and follow them at all times or risk collisions and other accidents. Children under the age of 16 shouldn't operate PWCs, but make sure everyone who's old enough understands the rules of safe boating.
Wear life jackets: Everyone on board must wear a life jacket that fits correctly and can handle their weight in the water.
Supervise minors: Even young people who are old enough to operate a PWC should be supervised, so adults can warn them of danger, keep them focused and act quickly in an emergency.
Wear appropriate clothing: Wet suits are ideal for jet skiing as they protect you from the elements and the water should you fall. Always wear appropriate footwear for better grip, and avoid loose clothing.
Invest in sun protection: Ensure you have plenty of sunscreen and wear sunglasses or goggles to protect your eyes and improve your vision on the water.
Stay sober: Like on the road, drinking and driving a PWC is dangerous for you and everyone else on the water. Keep alcohol out of the mix until you're done for the day.
Watch the pump intake: Keep your hair and loose clothing well away from the pump intake, or you could be pulled into the system.
Get to know your PWC: Pay attention to weight limits and handling instructions, and read your manual thoroughly.
Stay alert: Driving a PWC is safer when you know your speed and surroundings. As relaxing as it might be, have your wits about you and stay at a speed you're comfortable with.
Keep your distance: Give yourself plenty of time to stop and turn when necessary by giving other vessels a wide berth.
Wear your safety lanyard: This is a vital piece of safety equipment, and you should not overlook it.
Communicate: Drivers and passengers must communicate and be sure they're both ready to go, comfortable and holding on. Ensure the engine is off until you're safe aboard your PWC and ready to ride.
4. What Are Some Common Mistakes Made While Jet Skiing?
Whether you're brand new to jet skiing or have years of experience, be aware of these common mistakes, which could be dangerous or damage your PWC. Here's how to navigate a jet ski and avoid making rookie mistakes.
Not Paying Attention to Shallow Water
The water you're driving in should always be deep enough to accommodate the weight of the PWC, driver and passengers. Starting your engine in shallow water could suck debris into the engine, causing expensive damage. Driving in shallow water or returning to shore with the engine running carries the same risks.
Driving Over Debris
Sometimes drivers get tunnel vision and don't pay enough attention to their surroundings. It may feel like you're invincible on your PWC, but steer clear of debris. You can't always see how big an object is from your PWC, and riding over something can damage it or cause it to flip, potentially injuring the driver and passengers.
Driving Without Boat Sense
On a PWC, you often have to share the water with boats. If you don't pay enough attention, you could collide or fall off your PWC in the wake of a bigger boat. Pay attention to all other objects on the water, and remember you can move out of the way faster than a boat. Bear the following tips in mind:
No wake zones: These areas require all vehicles to travel at a speed of 5 mph or less to prevent larger wakes from damaging boats or becoming dangerous to passengers.
Boat wake: If you're riding through the wake of another boat, do so at a 90-degree angle to prevent tipping your PWC.
Going Too Fast
Driving a WPC can give you immense freedom, and it's tempting to push the throttle and go as fast as possible. Control your speed and stay cautious, especially if you're a less experienced driver.
Failing to Adjust for Passengers
Having a passenger on board means you have to make some adjustments. When driving with a passenger for the first time, many drivers mistakenly assume they can carry on as usual. The added weight of a passenger affects how your PWC handles. Avoid sharp turns, and ensure your passengers know to lean into turns to prevent being flung off the back.
If your passenger falls off behind your PWC, they could suffer injury from the high-pressure water. If your passenger does fall, switch the engine off immediately and help them.
5. What Safety Items Should I Have on Me When Jet Skiing?
Safe jet skiing means being prepared and having everything you might need in an emergency close at hand. Before you set out for a day on the water, take the time to go through a checklist of what to take on a jet ski to ensure you have the following items with you:
Life jackets: Properly fitting life jackets are required for every rider and must be worn the whole time you're out on the water.
A fire extinguisher: Always have a coastguard-approved fire extinguisher on board. Although fire sounds unlikely, it's possible due to the gasoline and electrical systems.
Safety lanyard: Attach a safety lanyard to your keys, and use it every time so your PWC will cut out if you fall.
Sound signaling device: Ensure you have an approved device like a whistle or horn to alert other boaters should you get stuck and need assistance. Consider packing a distress flag for the same purpose.
A first aid kit: If someone is injured, you can provide some immediate assistance with a first aid kit before driving them back to shore.
Registration numbers and papers: You never know when someone might ask whether your PWC is registered. Display your registration numbers prominently, and have the documents on hand.
Sunscreen: You can't attempt a long day in the sun without protection. Always have waterproof sunscreen on hand, and apply it often.
A GPS: You could have so much fun on your PWC that you get lost. A smartphone with a GPS will be invaluable if this ever happens.
6. What Are the Main Differences Between Jet Skiing in Saltwater vs. Freshwater?
While you can enjoy jet skiing in freshwater and saltwater, you may have to make minor adjustments to how you drive and care for your equipment when you take it to the ocean. Saltwater is corrosive and can damage your PWC's engine, electrics and vinyl finishes. If you plan to spend a lot of time on the ocean, ensure you choose the right PWC for the job.
Whenever you're in a saltwater environment, clean your PWC thoroughly after each use. Flush the water injection port with clean water and consider using a salt dissolver to remove all the corrosive salt particles from the equipment. Take care of the exterior of your PWC by wiping it down with clean water at the end of the day. Clean and rinse your PWC as soon as possible after use to keep the salt from causing problems.
Riding in the ocean can challenge less experienced drivers. If you're new to jet skiing, take your time to get used to the choppier waters and stay at a speed where you're comfortable. Stay closer to the shore, where the waves are smaller, and watch the weather. If the wind picks up or it starts to cloud over, play it safe and head for the shore. You can take it slow until you've adapted to the waves and tides.
7. How Do I Dock a Jet Ski?
At the end of a long and fulfilling day on the water, you'll need to know how to dock a jet ski safely. It may sound simple, but your PWC is rudderless and relies on thrust from the jet pump to turn. Approach the dock slowly and steadily so you have plenty of time to correct misalignments. Follow these step-by-step instructions to become a PWC docking pro:
Plan ahead: Pay close attention to the surroundings, how many boats and people are around the dock, and the wind. The current and wind will affect where your PWC goes when you let go of the throttle. Decide ahead of time where you'll tie up.
Warn passengers: As always, communicate with your passengers. Tell them to sit tight and not to try to grab anything. If they're experienced enough, ask them to have dock lines prepared. Let them hold the lines as you approach the dock.
Go slowly: Idle your engine, approach the dock as slowly as possible, and push the throttle in short bursts to keep your momentum.
Have an escape plan: Don't put yourself in a corner. Instead, make sure you have room to maneuver if you mistime something or don't make it on your first try.
Secure your PWC: Once you're aligned, attach your dock line to the cleats and double-check it's secure — the last thing you want is your PWC to drift away. If it's windy, you might want to secure your PWC to the dock with multiple lines to prevent it from bumping around and getting damaged.
Learn More About PWC Ports From EZ Dock Today
There's nothing better than jumping aboard your PWC and hitting the waves. EZ Dock PWC docking solutions can help you make the experience even more carefree. You can ride and look after your PWC with no hassles using our EZ Port for PWCs. These drive-on ports have patented adaptable rollers, allowing you to have your PWC out of the water after every ride.
Ensure your PWC is accessible, clean and secure with EZ Dock. Contact an EZ Dock representative today to learn more about how EZ Dock can make your jet skiing experience even easier. Alternatively, you can request a quote to take the first steps to improve your PWC experience for everyone.